TWC'S ODYSSEY
AL MAGREB
Tan Wee Cheng's Journey Through Morocco, Land of the Furthest West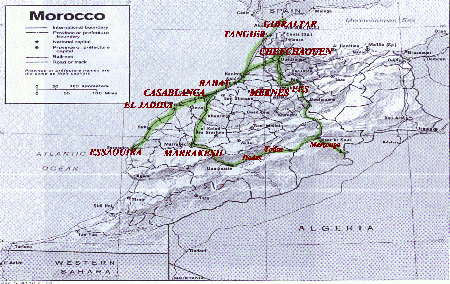 MAP: CLICK THE IMAGE TO EXPAND
CLICK THE BLUE HEADERS BELOW TO GO TO THE RELEVANT CHAPTERS
CONTENTS
GIBRALTAR
20 Feb Gibraltar
England in the Mediterranean
Solid As The Rock
TANGIER
21 Feb Gibraltar – La Linea (Spain) – Algeciras – Tangier (Morocco)
Out Of Europe
Tangier: Conmen and Touts
Can I Have A Hundred Dirhams Please ?
MARRAKESH
22 Feb Marrakesh
Emperor of the South
Tannery Blues
23 February Marrakesh
Palaces, Gardens and Drugs
DADES & THE SAHARA
24 February Dades Valley
Expedition Ho !
25 February Todra Gorge & Merzouga
Infidel ! Don't Take My Picture !
The English Patient: Adventure Among The Great Sand Dunes
26 February Merzouga – Erfoud – Er-Rachidia
Farewell, Sahara
Transit Adventures
FES & MEKNES
27 February Fes
Adventures With Muhammed
28 February Fes
Fes With Friends
1 March Meknes
Sojourn in Moroccan Tuscany
A Walk Through Imperial Meknes
Exchanges With Yet Another Crook
THE RIF
2 March Meknes - Chefchaouen
The Alpes, Beggars And All
Marijuana Country Africa
I Am A Good Man…
More Tales Of Kif & Patio Chats
RABAT
3 March Chefchaouen - Rabat
An Under-rated Place
Dreams
THE COAST
4 March Rabat – Casablanca – El Jadida - Essaouira
Ninety-nine Kilometers For A Cistern
How About Camel Tagine ?
5 March Essaouira
Taking It Easy In "Windy City, Afrika"
CASABLANCA
6 March Casablanca
City of Romance – no more…
---
Caveat :
The tales and opinions expressed on this site are the author's and by their very nature, personal and opinionated. You may not agree with them and you are welcomed to voice them by emailing to the author. However, if the intention is to pick a fight, such efforts should be directed to soc.culture newsgroups. The author will not entertain anyone who furl insults and vulgarities. The names of individuals mentioned in this site have been changed to maintain their privacy.

The author spent only 16 days in Morocco, a large country that deserves more days than that. The reader is not advised to rush throu gh the country the way the author did. He had to do it due to reasons to obscure to explain here. Do not attempt it his way if you really want to enjoy yourself.
---
Click here to send your comments to Tan Wee Cheng, Singapore
Click here to visit the author's homepage, Nomadic Tales

---