TWC'S ODYSSEY
AL MAGREB
Tan Wee Cheng's Journey Through Morocco, Land of the Furthest West
---
| | |
| --- | --- |
| | 1 Mar: Meknes (I) - A Visit To Volubilis |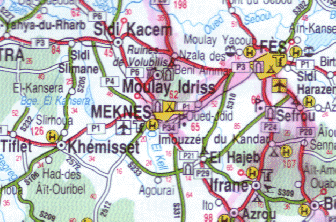 Sojourn in Moroccan Tuscany
I woke up at 5:45am to take the 7 am train (DH 16) to Meknes. Once again, I met the Californian who told me about Hotel Ali. He's on his way back to Spain, and told me how much he enjoyed Rabat, a city that many backpackers avoid. I was determined to visit this city.


Tuscany, Italy ? No, it's Morocco !
The train passed through the surprisingly green countryside of northern Morocco. Vegetable and rice fields, olive groves and green meadows - the sort of landscape that one associates more with Provence or Tuscany, rather than Morocco. Like many others, I had expected the dry fine sands of the Sahara, which is the most common image of Morocco to the world. I should have known - how can a desert support 30 million people ? Desert lands can support very few people. For example, the former Spanish territory of Western Sahara, which is just as large as Morocco proper, has only 100,000 to 200,000 people, given its largely desert environment.

| | | |
| --- | --- | --- |
| | | |
| Merenid Tombs | Lonely sheep around the tombs overlooking the city | View from the Tombs |
The Ville Nouvelle of Meknes, another of Morocco's great imperial capitals, has the feel of a small French provincial town - light traffic and roadside cafes dotted the city. But the city also appeared to be wealthier, with the number of branded shoe and fashion shops along the streets. People appeared to be friendlier, with none of the harassment, stares and shouts ("Japan ! Japan !") I get elsewhere in Morocco. Here, friendly locals greet strangers they encounter. I must have said "Salaam" or "Wa alaykum a salam" countless times in Meknes.


| | | |
| --- | --- | --- |
| | | |
| | Mosaics, mosaics, mosaics | |
At a hotel lobby, I met two Aussies, one of whom was of partial Singapore descent - what a coincidence. After we checked into Hotel Majestic (DH 102), we decided to do the Roman city of Volubilis together. And so we took a cab (Meknes' cabs are metered - one of the few places in Morocco which do) to the grand taxi station, and caught a grand taxi (another six person carriage) to Moulay Idriss (DH 7).

Moulay Idriss is a holy town located on a small hill nestled against the side of a mountain set in the middle of a beautiful green plain. It's named after Morocco's most important saint, a descendant of Prophet Mohammed, and founder of the first dynasty in Morocco. From afar, the town and its buildings looked like, forgive me, the perfect curvature of a giant half-bra which dropped from heavens.

| | | |
| --- | --- | --- |
| | | |
| Mosaics | Stocks usually have a great time in Morocco - they live in palaces everywhere in this country ! | Mosaics |
We alighted at the central square, where workers, like those elsewhere in Morocco at that time, were busy setting up billboards and flags to celebrate the King's coronation day. Here, we took another grand taxi for Volubilis (DH 7). In a matter of minutes, we were at Volubilis. The whole process appeared to be complicated, but much easier and smoother than expected.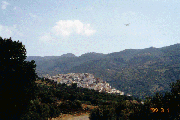 Moulay Idriss, the holy town
Volubilis was one of the westernmost outpost of the Roman Empire. Built around 40 AD, the site still has numerous columns, lots of mosaics, a grand triumphant arch, impressive ruins of houses and a grand basilica. Not surprising that the site has been declared a World Heritage site. The setting of Volubilis is attractive too - a huge treeless plain, with olive groves, wheat fields and much greenery. I could hardly believe I was in Morocco. Roman settlers must have found this place familiar and went on to settle in this new Umbria or Tuscany. We walked around for a while before returning to good old Meknes.
---