TWC'S ODYSSEY
AL MAGREB
Tan Wee Cheng's Journey Through Morocco, Land of the Furthest West
---
| | |
| --- | --- |
| | 22 Feb: Marrakesh |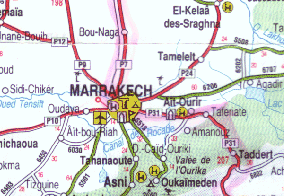 Emperor of the South
I must have woke up at 7am. The train had already passed Asilah where in 1578, King Don Sebastian of Portugal began his crusade against the Moroccans only to be killed in the Battle of the Three Kings (all three kings - Don Sebastian, Muhammad al-Mutawakkil, the ex-king of Morocco whom the Portuguese supported, and Abdul Malik, the recently crowned king of Morocco - were killed in this great battle) and thereupon Portugal was occupied by Spain for a number of years; Rabat, Morocco's beautiful capital; and Casablanca, the largest city and commercial centre of the country. The landscape was golden brown. Occasional greenery with vegetable fields, but most places were barren. This is southern Morocco, a dry, semi-arid land so different from the North, as I was to discover later.
I was lucky to have booked the couchette, as my Spanish fellow-travellers were freezing in the non-heated compartments of the train. The additional DH 50 was well worth it.
| | | |
| --- | --- | --- |
| | | |
| Dancers at the Jemaa el Fna | Forced to take a photo with this monkey | Musicians at the Jemaa |
We reached Marrakesh at 8:30 am, and checked into Hotel de France (room of three, for DH 35 each person - I shared the room with a Canadian and an American) near Jemaa el Fna, Marraskesh's central square and focal point of tourists in this exotic city. Marrakesh - Morocco's fourth largest - feels like a oversized mediaeval village. Jemaa el Fna in the heart of the Medina was perhaps the most exciting city square I have ever visited. As noisy with buskers as London's Leicester Square, it is much larger and more exotic, and you find lots of cheap stalls selling great Moroccan food, snacks and the best orange juice you can find anywhere in the world - DH2 (US$0.25) per glass of fresh, concentrated orange juice ! Most tourists, including me, have 3 to 5 glasses a day in Marrakesh. Here at Jemaa, one encounters traditional story-tellers, musicians from the south with their unusual instruments, water-sellers in their exotic costume, snake charmers in their hordes, itinerant acrobats, Berber tattoo-artists, magicians and weirdos of any imaginable variety all day long and for a considerable part of the night as well. The whole place was full of excitement all year round - it's like entering a live circus. You won't understand what I mean unless you are there yourself.

We walked around the souk for a while. Much larger than the one in Tangier and certainly as confusing inside. In any case, as I had been to many Middle Eastern souks, I wasn't terribly fascinated. My travel companions, however, were new to it, and very impressed by the exoticness of it all. And they ended up buying lots of things such as jallaba and local headdress at well inflated prices. I wouldn't even pay half or even third of what they had paid for. But well, it's good to support the local economy… While the rest were testing out their jallabas (which they would not wear again after leaving the country), I spent my time chatting with the locals and learning some Arabic. Really friendly people once you start by greeting them "Salam aleikum".
After the souk, we visited the Koutoubia Mosque - from the exterior, as non-Muslims are not allowed to enter. The mosque's 70 meter minaret was certainly an impressive Andalusian-Moorish architectural gem and the most famous landmark of Marrakesh. It was built in the 12th century by the Almohad sultans after the defeat of the Almoravids who founded the city in 1062. Both dynasties began as Islamic fundamentalists bent on changing the corrupt order of the day, and went on the conquer much of North Africa and southern Spain. Both lavished Marrakesh with huge palaces and mosques, and beautiful gardens as well. Marrakesh's fortunes waned after the Alawite sultans moved the capital to Meknes in the north. It has since revived with the advent of tourism, and in 1994, it was chosen as the location for the final signing of the international GATT agreement on world trade.
| | | |
| --- | --- | --- |
| | | |
| Koutaiba Mosque: Symbol of Marrakesh | One of Marrakesh's grand city gates | The cool courtyard of the Saadian Tombs: I love the green roof. |
We walked around the Kasbah and visited the Saadian Tombs and its beautiful, tranquil garden and neat green rooftops. Next, we took a taxi to the northeast corner of the city to visit the Tanneries. These are places where skins of animals - bulls, camels, goats - are dipped into chemicals (both modern acidic ones like sulphuric acids, as well as more exotic ones like cow urine, pigeon poo and animal brains), roughened, and then processed in a traditional, labour-intensive manner into leather products.

Tannery Blues
We took two cabs to get to this northeast corner of the city, entered the Bab Deggagh (an ancient gate to the medina), and were immediately approached by an aggressive young chap (let's call him Hassan). This was a rough part of town, few tourists, few souvenir stalls, but full with potholes, rubbish and nasty-looking people. Foreigners come only for one purpose - to visit the tanneries. Hassan wanted to show us the tanneries - at a cost of course. We were intimidated by both his rather abrasive manner as well as the rough neighbourhood, and refused him right away. We walked around, trying to locate the tanneries on our own, with Hassan following close behind, persistently asking why we were turning him down. Every time we passed doorways of what appeared to be tanneries, Hassan would raced forward and told the people there to close their doors, or insisted that we deal via him. We had a quick discussion on whether to proceed into uncharted territory on our own, or to venture into what could well be robbers' dens with Hassan. There were eight of us, and somehow we reached the uneasy decision that we should use Hassan's services.
And so he guided us into one lane, and then into another. Entered a doggy looking building with unpaved floors and railingless staircases. Raced up several floors (these Moroccans were always running so fast in "tough" urban terrain - no wonder they perform well in marathons) and suddenly found ourselves looking down on an open space below, with lots of multi-coloured "tubs" of uneven sizes - these are where hides are dipped into various weird mixtures. It was the afternoon, and there was little activity - they mostly take place in the morning. In any case, one could smell the chemicals and numerous unknown, but certainly unpleasant odours. The workers here, it was said, tend to have shorter lives than their fellow countrymen, due to their close contact with acidic and other harmful chemicals. But that's life… for many people in third world countries, the alternative is simply to starve. This is something many western labour rights activists do not understand. If you want to penalise these countries for lousy working conditions, factories will close down and the very people you want to "save" will lose their jobs. Are your tax payers prepared to subsidise better facilities for these people - and we are talking about hundreds of millions of people… Such conditions will always exist so long as the supply of labour well exceeds the demand for it. If you really care, invest more in these countries and open your home markets to them. When demand for labour exceeds supply, working conditions would improve to compete with the reduced pool of labour available. Basic economics, but few of those who shout the loudest understand them. Maybe the complaints are mere front for protectionism.
| | | |
| --- | --- | --- |
| | | |
| Food stall at the Jemaa el Fna | Cow brains: Haut cuisine in Marrakesh - dare you try it ? | In front of a snail stall |
After the Tanneries, we returned to Jemaa. I had dinner at one of the many booths set up in the big square in the evening - apart from couscous and tajines, there were lots of cool stuff on sale - steamed snails, bull brains, etc. I had the conventional stuff - kind of regretted that I was less adventurous that night. Anyway, I met a friendly Californian who told me about the no frills or backpack tours offered by Hotel Ali (see LP Guide for address and tele - it's just behind the Post Office at Jemaa). Basically, such tours bring people, mostly backpackers or independent travellers to remote or off-the-beaten-track areas. There would be no guide, merely a driver to bring, say a group of 8 from place to place in a van, and normally, one could ask the driver to stop for phototaking anywhere. I went there and decided to sign up for a 3-day venture into the Dades Valley (also known as Valley of the Thousand Kashbahs) and the giant sand dunes of Merzouga.

---