TWC'S ODYSSEY
AL MAGREB
Tan Wee Cheng's Journey Through Morocco, Land of the Furthest West
---
| | |
| --- | --- |
| | 27 Feb: Fes (I) |
Adventures With Muhammed
Fes is Morocco's oldest and proudest imperial city. Since its founding in 789 AD as the seat of Morocco's first native dynasty, the Idrissids, this has been the heart and soul of the nation. Dynasties rose and fell. The city was put to the sword time and again, but it remained the spiritual, political and commercial centre of Morocco for a long time. The city's competitiveness was further boosted with the arrival of 8000 Andalusian refugees fleeing the Reconquest, and later on, with the arrival of refugees from Kairouan (Tunisia) who built a great university and more trading links. The 13th century saw the establishment of Fes el-Jdid (New Fes) as space ran out in the old one (Fes el-Bali) and the new Sultan wasn't assured of the loyalty of the old city's inhabitants. In the 14th century, the Jews came, and built their Mellah (Jewish Quarter) within Fes-el-Jedi, the middle city. Invaders came and went. The French had their turn in 1916, and built their administrative HQ at Ville Nouvelle, further west of Fes el-Jdid. The rapid expansion of Fes have left us a comparatively large city, stretching from east to west - which makes walking around a little tiring compared to other Moroccan cities.
I arrived in cold, foggy Fes at 7am, almost impatient to take my bath. I alighted at the Ville Nouvelle (New City), and made my way to Hotel Central. Checked in quickly and had a great hot bath. Never had a better bath in my life - after all the sand of the Sahara and a freezing night. I had decided to make the most of this day, despite not having slept the day before. As I set off for Fes el-Bali, I bumped into Abdul, the hotel manager, who tried hard to persuade me to visit his shop, or engaged his cousin as a guide - he claimed that having a guide would keep away all the hassling and dishonest touts. He failed on both counts - I told him that I had been to many souks in the Arab world and never had any problems. I did, however, had a lively conversation with him on Fes and places to eat.
I strolled across the Ville Nouvelle. I have not seen so many French patisseries anywhere else in Morocco. The locals have definitely acquired a liking for French pasties and cakes. Ville Nouvelle is also full of squares that have grand names but undersized ugly-looking memorials in the middle, and national flags surrounding them. Stalinist town planning appears attractive in comparison.

| | | |
| --- | --- | --- |
| | | |
| Jewish boy at the Synagogue. | Drying camel skin | Peep into a mosque |
Walked through Fes El-Jdid and its quaint little streets. It was Sabbath and there were many policemen guarding the Synagogue and its vicinity. Although most of Morocco's Jews left for Israel after 1948, a number remain and flourish in Casablanca's big businesses. These allow Morocco to play a low profile but important role in the Middle East peace process. At the entrance of Fes El-Jdid is the magnificent Place des Alaouites and the Royal Palace. Stern soldiers were guarding the place. This is only one of the many palaces I had seen in Morocco. Every city seems to have a huge royal palace. I wonder why the royal family needs so many palaces, considering the state of the country's economy.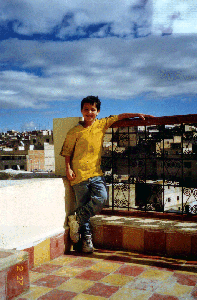 At Fes El-Bali, a cute little boy in a yellow sweater approached me. Mohammed volunteered to be my guide for only DH 20. I don't normally engage guides but Mohammed, five year old guide extraordinaire and speaker of 5 languages, was too adorable to be ignored. He trailed me for 5 minutes and eventually I gave in. It is a pity that in countries like Morocco, such bright kids are not in school. Instead, they have to start earning money like their adult counterparts.
We walked through the numerous little alleys of Fes El-Bali. This is one of the largest souks in the Arab world. Although some, like the one in Cairo, are bigger, Fes's is definitely the most confusing one. One can spend lots of time exploring every tiny lane - 9,400 in all ! I was a little tired with souks at this point of the journey, especially when I had to keep pace with little Mohammed, who squeezed through the crowds, raced up and down the sloping alleys at the speed of light. We visited the main streets and monuments like Kairouine Mosque (the most prestigious Islamic university in Morocco - a pity that it's not opened to non-Muslims), Zawiyya Moulay Idriss II, Place an-Nejjarine with its beautiful Museum and fountain, and the Andalus Quarter. Mohammed also brought me to Fes' Tanneries, which is a lot more spectacular than the one in Marrakesh. Lots of people working there in terrible conditions.

| | |
| --- | --- |
| | |
| The beautiful fountain at Place an-Nejjarine | The fountain on banknote |
For lunch, Mohammed brought me to an expensive restaurant in the middle of the old city. It's located within an old building with many intricate carvings - probably an old palace of senior ministers of times past.
Rain started pouring after lunch and Mohammed said we should meet the next day for visits elsewhere. That's fine with me, but he wanted DH 50 for the walk, instead of the earlier agreed DH 20. That was a little too much for me - not so much for the money, as I had already intended to give him more. It saddened me that this kid had learnt the bad habits of many of his countrymen - agreeing to one price and then asking for more. I refused, and his friends, other kids slightly older than him, surrounded me to demand that I pay him more because he's a cute kid, he's poor, or his mother's sick, etc.
I was kind of disgusted and stuffed DH 40 into his palm. "That's all I will give you, and I won't want to see you again," I said angrily and then walked away.
Barely five meters away, I heard Mohammed shouting, "Hey, turn right to get to the bus stop. Take Bus 47 to the Gare." I turned back and smiled to him. Mohammed waved goodbye and then disappeared into the souk.

| | |
| --- | --- |
| | |
| The Tanneries: Miseries and More | The Royal Palace: Gold and More |
Went to the Train Station (Gare) to check timings for Meknes, and then walked around Ville Nouvelle in search of a cybercafe. Found Casanet - a very interesting place, and had a chat with a young chap running it. Spoke at length about domain names and other boring technical subjects relating to the internet. Returned to the Hotel and bumped into Ortwin again. Another interesting chat with him regarding South African politics.
---