TWC'S ODYSSEY
AL MAGREB
Tan Wee Cheng's Journey Through Morocco, Land of the Furthest West
---
| | |
| --- | --- |
| | 26 Feb: Merzouga - Erfoud - Er Rachidia |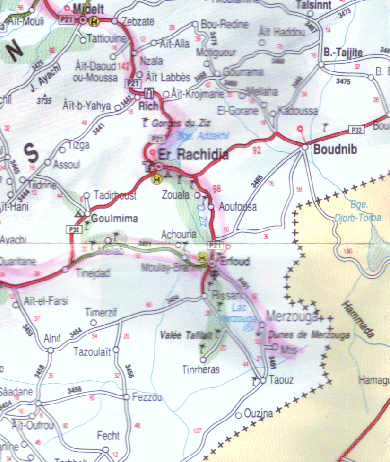 Detailed map of the day's route - click to expand
Farewell, Sahara
The dim light of dawn sipped through the torn openings of the huge tent, where over ten of us spent the night. It was still freezing cold but I decided that the sun-rise should not be missed, not to mention that I was anxious to leave the smell range of my fellow travellers' feet. I put on my shoes quickly and struggled my way across my friends, most of whom were still in Dreamland.
Wow! The giant sand dune next to us looks so different now ! It appears so much more magnificent than the view in semi-darkness last night. But climbing up shouldn't be a problem, or so I thought. It turned out into one of my slowest climbs on this trip (not that I did a lot of walking or climbing). Every single step sank into the sand, and I was breathing heavily before long. In addition, the dune was much higher than earlier thought. The lack of vegetation meant that it was difficult to gauge its height. What I had estimated to be a 5 minute walk turned out to be a 30 minute one, and I had not even reached the top then. The sun had risen by now and from here, one could see the endless horizon of sand dunes, and its multiple shades of brown, gold, and even red. The sight was most amazing, or perhaps even magical. Not far from here, the erg enters Algeria, where the most beautiful desert landscape is said to be found. It's sad that civil conflict has been waging on the past few years, with numerous civilian deaths, and the country is shut to international tourism for the moment.
Soon, we packed up, mounted onto camels to get ready to leave. Yahya, however, was not at where it was supposed to be. Instead, he had tried to escape despite having one of its leg tied to its neck. He managed only to reach a point 100 meters away, which meant that our Tuareg guide was able to bring him back to the caravan, though not without a few hard kicks. At this point, Alexandria, an American girl, was nowhere to be found. We shouted for her and eventually the Tuaregs said that we had to go without her. To our astonishment, they started leading the camels (with us on top) away from the encampment. After 50 meters, we heard A. shouting from the great sand dune. She had spent the better of the past hour or so trying to reach the "summit" of the dune, and had panicked when she saw the group leaving. We stopped for her to catch up, and the Tuareg guide mocked her, "Do you want to try playing with the desert again ?"
Back at Café Yasmine, we were reunited with our driver, and drove back to Erfoud, where we were greeted by an Islamic funeral party. The men, carrying the deceased, who was dressed simply in a white shroud, were on their way to the cemetery and chanting Islamic prayers loudly.
We reached the town's bus terminal and the South African traveller and I parted company with the rest of the group. They would be returning to Marrakesh while Ortwin and I had to set off for Fes from here.

| | | |
| --- | --- | --- |
| | | |
| Merzouga: The great sand dunes: Due to the lack of referenece points, they are grander than this picture suggests. | Up on a great dune. I was dead tired by then. | Have you fallen in love with the Sahara ? I had. |
Transit Adventures
Erfoud is putting on a new dress. Officials and workmen were busily setting up decorative flags and pavilions to celebrate Feast of the Throne, the annual celebration of King Hassan's coronation. His portraits were everywhere - buildings, shops, lamp-posts, and even on some buses. Seemed that lots of money was spent to celebrate this holiday in a very poor country.
Ortwin and I waited at the bus terminal for the bus that never arrived, while resisting pitches from touts for services ranging from taxi to drinks. After a few hours, the touts had given up on us and even started friendly small talk about anything under the sun. It was a slow day, interrupted only by the visit of the local governor, who was accompanied by numerous vehicles and police outriders. A band awaited him, together with a large number of local dignitaries, many of whom wore the Turkish fez (hat), an (European) tie, and the traditional Moroccan jellaba - an interesting mixture of the traditional and foreign heritage. The visiting governor didn't stay for long. There was a brief farewell and the commotion died down very quickly, as life resumes per a normal day. I wonder if Moroccans would be shocked if I tell them that ministers from my country drive their own cars.
Eventually, we gave up on the bus and proceeded to negotiate for a grand taxi to Er Rachidia, capital of the wilaya (province), where there are more buses. We paid DH 16 each plus DH5 for the backpack to a man who shouted as he spoke. He looked like the local transport mafia chief. We tried to speak direct to the taxi drivers but he just wouldn't allow us, and the drivers weren't interested. And so two of us, plus the driver and three other passengers squeezed into a rather smallish mercedes. Two in front and two behind. I had to sit in the middle of the front row, meaning, over the gears ! To make matters worse, the chap to my right started quarreling with the driver, who was to my left. He threatened to open the door at times, and their voices almost deafened me. The quarrel soon died down, as the passengers began to take interest in their strange-looking fellow passengers from outer-space. Through a mixture of French and Arabic, plus mediocre translation from a school teacher in the back seat, we answered queries about our journey, families, and life in general. Peace was restored within this crowded vehicle, as the passengers obviously found these two strangers more interesting than their miserable squabbling.

| | |
| --- | --- |
| | |
| Postcard: Remember the English Patient ? | Postcard: See how small the desert and men are ! |
After passing through the green Ziz Valley, we reached Er Rachidia at 3pm. I booked the 11pm bus for Fes while Ortwin decided to spend a night here. He had decided that he needed a good bath before anything else. After the sand dunes, we were covered from head to toe by sand and dust, and I supposed this wasn't the best way of making a grand entrance into the fabled royal city of Fes. But my trip schedule was tight, and although I had gained three days by doing the Dades and Sahara via tour, I had decided to add Chefchaouen, El Jadida and Essaouira to my itinerary. So I had to leave for Fes tonight.
Ortwin checked into a hotel, and we had dinner at a nice little restaurant after that. Er Rachidia is a new city and regional administrative centre. Tourism isn't a big thing here. So one doesn't get hassled by touts and people are very friendly. This is also home to a large military garrison, and brand new army camps are found north of the city.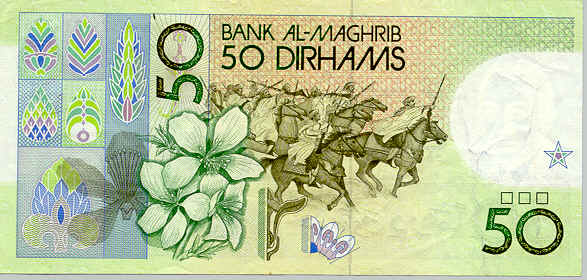 The bus to Fes set off punctually at 11pm, and many female passengers boarded it with tonnes of blankets wrapped around their waists. I should have realised something fishy but wasn't bothered since I was dead tired then and just wanted to sleep the way through. I realised what's wrong as the bus entered the Middle Atlas region. It was snowing out there in the mountains, which explained the blankets. I had only a raincoat with me, as the rest of my luggage was below, in the luggage compartment. Hence, I shivered through the night, sometimes thinking that I might end up freezing to death, to be found leaning on my seat like an Inca sacrificial mummy on a volcano. It wasn't a CTM bus, and so have been picking and alighting customers throughout the whole journey. Certainly, this didn't make it easier for me. I wasn't able to sleep the whole night at all.
---