TWC'S ODYSSEY
AL MAGREB
Tan Wee Cheng's Journey Through Morocco, Land of the Furthest West
---
21 Feb: Gibraltar - La Linea (Spain)
- Algeciras - Tangier (Morocco)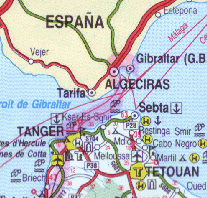 Straits of Gibraltar - where Gibraltar, Spain (Mainland & Ceuta/Sebta) & Morocco meets
Out Of Europe
Woke up at 6:40 am. Missed the breakfast to cross the border early. I had intended to take the earliest ferry from Algeciras to Tangier, Morocco. Crossing the border into Spain was a breeze - the harassment was restricted to those driving across. The Spanish customs stamped on my passport and then I was across the border.
La Linea, like many similar border towns elsewhere in the world that faces a richer neighbour, acts as a service centre for the richer community. Many of its residents commute daily into Gibraltar to clean its streets and man the shops. Maybe I was wrong about the cleaning the streets bit - I think the streets are probably cleaned by the Moroccans these days. I went to the bus station and realised that the first bus to Algeciras would only arrive at 8:45am. In any case, here I bumped into two fellow Singaporeans who were backpacking Spain, and had just arrived from Barcelona on an overnight bus. There were only 3 million of us and it was very rare to meet other Singaporeans on any backpack trip outside our traditional favourites in Asia-Pacific and Northwest Europe. We had a good chat until the bus arrived and then I proceeded to Algeciras.
Reached Algeciras around 9:15 am and bought the next available ferry ticket (for 10:30 am). [The ticket costs Pta 3,200 one way and was payable by credit card.] However, the gate people made a mistake and let me onto the 9:30 am ferry which was about to set sail. And so I proceeded to Tangier an hour ahead.
The ride to Tangier took 2 ½ hours. Most of the passengers were either Moroccans on the way home from work in Europe, or day-tourists who wanted to drop by Tangier for a few hours and pretended that they had been to Morocco. Moroccan passport stamping was done on board the ferry.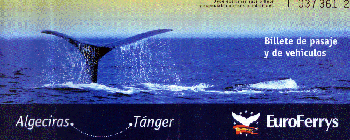 The sea was calm and I spent much time on the deck, looking out for the dolphins that were supposed to enjoying trailing behind these ferries - although I attempted conversing with two pretty Japanese girls who, like most of their countrymen, were unable to speak any language apart from their own. No luck ! However, I did a good view of the Rock of Gibraltar as the ferry steamed out of Algeciras harbour. Some distance away on the North African coast was the Spanish-controlled city of Ceuta, another political anomaly in this region known to the ancient world as the Pillars of Hercules. Ceuta, or Sebta in Arabic, was first captured by the Aragonese in 1309 (and then to Portugal in 1415, and finally Spanish in 1580). When the Spanish surrendered their protectorate in northern Morocco in 1956, they refused to give up Ceuta, Melilla and some islands off the northern Moroccan coastline. The Gibraltarians often argue, with good sense, that the Spanish should give up Ceuta and Melilla if they want the British to abandon Gibraltar.

Tangier: Conmen and Touts
Tangier - this is a legendary city - where Hercules killed the giant Antaeus and fathered a child by the giant's widow, Tinge; where the great traveller Ibn Battuta - the Arab World's Marco Polo - was born in 1304; where between 1923 and 1956, the governments of France, Spain, UK, Portugal, Sweden, Netherlands, Belgium, Italy and the USA ruled an international zone, run their own postal services, and of course, spied on each other; where great writers, romantics, smugglers, money launderers, gunrunners, prostitutes and pimps interacted with one another in this unusual period when the great powers ruled, or rather, misruled this city.
My first sight of Tangier was rather pleasant although any such feelings quickly dissipated within the next few hours. Small, white houses on the cliff edge, interrupted by a few scattered minarets. Very Andalusian-looking. The moment I set foot on Moroccan soil, I was besieged by taxi drivers and touts of all kinds, many of whom thought that I was Japanese, greeting me "Konichiwa" (hello) - some even said "Sayonara" which meant good bye ! I ignored them and walked boldly ahead. Hmm, it wasn't that difficult to deal with them. At least it's wasn't as difficult as suggested in the Lonely Planet ("LP") guide. The situation has improved since the Moroccan government passed a law a few years ago that imposed up to 3 years' imprisonment for anyone who harassed tourists.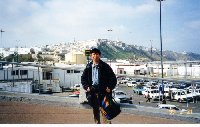 Went straight to the railway station and was approached by the first of many faux guides I was to encounter on this trip. Muhammad, as he called himself, tried to play a "kind" soul by pointing out my most obvious destination - the railway station - when I was barely fifty meters from it. "Yah, Yah, I know ! Thank you," I said and then walked into the station to get an overnight (10:20 pm) ticket (DH 145 plus DH 50 for the couchette) for Marrakesh. Muhammad ran after me, "Don't worry, I'm not a hustler. I'm retired, and I enjoy helping visitors."
Give me a break, I thought. I was not new to the Arab World, having seen similar people like him in Egypt and elsewhere.
Muhammad further volunteered, "Today is Sunday - it's Berber market day, and also there is a grand festival in Tangier today. I know a shop that has many special prices for you. Let me bring you there."
Old trick - everywhere you go in Morocco, people will tell you it's "Berber market" or "festival" day and they will bring you to "special Berber market" for "good" souvenirs, at "special" prices. But well, I had so much time for a city with not much to see, and as an occasional collector of kirim and rugs, I was also keen to find out about prices of Berber rugs. I decided to play along. OK, I told him straight, "Bring me to the shop."
And so Muhammad brought me through the labyrinth that was Tangier's medina, or old city. Veiled Arab ladies doing Sunday shopping in the souk (Arab market), Riffian Berber dames with their huge Mexican-like hats in town selling mountain herbs, teenage-labourers pushing carts of camel skin, men sitting in cafes sipping Moroccan mint tea - pretty exotic sights, though I had already seen much of the same in the medinas of Damascus, Aleppo, Cairo, etc. And once in a while, Muhammed bumped into some relatives or acquaintances, "This is my sister," "my brother-in-law", "my cousin", "my friend", "my sister-in-law's friend's father" and so on. Kisses on checks or foreheads, a quick exchange of words and greetings, and we were off again.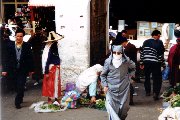 Muhammed brought me through all the little alleys and finally reached his "special Berber" shop. Walked around for a while, and the owner was anxious to sell me his carpets. I didn't want to show my enthusiasm and asked about prices in a very general manner. I tried to stick by the cardinal rule of not bargaining if one didn't want to buy. In any case, the owner had the impression that I liked his rugs and reduced his prices drastically even though I said repeatedly that I didn't want anything. Soon, some pretty kirims were going for US$30 even though they were US$120 to start with. At this point, they were beginning to look attractive. Heh, heh, it's the beginning of my trip and I MUSTN'T torture myself by carrying carpets round the country. So, I told him I had to leave, while promising to return (it's a lie, as I didn't plan to pass Tangier again) and started to leave.
Muhammad ran after me, saying that I had wasted his time and didn't buy anything. And so, I must pay him for guiding me around ! I gave him an are-you-crazy-look - "Come'on brother," I said, "You did nothing except pointing at the railway station when I was outside." He looked at me sheepishly, and said, "Please, give me something…" his voice trailing off. I thrusted DH 5 (about US$0.70) into his palm and walked away quickly, while Muhammad cursed loudly behind in Arabic and god knows what…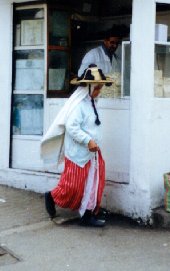 The medina's alleys looked confusing but asking around for the Gare, I soon made my way back to the railway station. From then, I returned to the medina to explore it in a more "orderly" manner. The medina was extremely crowded - not only with Sunday shoppers, but also lots of tourists making the day trip from south of Spain. This high volume of tourist trade had also pushed up prices - many dirty-looking eating shops in the medina were charging DH 50 to DH 80 for a simple meal of couscous (coursely grounded wheat that is Morocco's staple) or tajines (meat or vegetable stews cooked in earthen pots) - ridiculously expensive for a third world country. I wonder if the locals pay a similar price. These places tend to have two menus - a French/English/Spanish one, and an Arabic one - the latter with prices in Arabic numerals (which is different from the so-called Arabic numerals that we use), which I had yet to master. I also noticed many French-styled bakeries and patisseries - the influence of French cuisine and gastronomical habits are evident everywhere in Morocco. There seemed to be cafes everywhere too, and they were all filled with men - where were all the women ? I was to find out later - this is a country where the women did lots of hard work, while men's overwhelmingly "heavy" duty was to "defend" the women, against what I had yet to discover. And so, men had the privilege of relaxing in the cafés.
Tangier was like a decaying mummy of an Egyptian queen - colours fading, the shroud beginning to fall apart, the odours increasingly unbearable, and yet the corpse remained positioned in a dignified manner, as though to mock the onlooker, saying, "My soul had reached the Heavens, while you still live in a world of sufferance." The city is still full of grand old buildings of the International Zone era - the "Italian" Street with its Italianate buildings and graceful balconies, the infamous Pension Fuentes, the Grand Socco and its confusing traffic, the Continental Hotel and its association with famous writers…many were mere facades of their more glorious past, although the Continental seemed to be newly painted. Locals like to point out the long forgotten artistic, wealthy and glamorous who lived in this building or that one. They quoted names as though these figures remain the idols of today…Brion Gysin, Brian Jones, Paul Bowles, Barbara Hutton, Henri Matisse, Forbes… I only know the last because he died a few years ago. Even then, who would have known him in 10 years' time ? Time is cruel indeed.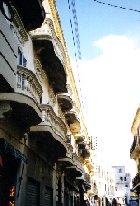 Like all other Moroccan cities I was visit later, Tangier has an old city, known as the Medina, and a new city built by the French, known as Ville Nouvelle. General Lyautey, the first French resident-general (or governor) of Morocco, had decided to keep the ancient cities of Morocco intact, and so built wholly new European-style administrative centres next to the old medinas.
I had mint tea at Café de Paris, which was located at Place de France, in the heart of the Ville Nouvelle. A slow afternoon people-watching, having small talk with friendly locals as well as hustlers trying to "guide" me around, or show me the "best Berber market". After a few hours, I decided to take a little walk around the Medina again before nightfall. I headed towards the American Legation building, which today is a museum. Yes, Morocco was the first nation in the world to recognise US independence and this building is the oldest American consulate ever established. Passed Ibn Batutta's tomb and the ancient Jewish Mellah (Quarter) as well. Morocco's Jewish community remains important today, although much reduced compared to the days before the establishment of Israel.
Passed by a perfume and jellaba (Moroccan cloak) shop, and had tea with its friendly staff - Omar. Omar is 38 years old, and yet he already has 3 wives and 10 children. Wow ! No wonder this country has a high unemployment rate.

Can I Have A Hundred Dirhams Please ?
Enough of the Medina, and I went to the beaches instead. Here, along Avenue des Forces Armees Royales (F.A.R.), I sat on a bench to rot my time away, watching almost fully covered ladies bringing their kids to the beaches. (Remember ? I was to take a 10:20pm train.) Nothing terribly exciting.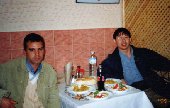 My (soon-to-be-exposed) greedy "friend"
A young chap, sat nearby as well, and we soon stuck up a conversation in what limited Arabic and French vocabulary I possessed, and his equally pathetic next-to-nothing English. Ben Allouc, 26, a Riffian Berber living in Tangier, was waiting for his friends, who didn't turn up. We spoke about my trip, our families, etc, although I couldn't figure out his occupation. In any case, he gave up on his friends after an hour, and I suggested going for dinner. I asked him to suggest a budget restaurant. We had a good meal while trying hard to carry on the conversation. The meal cost DH84 (about US$10), which I thought high by Moroccan standards, but probably reasonable compared to elsewhere in Tangier, or anywhere else in the developed world. I paid for the meal gladly, as I suppose such amounts would be expensive to a local. We returned to where we sat earlier. We continued our increasingly low value-added conversation - we had much difficulty understanding each other, and by now, have run into even greater difficulties as the discussion furthered. Soon, it's 8+ pm and I think's it's time to part. To my surprise, Ben Allouch asked for DH 100 for a taxi ride home plus cigarettes. I paid for his dinner, and he asked for more ! It's unbelievable ! I pretended I didn't understand him to avoid embarrassment. But he pressed on, and actually showed me a DH 50 banknote, and then indicated he wanted two of that. That's going way too far. I turned him down politely, and said I had to go. He relented, smiled in a rather embarrassed manner, and with an "Au Revoir," we parted. Thought I had met a nice Moroccan, and yet he's no different from the touts. On the way back to the Railway Station, a couple waved to me, and the man asked if I wanted women. Some things don't change with time.
Met a number of backpackers - Americans, Canadians, Swiss, Spanish - at the Railway Station. Everybody's going to Marrakesh. All have heard that Marrakesh was the coolest place in Morocco. Hope so. I would not be disappointed.
---