TWC'S ODYSSEY
AL MAGREB
Tan Wee Cheng's Journey Through Morocco, Land of the Furthest West
---
| | |
| --- | --- |
| | 24 Feb: Dades Valley |
| | |
| --- | --- |
| | |
| Map of the next three days' Dades & Sahara expedition - click image to expand map | Detailed map of the day's route - click to expand |
Expedition Ho !
It was an interesting tour group to start with - a London-based Aussie, three Americans, a South African, a sophisticated Franco-Tunisian/Austrian couple and a Belgian. We departed Hotel Ali at 7 am, driving through Marrakesh and its surrounding countryside in the morning mist - one could hardly see more than 10 meters ahead. The driver drove as though he could see the Pyramids of Giza from here…I was a little worried and gently touched my Guanyin (Buddhist deity) talisman, which I kept in the inner pocket of my jacket.

| | | |
| --- | --- | --- |
| | | |
| Wild mountains | One of the many tiny villages on the Atlas road between Marrakesh and Ouarzazate | I almost threw up on this winding journey through the mountains |
| | | |
| --- | --- | --- |
| | | |
| Our van on the snowcapped Atlas | Ait Benhaddou: About to storm the fortress ! | At Ait Benhaddou |
Soon, we entered the High Atlas region with its twining, narrow roads, which, when combined with my lack of sleep the night before, caused some dizziness - I thought I was going to throw out at times. Thank goodness I was able to control myself. In any case, the scenery was spectacular - snow-capped mountains and steep, green valleys dotted with tiny hamlets. I wondered what these people do for a living… It wasn't before long that we saw locals waving colourful rocks and pseudo "minerals" (probably manufactured in factories based in Casablanca). Fossils, they proclaimed.
Our first major stop of the day was the UNESCO-listed world heritage site, Ait Benhaddou. This was one of the largest and best preserved kasbahs in Morocco. Set on the slopes of a small hill by the side of an oued (river in Arabic), the mud-built fortified towers of Ait Benhaddou rise sharply towards the sky, as though competing to reach the heavens. Tiny windows spy at the visitor - it was from here that the tribal warriors of Ait Benhaddou looked out for the next raid from hostile tribes. A beautiful garden near the entrance of the kasbah greeted me after I crossed the shallow oued. Beyond that was the dry stony desert, and the amazing contrast of the eternally snowcapped Atlas. What a surreal sight ! The whole place looked like a fantasy land from Tolkien's science fiction works. I wandered round the narrow alleys… at every corner was a photographic opportunity - a tired donkey, a dame with her veil, dates being dried, etc. The kasbah was also the site of numerous film scene - including Lawrence of Arabia and Jesus of Nazareth. This season seemed to be that of the Gladiator Crew, a dodgy B-grade film with underdressed, over-muscled people pretending to be Romans and their Christian gladiator-slaves.

| | | |
| --- | --- | --- |
| | | |
| Ait Benhaddou | Ait Benhaddou: Straight out from Tokien's science fiction novels | Ait Benhaddou |
| | | |
| --- | --- | --- |
| | | |
| Want to play hide and seek ? | Ait Benhaddou: Paradise in the desert ? | Ait Benhaddou: Why are you taking pictures of dirty laundry ? |
Here, I met three Frenchmen from Chamonix - when I told them the British were all rushing to their region to ski right now, one said that they had enough of snow all their lives, and would definitely want a lot more of the dry glories of the Sahara.
After Ait Benhaddou, we sped towards the large regional centre, Ouarzazate (War-za-zat: I only mastered its pronunciation the day before). A nice looking new city with direct flights to Paris (!) and a grand looking kasbah - but extremely touristic looking as well, with carpet shops everywhere. We made the mistake of having lunch at an expensive restaurant and missed visiting the free museum across the street. Before long, we were on our way towards the Dades Valley, passed a Royal Golf Club, one of the many I was to see in this water deficient country.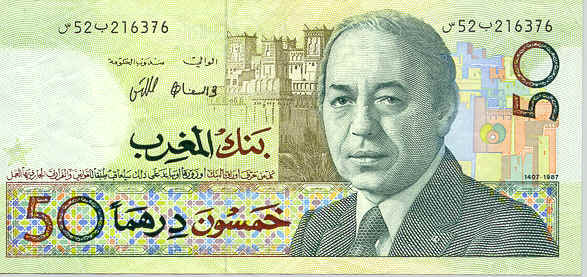 The Dades Valley is a flat land squeezed between the High Atlas and the rugged Jebel Sarhro, where the courageous local Berbers defended their poverty-stricken land against invading French for many years. Occasionally, one passed little villages with palm trees and vegetable fields, not to mention numerous kasbahs, so many that I lost count. Thus the name Valley of the Thousand Kasbahs. The kasbahs of the Atlas were made from mud and thus they tend to last for not more than 50 years. That's why ruined kasbahs and fortified mansions dotted the valley. Not to mention the fact that life in the desert was so harsh that its inhabitants sometimes raid neighbouring tribes in order to survive. This created the need for fortification everywhere - of not only houses but also granaries, mosques and arsenals. In fact, many of these are often constituent parts of a ksar, or Berber fortified village.

| | | |
| --- | --- | --- |
| | | |
| Children at work | Am I cute ? | A look at the snowcapped Atlas from the Valley |
At the picturesque town of Boumalne du Dades, we branched off to a smaller road into the famous Dades Gorge, a steep, narrow and often bending gorge with even more ruined kasbahs and picturesque cliffside ksars, and amazing rock formations of different shapes and colours. The landscape was nothing but spectacular - a deep river valley with tiny green fields along it, scattered ksars and kasbahs on the slopes, which rise steeply to the road level, and beyond that, flat, desert plateau, all in the shadows of the snowcapped Atlas.
We reached Hotel La Kasbah de la Vallee - a cosy little establishment at the mouth of an even narrower gorge. We took a little stroll in the gorge before nightfall, and then had dinner in its large dinning room (equipped with a fireplace !) to the tunes of Berber music. The place was a little freezing, but we had a great time chatting about the wonderful day we had. I even bought two Berber rugs in the hotel shop. I was a little tough initially during the bargaining process - the proprietor said I bargained like a Berber, but I gave in a little later. After all, these are poor people struggling to make a living, and I don't think the shop - located in a desolate area - has many walk-in customers. (Business is all about location, isn't it ?) But the experience in Tangier, as well as previous practices in the Middle East had certainly helped.
---