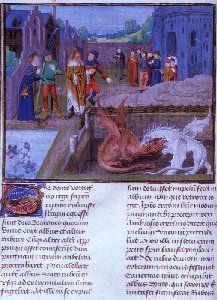 Click on the image to see details
The Matter of Britain:
Manuscript illustrating an ancient legend on the origins of the Welsh people. It shows King Vortigern watching the battle between the red and white dragons - symbolising the bitter battle between the Celtic Britons and the Saxons. The red dragon won in the legend.
TWC's Odyssey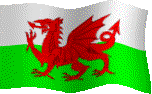 CYMRU
LAND OF SAINTS AND HEROES
Tan Wee Cheng's journey through the history and culture of Wales
Wales, Land of Compatriots. That's what Cymru, or Wales in Welsh, means. This is the ancient land of the Celtic Britons who were forced to seek refuge in the mountains of the west when the Angles and Saxons invaded from the Continent. Ironically, the late-comers soon called the Celts "Wealeas", meaning foreigners. The Celtic race once occupied much of western Europe but later Germanic nomads overwhelmed them, bit by bit over the centuries, until they were left with fringe-lands like Wales, Brittany, Outer Hebrides of Scotland, Galicia of Spain and the green isle of Ireland. Even then, these lands were lost to larger nation states, and only Ireland, or Eire, emerged as an independent Celtic state. With the devolution of Wales and Scotland approaching, perhaps these ancient Celtic lands too, will regain their independence...
This is the story of Tan Wee Cheng's short trip through this land of history...

The Invaders Arrive.....Cardiff - Europe's Newest Capital.....To The Land of Saints: Across Glamorgan & Pembrokeshire.....St David's - Saints & Pilgrims.....Mid-Wales: Heroes & Crosses.....Snowdonia (Eryri) & Gwynedd - the Real Wales.....Stones, Statesmen, 10,000 Saints & a Mysterious Isle.....Of Spirits & Castles