CYMRU

LAND OF SAINTS AND HEROES

Tan Wee Cheng's journey through the history & culture of Wales
To the Land of Saints:
Across Glamorgan & Pembrokeshire
"This isn't a castle. It's a whole ruined town."
Lord Tennyson
One night in Cardiff, and we quickly moved on for a brief visit to Caerphilly (Caerffili) Castle, Wales' largest castle with a duck-filled moat. Built, destroyed, and rebuilt several times, its most picturesque part was its leaning tower, caused by a Royalist explosion during the Civil War.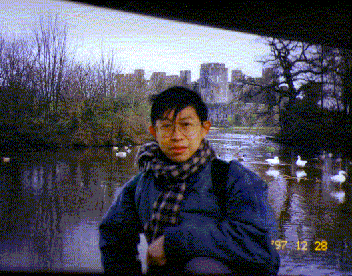 We have read about the supposedly famous Caerphilly cheese but couldn't find it. The locals told us that this famous cheese was now only available from the tourist office, which was closed for the Christmas holiday. Well, like many traditional products round the world, this renowned cheese, too, had fallen under the onslaught of uniform factory manufactured products.
"Ugly, lovely town."
Swansea, as described by Dylan Thomas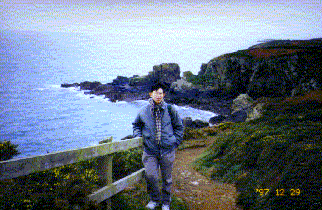 We then sped towards Swansea (Abertawe - the Welsh name - note the great difference in English and Welsh names), and birthplace of renowned Welsh writer, Dylan Thomas. Founded by Sweyne the Viking, the city is Wales' second largest. My favourite guidebook on Wales ("Wales" by Peter Sager, from where I would quote from time to time in this write-up) says that Swansea has the most beautiful setting and the most exotic food - the people here eat seaweed. They call it laver bread - it's protein-rich, and made from seaweed collected from the coast of Gower, cooked in oatmeal, eaten with bacon or ham. Didn't have much time to spare. So we had a brief stop at Swansea Bay/Gower Peninsula before entering Carmarthenshire (legendary birthplace of Merlin, the magician) on our way to St David's on the Pembrokeshire coast. On a cliffside around here, schoolboy Dylan Thomas once cried, "Why don't we live here always? Always and always. Build a bloody house and live like bloody kings," before adding laconically, "It's too wild for a townee." ["Wales' by Peter Sager]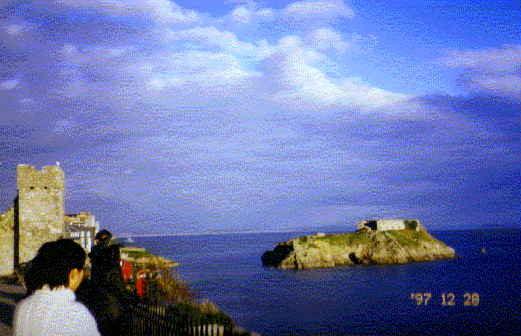 The Pembrokeshire Coast National Park is a beautiful area of rugged cliffs, cute little farming and fishing villages, sandy beaches and rocky coves. On the way to St David's, we passed Tenby, Pembroke, Manorbier, and crossed the Milford Haven, a wide inlet from the Atlantic.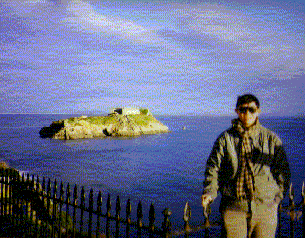 Tenby, is known in Welsh as Dinbych-y-pysgod, Little Fort of Fishes. This is a beautiful resort town, with some famous beaches and a fantastic cliffside view. Here, we caught a glimpse of Caldey Island, home of a community of Cistercian monks, seals and seabirds. The monks here produce perfume, dairy products and chocolate. Women are forbidden from setting foot on this island. I wonder how the monks get their products tested, maybe on the mainland...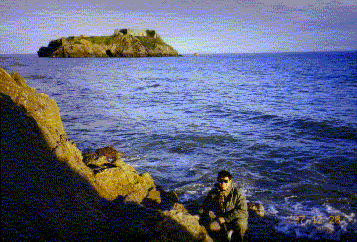 Manorbier was the birthplace of Giraldus Cambrensis, 12th century cleric, warrior, traveller, writer and a staunch Welsh nationalist. Born of a Norman baron father and a Welsh princess, Gerald the Welshman (Geralt Gymro), as he is also known, was particularly famous as a meticulous observer of mediaeval Welsh life. He once said, "The Welsh goes to extreme in all matters. You may never find anyone worse than a bad Welshman, but you will certainly never find anyone better than a good one." ['Wales" by Peter Sager].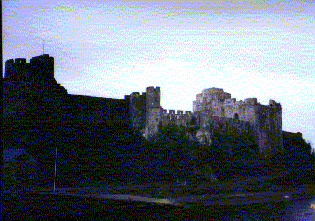 Pembroke is famous for its castle, where Henry Tudor was born. His father, Edmund Tudor, was the son of Queen Catherine of Valois and Owain Tudor, the Welsh knight she secretly married after the death of King Henry V ( - it was a scandalous event of the times). Edmund married the Countess of Richmond, a claimant to the throne, and got involved in the messy Wars of the Roses. He was killed as a result but his son, Henry, founded the Tudor Dynasty by invading England with his Welsh archers. Of course, the Welsh were fond of reminding visitors that they once, had conquered England. Proud of his Welsh descent as to add the red dragon (the national symbol of Wales) to his arms, Henry VII did little to uplift the status of his land of birth. Welsh dreams of freedom were once again swept under the carpet.

St David's - Saints & Pilgrims.....Mid-Wales: Heroes & Crosses.....Snowdonia (Eryri) & Gwynedd - the Real Wales.....Stones, Statesmen, 10,000 Saints & a Mysterious Isle.....Of Spirits & Castles

---