CYMRU

LAND OF SAINTS AND HEROES

Tan Wee Cheng's journey through the history & culture of Wales
Snowdonia (Eryri) & Gwynedd:
the real Wales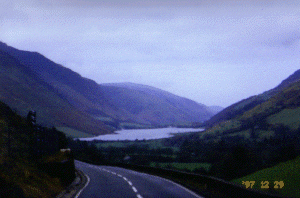 From Machynlleth, we continued northwards and finally entered the Snowdonia National Park. Second largest national park in Britain, this is a beautiful region with rugged mountains, beautiful lakes and forests, spectacular waterfalls and a scenic coastline. This is also the most nationalistic part of Wales, and the proud dragon-on-the-green-field flag was flown everywhere.
This was where the Welsh, protected by the mountains, held on longest to their liberty and language. Time and again, the people and princes of Gwynedd, as the county where Mt Snowdonia is located, rebelled against the invading English. The latter built imposing castles here, at Harlech, Caernarfon, Conwy, Beaumaris - all declared by UNSECO to be World Heritage Sites - and hung the severed heads of the Welsh princes to remind these unruly people of the cost of rebellion.
Click the pix to enlarge:
Gwynedd is land of the Llywelyns - the courageous princes of Gwynedd, the torch of which every subsequent Welsh nationalist claim to inherit. Llywelyn ab Iorwerth, or Llywelyn the Great, the greatest of all Welsh princes, modernise and strengthen the institutions and defences of Gwynedd, extended his power across northern and mid-Wales. His moves touched off a building frenzy among the English marcher lords who feared his sudden rise of power. His grandson, Llywelyn ap Gruffydd ("the Last"), continued the rise of Gwynedd's power, and even secured English recognition of his title - the Prince of Wales - in the Treaty of Montgomery. His triumph was not to last long. Llywelyn was killed at the Battle of Cilmeri, his head was stuck on a pole, and paraded round London. Today, on the spot where he fell, a monument stood to commemorate "Llywelyn, Our Last Prince" . Shortly after that, his brother, Dafydd III, was hung, drawn and quartered at Shrewsbury. The tomb of Llywelyn the Great and other royal princes of Gwynedd at Conwy was demolished to make way for Edward I's great castle. The claim of Charles of Windsor, or Carlo Windsor in Welsh, as Prince of the Welsh, sounds hollow in the eyes of many nationalistic Welsh.

Stones, Statesmen, 10,000 Saints & a Mysterious Isle.....Of Spirits & Castles
---