CYMRU

LAND OF SAINTS AND HEROES

Tan Wee Cheng's journey through the history & culture of Wales
Mid-Wales:
Heroes and Crosses

A famous taspestry commemorating the defeat of the French near Fishguard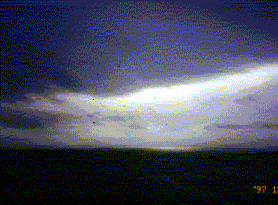 After this we drove northwards along the beautiful coast, passing Fishguard (Abergwaun) and Newport (Trefdraeth). Fishguard was where the French launched the last invasion of Britain 200 years ago and it failed miserably. The 1,400 French soldiers came in the wake of the French Revolution, on 22 February 1797, thinking that the Welsh would rise in support of the French liberators, found instead hostile natives. The bold ladies of Fishguard, dressed in traditional Welsh costume and led by a shoemaker's wife, marched forth with pitchforks. The nervous-wrecked French saw in a distance scarlet tunics and tall black hats, thought that they were surrounded by a large British army, promptly surrendered without a fight.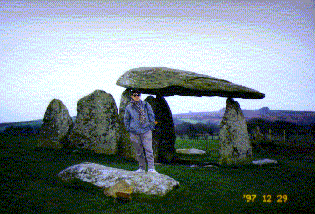 We also made brief stops at the 4500 year old Neolithic burial site of Pentre Ifan and the Chur ch of St Brynach in the cute little village of Nevern. Pentre Ifam looked pretty close to the A487 main road but it took us a terribly long time through a narrow wounding country lane to reach there. Anyway, the tomb lies on a beautiful meadow surrounde d by wheat fields. Here, one sees a 16-foot-high capstone supported by 7-foot-high boulders. It was a foggy day, and that added to the sense of timelessness and mystery. It's back to the days of Merlin!
St Brynach was another mystical Celtic saint. He lived a life of wandering, first as the chaplain of an Irish warlord, then a pilgrim to the Holy Land where he killed a monster, returned to Wales where he was seriously injured by Welsh who were busy expelling Irish settlers (ethnic cleansing isn't a new concept). He escaped, recovered, expelled by evil spirits from a bridge-cell, chased away in the next place he settled, but eventually welcomed by a local lord to settle near Nevern. Here he built a church close to the holy mountain Carn Ingli, upon which he would go to commune with angels. Today, the church is famous for its ancient Celtic cross and tombstones with inscriptions in the extinct ogham script.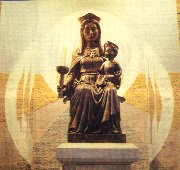 Speeding northwards across the county of Ceredigion (Cardiganshire), we paid a brief visit to Our Lady of Cardigan (Mair o Aberteifi), t he National Shrine of Wales. This was where a miraculous statue of Mary was discovered by the banks of River Teifi. We moved on to the central town of Aberystwyth - famous for its university and the National Library of Wales.
Click the pix to enlarge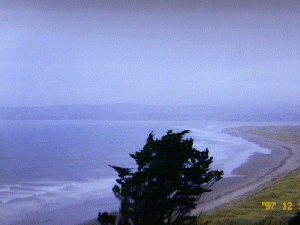 And then on to Borth and its sandy beaches, before spending a night at Machynlleth (pronounced "Mac-khan-n-cliff"), where the Welsh national hero Owain Glyndwr set up the first Welsh parliament. Descendant of the Welsh princes of northern Powys, Owain Glyndwr led a rebellion in 1400. He was initially successful, having stormed the great English castles everywhere from Glamorgan to Anglesey, declared himslf the Prince of Wales, and held his parliament at Machynlleth. But then the tide turned - how can clannish, tiny Wales held against the enormous might of England ? The English recovered castle after castle. Glyndwr's last fell in 1409, and he continued as a guerilla. In 1415, like other great heroes of Celtic Britain (e.g. King Arthur), he disappeared as well, but legends say he would be back again one day, and lead the Welsh to freedom.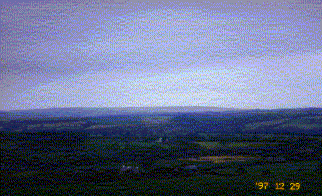 Snowdonia (Eryri) & Gwynedd - the Real Wales.....Stones, Statesmen, 10,000 Saints & a Mysterious Isle.....Of Spirits & Castles
---