CYMRU

LAND OF SAINTS AND HEROES

Tan Wee Cheng's journey through the history & culture of Wales
Cardiff - Europe's Newest Capital
Cardiff (Caerdydd) is a small city. Declared capital of Wales only in 1955, it is also Europe's newest capital city (that is, if you ignore the former Yugoslav/Soviet republics). It is, however, by no means a young city. First founded by the Romans as a fortress by the River Taff, it never really became very important until the 19th century when the Industrial Revolution and its seemingly endless demand for coal propelled this sleepy village into one of the world\rquote s busiest ports. Coal was mined in the hills and valleys of Glamorgan, southern Wales, and then transported here for shipment. It was during this era that the enterprising Marquesses of Bute, as a result of holdings of Welsh mines, became one of the world's richest men. They also set off a building frenzy in Cardiff, bestowing the city with a grand civic centre. With the help of William Burgess, the brilliant but eccentric architect, the Third Marquis, an enthusiast in things mediaeval, turned the then ruined Cardiff Castle into a magnificent display of the Middle Ages culture, or to the sceptic, a manifestation of immense tastelessness.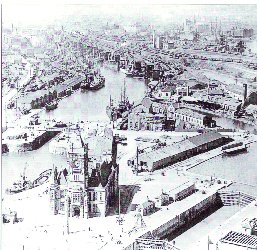 With the decline of the coal trade, Cardiff soon settled in as a humble British provincial centre, only to be declared capital of Wales in 1955 - largely a symbolic move. Real autonomy will not come until 1999. Since the recent referendum approving devolution, the city has started preparing itself as the host of the Welsh Assembly. Despite this, the city still has a very peaceful and even provincial feel. The civic centre and its monumental buildings looked deserted, even a little out-of-place. As I stood at the car park just opposite to the neo-classical edifices of the Civic Centre, a few chaps were b usy with their fishing rods along a little tree-lined stream to my west. We could have been standing by a Minnesota stream.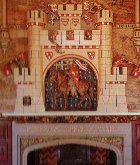 Night was spent in Cardiff. There wasn't much to do here - the whole place went dead with nightfall. Spent the night watching TV. Spent some time watching the Welsh Channel 4 (Sianel 4 Cymru) and its numerous folk singing programmes - this is one of the world's most expensive ethnic minority channel. Out of the country's 2.8 million people, only half a million speaks Welsh language as a mother tongue - 19% of the population. In 1851, over 90% spoke the language. The authorities have tried to promote the language by making compulsory in schools. Perhaps eventually, like the Irish, they will succeed in reviving it in daily life.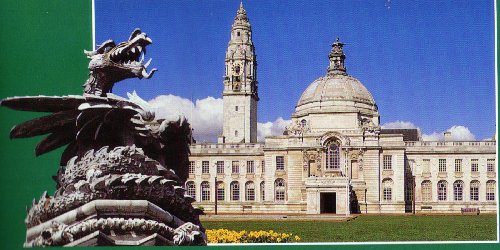 About folk songs: This is the land of singing and choirs. Singing to the Welsh is a national expression. Every village and town has its own choirs and every year, they hold their own Eisteddfod - a competition of singers and poets. The International Eisteddfod is held at Llangollen, where choirs from all over the world are invited.

To The Land of Saints: Across Glamorgan & Pembrokeshire.....St David's - Saints & Pilgrims.....Mid-Wales: Heroes & Crosses.....Snowdonia (Eryri) & Gwynedd - the Real Wales.....Stones, Statesmen, 10,000 Saints & a Mysterious Isle.....Of Spirits & Castles
---