CYMRU

LAND OF SAINTS AND HEROES

Tan Wee Cheng's journey through the history & culture of Wales
St David's - Saints and Pilgrims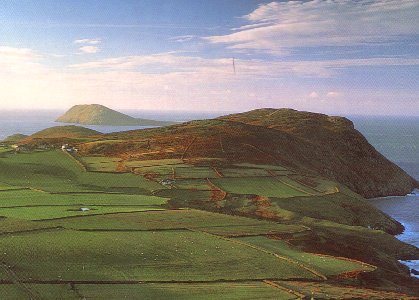 St David's (Ty-Ddewi), the smallest city in Britain with a population of 1500, was no bigger than a small village but was important as the birthplace of St David (Dewi Sant), Wales' patron saint. St David was one of the earliest Celtic missionaries, who toiled to Christianise the barbaric tribes of Britain and western Europe. Venerated after his death, St David was not only a religious figure, but a symbol of Welsh independence. By 1120, Pope Calixtus II declared that two pilgrimage to St David's was equal to one to Rome. Today, the city is famous for its ambience, cuteness, and splendid cathedral. Its quaint little streets, peacefulness and beautiful seaside scenery have attracted many here.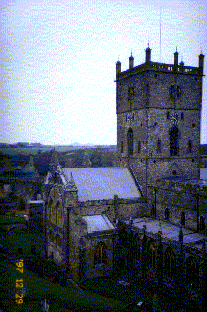 Arriving in St David in darkness, we couldn't find the small hotel we booked earlier from Swansea. We then decided to put up at a B&B we passed by, and then rang the hotel to tell the proprietor that we lost our way in Swansea area and hence couldn't stay at his place. It was really embarrassing and I felt bad telling a lie but anyway the damage was done. We then walked around town and stopped by an interesting hotel bookshop. We bought a book on Celtic saints there and had a conversation with the proprietor. And then, he mentioned about having to wait for a group of four German-sounding guests who cancelled their reservations because they had lost their way. (Up to now I still have no idea my name could have sounded German). Well, we took a careful look at the name of the hotel. Oops, it's really the place we had booked earlier... we remained silent. But thank goodness, he said, the rooms were subsequently filled by some unexpected guests. Well, that relieved our sense of guilt. We must avoid that sort of situation again.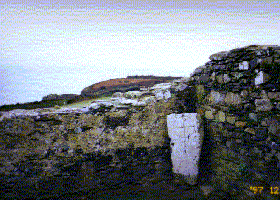 The following day we visited St David's grand old cathedral and its ancient tombs . Then we proceeded to the wind-swept, seaside shrine of St Non, mother of St David. Apparently, Non was a young nun who met a ex-prince monk, and gave birth to St David. Don't ask me what and why the nun did what she did... none of my guidebooks explained this. In any case, like other great saints, his birth was nothing less than momentous - a hurricane swept that very cliff-side and a curative spring gushed forth where he emerged into the world. I had a sip of these holy waters - maybe that will bring me good luck. [Click pciture to the left to see clearer St David's birth-spot.]
We'd love to visit Ramsey Island with its seals and seabirds but the cruise didn't operate in winter. Thereupon, we set off northwards for Snowdonia...to the mountains...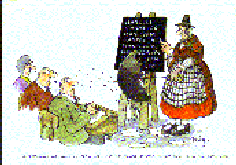 A postcard making fun of the Welsh language - click the pix to enlarge it !

Mid-Wales: Heroes & Crosses.....Snowdonia (Eryri) & Gwynedd - the Real Wales.....Stones, Statesmen, 10,000 Saints & a Mysterious Isle.....Of Spirits & Castles
---