Click map to see detailed route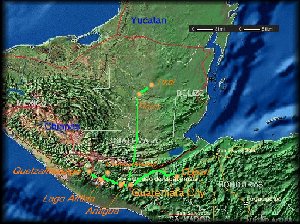 GUATEMALA - XELA / QUETZALTENANGO
Sent: 15 February 2001 22:44
Subject: More Mayan Idols and Trouble Again from Border Bureaucrats

Dear All,

Now writing from Antigua, Guatemala. Back here on Tuesday from the Western Highlands. Tomorrow, I will fly north to Flores to visit the Mayan
archaeological site of Tikal, also known as the Manhattan of the Mayan world, where the ancients built tall ten storey tall structures. On
Saturday, I shall leave Guatemala for London, completing this two week trip.

I had a great time in Quetzaltenango, also known as Xela, Guatemala´s 2nd largest city, which like Antigua, is surrounded by volcanoes and destroyed repeatedly by earthquakes and eruptions. Unlike Antigua, this is a 'real' city, where the Mayans have integrated into the local economy as equals, rather than exotics parading around in native costumes for tourists. This was also an important place in history, where Dom Pedro de Avarado, the Spanish conquistador, killed Tecun Uman, Mayan prince, in a combat that is still remembered by Mayans today in numerous songs, poems, plays, festivals, etc, as a national tragedy - the Mayan equivalent of the Kosovo Polje (for the Serbs) and Boyne (Irish). The place where it took place is known as the River of Blood. I stood there amidst traffic pollution and dust, wondering if the time for redemption has arrived.

| | | |
| --- | --- | --- |
| | | |
| Parque Central in Xela | Coat of Arms of Guatemala | Tecun Uman |
| | | |
| | On the Road | |
I joined two Germans and two English on a half day trip to the town of Zunil, where the local market and yet another Mayan icon, San Simon/Maximon, holds court. We listened to a women speaking loudly to the idol about her woes while another try to feed the idol with liquor. A thick black candle burns, signifying a curse a worshipper has placed on an enemy and seeking for San Simon´s assistance for justice.

After the idol, we went to the Fuentes Georginas, a mountain hot springs. The experience would have been great if not for the English lady, an elderly 60+, who seems to have strong leftist views on everything, and sees anyone who disagree with her as an enemy. I offended her sensitivities by
mentioning about the food shortage and poverty in Cuba (I also mentioned positives such as 100% literacy and health system), while she argues that
people are consuming too much these days and too many Cubans have fallen victim to American propaganda (hence trying to leave Cuba). When I casually mentioned about the Guatemalan civil war, she argued that it was a deliberate massacre of peasants by the Military and that calling it a civil
war is an insult to the Mayans. And she went on to damn Thatcher, America and the bloody capitalist world, especially big corporations and banks. Of course, I did not endear her by confirming that I work for one of these bloodsuckers. When I asked what she does, she says that she runs a small
ethical business and does not earn as much as I do. Needles in her words but I´m comfortable with the latter...of course she probably drives a Mercedes around Islington...

| | | |
| --- | --- | --- |
| | | |
| Hello San Simon of Zunil - Look at that thick black candle - vicious curses ? | Helping San Simon to drink some whisky | Catwalking on the streets of Zunil |
| | | |
| | Zunil and the surrounding areas | |
After leaving these people, I hired the same van and proceeded to explore the little churches and villages of this region, most of them with long
names such as San Andres Xecul, San Cristbol Totonicapan, San Miguel Totonicapan...

The next day, I travelled to Antigua, whose old name was La Ciudad de Santiago de Los Caballeros de Guatemala, or the (in another version, Most
Loyal) City of St James of the Knights of Guatemala. I made further travel arrangements and visiting the endless old churches. Watched The Buena Vista Social Club and dream about Havana.

On Wednesday, I joined a group at 4am on a tedious day trip to Copan, a Mayan ruin in Honduras. Well, Singaporeans need a visa to visit Honduras and I didn't have one. The travel agent told me it's not a problem and even the fact that I hold a single entry Guatemalan visa isn't a problem too. $30 more would do the trip. As a result, we got stuck on the visa while the bureaucracy wanted $50 for the convenience. Well, not the first time, and certainly not going to be the last. Money changed hands and we proceeded.

| | | |
| --- | --- | --- |
| | | |
| | | |
| | The beautiful church of San Andres Xecul | |
| | | |
Copan - if Tikal was the Manhattan of the Mayan world, then Copan was its Florence - smaller in size but a giant in arts. We visited the tombs and
temples, and admired the sculptures and the many stone skulls that adorn its terraces. I wondered about the number of sacrifices carried out here. If
anywhere is haunted, here´s one prime location. After building numerous monuments and sacrificing enemy chiefs captured in raids, 18 Rabbit, Copan´s greatest king with what sound to moderners like us a most unwarlike and even comical name, was himself captured by a subject city and sacrificed to the Gods in that city´s grand plaza.

I rushed back to Antigua on San Valentino´s night, and watched Fresas y Chocolate, an award-winning film about friendship and sexuality in Cuba, at CineMaya (what in this country isn't named after the Mayans - a strange thing after a 36 year civil war in which more than 100,000 Mayans were
killed by the Latino-dominated Military). The show began and ended at a great Cuban ice cream shop, where last week I had tried to buy ice cream only to walk away when the police insisted that I should pay 20 times more because I was a foreigner.

Tonight I shall watch Guantanamera. Si, Cubano again. And to attend the opening ceremony of Antigua´s Cultural Festival of Peace, in the central
park. With this, adios!


regards,

Wee Cheng

| | | |
| --- | --- | --- |
| | | |
| The first church of Guatemala at Salaja | Details. | National education |
| | | |
| Zunil: See the Dentist! | Now they are here. | And he wants to join too. |

Copan: The Florence of the Mayan World
Conquest & Redemption Main Homepage
EMAIL THE AUTHOR ! AUTHOR'S HOMEPAGE