| | | |
| --- | --- | --- |
| TANKI | | The Ancient Gods, Rituals and Spirit-Mediumship of Folk Taoism in Modern Singapore | |
---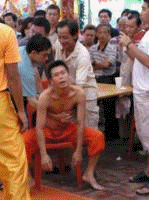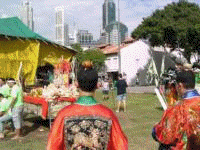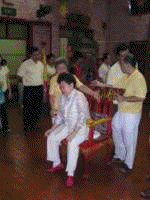 In one of the most modern cities of the world, an ancient faith flourishes, with rituals involving gods, spirits, and their human mediums who glorify the powers of the gods through personal sacrifices. This website contains a collection of articles and photos about one of the world's most unusual cultural and anthropological phenomena in a surprisingly modern and ordinary setting.
Why This Site: Statement of Objectives
Background: Folk Taoism in Southeast Asia | Divining Youth | Ceremonial Setting | The Ritual | The Sacrifice
Encounters: Festival of the Nine Emperor Gods October 2003 | Chuan Gong Dian 川弓殿 - Chinatown 18 October 2003 | Lin Hoon Din 凌云殿 - Geylang Lorong 27A June 2004 | Xia Sheng Gong - Lengkok Bahru June 2004 | Long Chuan Dian - Alexandra Rd 25 June 2004 | Jiutiaoqiao Xinba Nadugong Temple, Tampines九 条 桥 新 笆 拿 督 坛 10 October 2004 | Chuan Gong Dian 川弓殿 - Chinatown 6 November 2004
Discussions: Future of Folk Taoism in Singapore | Taoism as one of the Symbols of Indigenous Chinese Culture in Singapore | Awareness of Folk Taoism Among Singaporeans | Folk Taoism for Tourism
Links: Chinese Deities Web - Calendar of Events Here | SPI: Close Encounters with Tangki | Lorong Koo Chye Shen Hong Temple Association | Gods, Ghosts, & Ancestors: Folk Religion in a Taiwanese Village | A Medium's First Trance
Mailing Lists: SingaporeHeritage - Devoted to the rich heritage of Singapore | Taoism-Singapore - Taoism and traditional ceremonies in Singapore - Calendar of Events Here
Acknowledgements: A million thanks to them: Andi, Jave Wu, Victor Yue, Eng Teck

To read Chinese characters, select UNICODE under View - Encoding menu of browser.
---
Buy these books!