TWC'S ODYSSEY
AL MAGREB
Tan Wee Cheng's Journey Through Morocco, Land of the Furthest West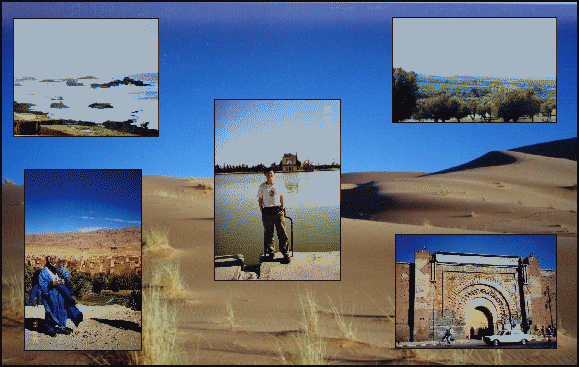 AL MAGREB AL AQSA
- furthest land of the setting sun, also the Arabic name for Morocco
where TWC witnessed exotic mediaeval acrobats, wondering tribesmen, snake-charmers, magicians, etc
in the central square of the ancient city of Marrakech,
explored the surreal desert kashbahs of the Dades Gorges and Ouzarzate,
camel-trekked through the gigantic sand dunes of the Sahara during a sandstorm
almost froze to death on on overnight bus across the snowing Middle Atlas Mountains,
got lost in the ancient alleys of Fes' Medina,
found himself in the almost Tuscany-like olive groves of Volubilis,
turned down invitations to "drug fiestas" by drug pushers and hippies in Chefchaouen aka Marijuana Country Africa,
and had theological discussions under the shadows of Hassan II Mosque in Casablanca with "born-again" Islamic fundamentalists
so do you want to explore Morocco with TWC ?
---
Caveat :
The tales and opinions expressed on this site are the authorís and by their very nature, personal and opinionated. You may not agree with them and you are welcomed to voice them by emailing to the author. However, if the intention is to pick a fight, such efforts should be directed to soc.culture newsgroups. The author will not entertain anyone who furl insults and vulgarities. The names of individuals mentioned in this site have been changed to maintain their privacy.

The author spent only 16 days in Morocco, a large country that deserves more days than that. The reader is not advised to rush throu gh the country the way the author did. He had to do it due to reasons to obscure to explain here. Do not attempt it his way if you really want to enjoy yourself.
---
Click here to send your comments to Tan Wee Cheng, Singapore
Click herec to visit the author's homepage, Nomadic Tales

---