LITHUANIA
LIETUVA
30 August
Double Whammy – Lost my Bankcard and Stung By a Bee
KAUNAS I had an enormous breakfast in the morning and was ready for an exciting day of exploring Kaunas. Also planned to meet Ricardas, an old friend, some time in the early afternoon. I decided to withdraw money from a cash machine just outside the Cathedral (Roman Catholic, which Lonely Planet wrongly identified as Russian Orthodox). I was distracted and forgot to remove my ATM card. It took just a few split seconds before the machine "swallowed" my card, as a safety procedure. I asked the counter lady for assistance – thank goodness there was someone around. She made some phonecalls and then asked me to return at 11am. Thanks too that she wasn't suffering from the post-Soviet screw-your-customer mentality. OK, I will do some sightseeing first… and prayed hard that nothing funny would happen to my bank account in the next few hours.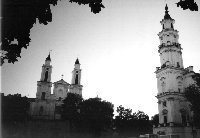 The Rotuses aikste (City Hall Square) in the heart of old Kaunas. I walked westwards along the shady Laives Allejas with its full-blossom flowerbeds, admiring the cafes, street performers, new shops and beautiful people... when suddenly something sharp hit my thumb. The "epicenter" swollened within a minute or so, even before I figured what exactly happened. I found a dead bee on the ground. This must be the culprit. I know nothing about bee stings. I remembered that Lonely Planet guidebooks have a section on sickness and health, which I normally ignored. It says that bee stings are harmless. Unsure, I placed the kamikaze pilot on a leafy shroud and brought it to the hotel – to avoid some complicated multi-language exchange over what happened. Neris's friendly staff knew what happened immediately, and applied some colourless liquid – or is that plain water to wipe my swollen finger. What an unlucky day ! Lost my bank card and got stung by a bee – all in ½ hour !

The Rider- Symbol of Lithuania since the ancient times.

Having fully exploited all the sympathy I could from the hotel staff and seeing that I couldn't get an invitation for a free meal or other freebies, I decided to wonder around Laives Allejas. Be cal, I told myself. I wondered round the thoroughfare till 11am, and was glad to get my bank card from the receptionist. I had half expected not to see it again, or to make frenetic international calls to get my card cancelled.


Warriors & Friends

I wanted to visit the Military Museum of Vytautas the Great and the Devil Museum. Both were unfortunately closed on Monday. OK, I would have to contend myself walking around town then. Lithuanians are known as the most passionate and emotional people of Northern Europe. Always passionate about their heroes, kings and grand dukes. One of the main exhibits of the Military Museum is the wreck of Darius and Girenas' plane. These two handsome young men who grace on the 10 Lt banknotes and some stamps are Lithuania's aviation heroes. In 1933, they took off from New York to fly non-stop to Kaunas, a deed if accomplished would have enormous significance in those early days of aviation. However, their plane crashed onto a tree in Germany and ended their young lives. The exact cause of the disaster remained a mystery but their place in the Lithuanian pantheon was ensured. Their bodies were embalmed and displayed, and thousands visited to pay their respect. With Soviet Occupation, their bodies were hidden inside a wall to protect them from the vengeful invaders. They were only taken out in the calmer days of 1964, and reburied in a military cemetery.


Banknote showing Lithuania's two aviation heroes

| | |
| --- | --- |
| | |
The statue of Vytautas the Great stood nearby. This bronze bust standing high over smaller figures of frightened, pitiful Polish, Russian, Tartar and German soldiers – all Lithuania's historic enemies - appeared to be mocking me for failure to appreciate the perils of cashless global banking and my misadventures with a Lithuanian kamikaze bee.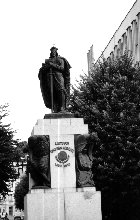 Vytautas, the greatest of Lithuania's rulers, first had to defend himself against his rival cousin, Jogaila, who became the king of Poland by marrying the Polish princess Jadvyga. He reconciled with Jogaila after years of warfare, and with Jogaila, brought Christianity to Lithuania. Next, he had to fight the Russian principalities and the Mongol-Tartar Golden Horde, which he did pretty well – extending the boundaries of Lithuania from Baltic Sea to the Black Sea. The German Teutonic Knights to the west was an enormous threat too – they had been eyeing the fertile Lithuanian plains for a long time and having enslaved the Latvians, thought that the Lithuanians would sooner or latter collapsed as well. Faced with the onslaught of crusading Germans (who had by the time of the conversion of Lithuania by Jogaila and Vytautas, lost the excuse of warring for Christianisation of the East), Poland and Lithuania united to defeat the Teutonic Knights at the battle of Tannerberg. Despite his successes in dealing with the Germans, Russians and Tartars, however, he was unable to separate the personal union between Lithuania and Poland, and his repeated attempts to secure Lithuania the status of a kingdom failed miserably. This was to have a great impact on the history of Lithuania.
Lunch was at a cheap Lithuanian restaurant and spent an hour at a cybercafe before meeting Ricardas in the afternoon. Ricardas was the MD of a Lithuanian firm I have been buying stamps for years and also collaborated on some stamp-related internet projects. Also present at a Kaunas cafe was his colleague Arlydas, and we spent three hours chatting about anything from politics to stamps. It's amazing how the internet brought people together.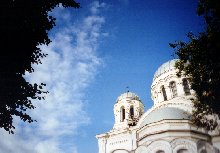 Kaunas's Roman Catholic Cathedral. We discussed the Baltic Chain, a milestone in the struggle for independence which celebrated its 10th anniversary recently. On 23 August 1989, two million people from all three Baltic republics formed a continuous human chain stretching from Tallinn in the north through Riga to Vilnius in the south, to protest against the Molotov-Ribbentrop pact that handed the sovereignty of these nations to the USSR. This protest attracted worldwide publicity to the Baltics and their struggle for independence. As Ricardas said, everyone participated in the chain – from the elderly to the toddlers. It was as much a family outing as a political education exercise. How time flies, 10 years had lapsed, with independence achieved. Some have prospered, while for others, especially pensioners, times are hard. That's life…

Vilnius – Old Glories & Lost Times
JOURNEY TO VILNIUS After the chat, I set off for Vilnius on an express minibus (10 Lt, or US$2.50). As the bus sped southwards, it left Lithuania of the flat plains and entered Lithuania of pine forests and hills. Dzukija – this is the Lithuanian region richest in folklore, and where the local dialect resembles singing. Central Lithuania, as this region was also once known as, used to be the centre of a political entity that stretched from Baltic to the Black Sea. Centred on Vilnius, the Grand Duchy of Lithuania was a huge multiracial empire which included among its peoples not only Lithuanians, but Poles, Belarusians and Ukrainians. Up to the late 19th century, what is today Belarus was once known as Lithuania. The empire of Vytautas was so wide that it had to be tolerant to expand and to be ruled. The Grand Duchy had two official languages – Lithuanian and Belarusian (or a Slavic variant of it). It wasn't just a Roman Catholic state, but one where the Orthodox Church had official status as well.
In 1386, Grand Duke Jogaila married the princess of Poland and became the king of Poland. This personal union was further strengthened with a political unification between the two states in 1569, as the Polish-Lithuanian Commonwealth, whose capital was Krakow, southern Poland. Since then, for 226 years, the two states share the same fate… with repeated partitions of Poland, Lithuania was incorporated into the Russian Empire.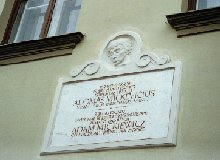 Where Adam Mickiewicz Once Lived.

An equally significant impact of the union was the polonisation of the Lithuanian nobility, who began to see themselves as Poles rather than Lithuanians. The Lithuanian language was delegated to the status of a peasant tongue, until people like Maironis modernised and revived it. Lithuania became a geographical expression and Vilnius an important Polish metropolis. Many prominent Poles or Polonised Lithuanians were born here or had family or emotional ties here – among them Adam Mickiewicz, Polish national poet and patriot; Józef Pilsudski, the Polish leader between the two world wars; and Czeslaw Milosz, Nobel prize winner who saw himself as a Lithuanian of Polish speech. Adam Mickiewicz was born in Novogodek in what was then Lithuania and today's Belarus. His great epic poem, Pad Tadeusz, which began with "Lithuania, My Fatherland ! You are health, only he who has lost you can know how much you are cherished" made central Lithuania a spiritual homeland of the Polish people. Lithuanian nationalists briefly captured Vilnius after WWI but the Poles soon captured it.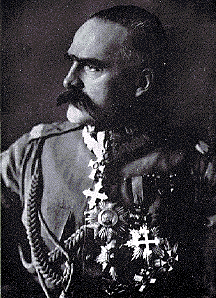 Marshal Pilsudski, who was born in Zulów, near Vilnius, had wanted to rebuild a federal state of Poles, Lithuanians and Ukrainians, but none of the latter two nations would have any of that. In any case, he loved Vilnius so much that his heart was buried here at the Rasu Cemetery (still revered by Poles), although his body was buried in a crypt of the Wawel Cathedral in Kraków, among Polish kings. The Lithuanians got the city back only with Soviet help in 1939 but they were themselves soon overwhelmed by Stalin. Once again, with the downfall of the USSR, Vilnius became the capital of independent Lithuania. However, even today, the city remains less Lithuanian than other cities – 20% of its population is Polish and 20% Russian.
And then were the Jews - once 40 to 50% of the population - made the city one of the great centres of Jewish scholarship in Europe. Like their fellow co-religionists in most parts of Europe, the Jews of Vilnius were shipped to the death camps by Hitler…
This complicated history and displacement of peoples Vilnius had experienced is best recollected by Polish Nobel laureate Czeslaw Milosz in his book "The Captive Mind". Milosz, who grew up in Polish Vilna, as Vilnius was then known, wrote:
"There are certain places in Europe which are particularly troublesome to history and geography teachers: Trieste, the Saar Basin, Schleswig-Holstein. Just such a sore-spot is the city of Vilna. In the last half-century it belonged to various countries and saw various armies in its streets. With each change, painters were put to work repainting street and office signs into the new official language. With each change, the inhabitants were issued new passports and were obliged to conform to new laws and injunctions. The city was ruled in turn by the Russians, Germans, Lithuanians, Poles, again the Lithuanians, again the Germans, and again the Russians. Today it is the capital of the Lithuanian Soviet Socialist Republic, a fancy title designed to conceal the blunt fact that Russia is effectively carrying out the precepts of the Tsars in regard to territorial expansion.

During my school and university years the city belonged to Poland. It lies in a land of forests, lakes, and streams concealed in a woody dale… Throughout the many centuries of its existence, Vilna never ceased to be a city of forests. All about it lay an abandoned province of Europe whose people spoke Polish, Lithuanian, and Byelorussian, or a mixture of the three, and retained many customs and habits long since forgotten elsewhere. I speak in the past tense because today this city of my childhood is as lava-inundated as was Pompeii. Most of its former inhabitants were either murdered by the Nazis, deported to Siberia, or resettled by the Russians in the western territories from which the Germans were expelled. Other people, born thousands of miles away, now walk its streets; and for them, its churches, founded by Lithuanian princes and Polish kings, are useless."
But there were redeeming factors too, for:
"however, no one dreamt of mass murder and mass deportations. And the life of the town unfolded in a rhythm that was slower and less subject to change than are forms of government or borders or kingdoms. The University, the Bishop's Palace, and the Cathedral were the most esteemed edifices in the city. On Sundays, crowds filled the narrow street leading to the old city gate upon which, in a chapel, was housed the picture of the Virgin known for its miraculous powers. Vilna was a blend of Italian architecture and the Near East. In the little streets of the Jewish quarter on a Friday evening, through the windows one could see families seated in the gleam of candlelight. The words of the Hebrew prophets resounded in the ancient synagogues, for this was one of the most important centers of Jewish literature and learning in Europe."
So, can you see why I crave to go to Vilnius ?

First Sight
VILNIUS I reached Vilnius at 7pm. I went straight to Gintaras Hotel across the street from the Bus Station. This was a 1960's type Intourist hotel overlooking the city. The staff were friendly enough – smiling and English-speaking too. Don't know why Lonely Planet described it as one frequented by black market types. A single room cost only 64 Lt, or US$16 with attached bathroom and breakfast !!! It was a little sleazy - a few not-very-pretty Natashas hanging around the restaurant and lobby – but I had no problem with that. And I have a window view overlooking the city of Vilnius - an amazing sight - this city seems to have more grand cathedrals than many other cities of similar size.

It was getting dark when I arrived. I decided that I should retire for the day rather than to brave the dark alleys of Vilnius shortly upon arrival. Went to the sleepy hotel restaurant for dinner – had a great meal of fish with Polish sauce, whatever Polish sauce means. Bumped into a 57 year old Spaniard who's now visiting his 118th country. Had a nice chat with him about travels in general, and he told me about his 15 houses in the Canary Islands, which he rented out for US$5,000 per month. That's more than enough for him to travel round the world and meet beautiful women as well – he confessed about the twin love of his life – travel and women. What more can one get from life ?

| | |
| --- | --- |
| | Old Lithuanian Peasant House |
| | |

VILNIUS & TRAKAI: A Kosher Turkish Meal By A Magical Lithuanian Lake