LITHUANIA
LIETUVA
31 August
A Kosher Turkish Meal By A Magical Lithuanian Lake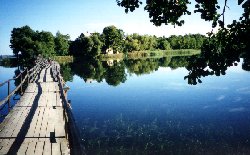 TRAKAI The first light of Vilnius woke me at 5:30am. It seeped gently through the glass window of my room. I had wanted to laze for another hour or so but suddenly remembered my plans for a sunrise shot of fair Vilnius. I jumped out of bed and there it was – the early light expanded its beachhead over the domes, towers and spires of old Vilnius – so many of them – they spread as far as I could see. Catholic and Orthodox, Lithuanian, Polish and Belarusian, Religious and Secular, Baroque, Gothic, Romanesque and Byzantium. These are the namesakes of multi-faceted Vilnius.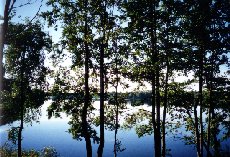 I took an express mini-bus to Trakai (2.60 Lt), a small town 27km west of Vilnius. It was here in 1321 that Grand Duke Gediminas built his capital on a narrow little peninsula between two lakes which were themselves linked to a much larger one named Galve. On an island at the northern tip of the peninsula, Kestutis, father of Vytautas, erected a castle in the 1360's. It was from here that he ruled Lithuania together with his brother Algirdas whose capital was in Vilnius. Both ruled in harmony until Algridas died, and his son and successor, Jogaila, arrested both Kestutis and Vytautas. Kestutis was murdered in custody while Vytautas escaped dressed as a maid, and of course, went on to reclaim his throne and expand the borders of Lithuania.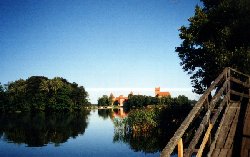 The bus took ½ hour to reach Trakai, today a small sleepy town. The town centre was a long walk from the bus station, but the scenery was picturesque enough. I passed a row of old wooden Karaite houses. The Karaites are a bizarre group – descendents of Turkic warriors of the Jewish faith (!) brought here from Crimea in the 14th century by Vytautas as his personal bodyguards. They adhere only to the Torah while rejecting the rabbinic Talmud. About 100 of them still live in Trakai. I wanted to visit their kenessa or prayer house but it was locked. A pity, but I managed to grab a kibinai, a kind of Cornish pastry-type (or Southeast Asia's curry puff mega size) Karaite specialty at a café. Not too bad, but given that it's sold all over Trakai, it's probably a touristy version I had tried.
Karaim Prayer House.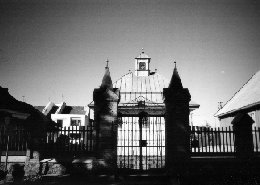 Bright sunrays penetrated the canopy which once sheltered the Lithuanian dukes and their warriors. The lake was crystal clear and the watergrass could be seen swirling to the watery symphony. It was quiet except for an odd oar or two breaking across the surface of the lake. It was still early in the morning and the tourist season, shorter here than many parts of the world, was ending soon. I strolled along the lake and surprised the occasional local by greeting them in Lithuanian, "Laba diena". An unusually Trakaite romantic might have wondered, that could have been the descendent of a Mongol tribesman brought here by the Grand Dukes… In any case, it was difficult to imagine that this most beautiful of lakes has a name that may give kids nightmare. Galve means "head" in Lithuanian. Grand Duke Vytautas had thrown the head of a hated crusader into this otherwise most serene of waters, and so the name stuck. That's not all. Be forewarned, for the locals say that the waters wouldn't freeze until it has taken another head… The appetite must be satisfied as winter approaches.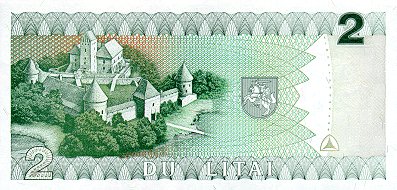 Trakai on banknote and stamp. This is an amazingly beautiful place. Trakai Castle is a lot more scenic than Leeds Castle in England. A pity that the newly furnished museum within has no English caption. But at least, it's at the heart of a bizarrely exotic local community with a gruesomely-named lake.



Holy Icons & Relics

VILNIUS It rained. Fortunately I didn't get that wet. Managed to get on a bus back towards Vilnius. The bus passed the futuristic-looking TV Tower, where in 1991, Soviet special troops killed fourteen Lithuanians while storming the building. That was just eight years ago…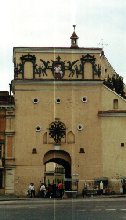 Back in Vilnius, I began my exploration of the old city - Vilnius was founded as the capital of the powerful Lithuanian Grand Dukes and was also an important spiritual centre of the Lithuanian, Polish and Belorussian peoples. As a result, the city was full of palaces and churches - all grand and mostly Baroque in style. I decided to enter the old city through the Gate of Dawn, a grand old structure with a large crest of Lithuania's national arms – the Knight, a reminder of the country's glorious days. More importantly the Gates house a holy icon of the Virgin Mary sacred to Polish Eastern Catholics (people who come under the Roman church but practice Eastern Orthodox rites), supposedly brought back here by Grand Duke Algirdas from Crimea. Old ladies tried to sell me Polish language postcards and images of the icon – a dark Madonna with stylized sunrays emitting from her head. A few pensioners threw themselves across my path with their skinny outstretched palms… the collapse of the USSR may have brought new opportunities for the intrepid, young and connected, but for most pensioners, dreams of a secure retirement have been dashed. I brushed them aside gently, feeling guilty, but my nomadic years have hardened my soul. On the other side of the Gates were the devoted on their feet, mostly in silent prayers. I turned towards the direction of their veneration – up there in the chapel above the Gates, through the open windows, I saw the holy icon, as she appears in the postcards. I muttered a few prayers of my own. For a Chinese Buddhist, the Virgin is another manifestation of the Guan Yin, a compassionate Buddha deity.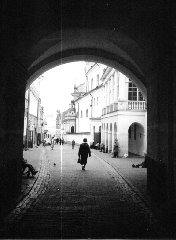 The Orthodox Church of the Holy Spirit and its beautiful domes stood nearby. Here lies the well preserved bodies of three martyred saints – Anthony, Joann and Eustachius, who were two brothers and their cousin - who died in 1347. Unlike most Orthodox churches in Eastern Europe which tend to be built Byzantium style, and have fewer windows, those in Vilnius are usually exuberant Baroque structures. However, they are all rich in icons, mosaics and frescoes. Portraits of saints and prophets, recreation of biblical scenes and assortment of holy relics. A large casket stood just in front of the iconostasis, a large screen that divides the altar from the rest of the church. In it lies the bodies of the three saints, dressed in red, with their faces covered with silken cloth. The church was quiet, the peace of which was broken only by an elderly lady mopping the floor. A young priest with shouldered-length hair asked where I was from. He was surprised to meet someone from Singapore. "Welcome ! Have you seen the Holy Fathers ?" He pointed to the casket.
"Yes."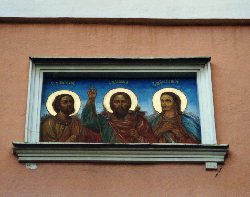 He offered me a three page A4 size print-out entitled "650th Anniversary of the Lithuanian Martyrs (1347 – 1997)", with the history of the three saints. All three were noblemen who served in the court of Duke Algirdas. Anthony and Joann converted to Christianity, and provoked the wrath of pagan priests. To placate the priests, the Duke imposed severe punishment on the brothers, who refused to back down. Eventually they were hanged on an oak tree. Their martyrdom impressed the masses, in particular, Eustachius, who converted to Orthodox Christianity. This angered the establishment who forced him to eat meat on a fast day. He refused, and was tortured. As noted in the write-up, he thanked "God and praising Him for His Grace that He was so kind as to let him suffer for His Holy Name." Eventually, he too was hanged, and the martyrdom and sacrifices of the three touched the masses, who converted in large numbers. The Duke himself converted and later retired as a monk. The relics were later found to be well-preserved, or in typical religious terminology, "uncorrupt", as well as miraculous. In 1378, the three martyrs were declared saints. The relics were so important that they were removed to Moscow in 1915 before the Germans attacked Vilnius, and returned in 1946 with the Soviet takeover.

Martyrdom and faith. Like other religions, early Christianity attracted converts through the sacrifices and steadfastness of its believers. History repeats all the time. The suppression of the Falungong, in China, and the sacrifices of its believers, does bear some similarities. To many, it all seems like a cult than an established religion. But who in 33 AD would have seen Jesus as more than the prophet of a tiny, off-mainstream cult in a poor, rebellious and remote part of the Roman Empire ?

A Wolf's Tale & Assorted Heroes
More theatres, churches and palaces. Souvenir stalls, artists market and cafés. Vilnius is a beautiful city. Cheerful and artistic. No wonder UNESCO declared it a World Heritage Site.
I passed St Cashmir's with its odd-looking St Cashmir's crown above. During its 400 year history, this church has been converted many times to the faiths of the city's conquerors: an Orthodox Church during the Tsarist days, a Protestant church under the Germans, and a Museum of Atheism under the Soviets.

Grand Duke Gediminas
At the end of Pilles is the Cathedral Square. A pity that a renovation was underway during my visit and I could only walked round the edge of this ancient heart of Vilnius. The most prominent building in the square is the Cathedral, first built by King Mindaugas seven hundred years ago. In 1985, workers discovered a treasure trove of golden and silver objects, and fearing the Soviets would remove them for the museums in Moscow, they kept quiet about the discovery until 1998, when it was officially announced. Yet another display of patriotism so characteristic of the Lithuanian people.

At one end of the square is a statue dedicated to Vilnius's founding legend – that of Duke Gediminas and the wolf. The duke fell asleep here while hunting and saw an iron wolf in his dreams. A high priest told him that he should found a city on the spot and so he did, and we now have the city of Vilnius with its many souvenir wolfs. Sweet dreams.
Not far from here is the presidential palace, where Valdas Adamkus was in his second year of office. Born in Kaunas in 1926, he came from a family of patriots who served bravely in the war of independence. During and just after the WWII, he fought in the resistance movement against the Soviets. When the situation became untenable, he escaped to Germany and then went on to USA, where he rose to become a senior official in the US Environmental Protection Agency. After the fall of the USSR, he returned to a free Lithuania where he was elected president in 1998. Yet another émigré-back-to-the-motherland story…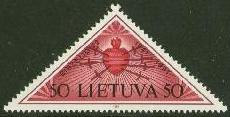 Stamp commemorating the tragic deportation of the Lithuanian People on 14 June 1941.
About a kilometer from here down the new town is the KGB Museum, also known as Museum of the Lithuanian Genocide. This is yet another display of the tragic destruction of the Lithuanian nation during Soviet days. Like the other Baltic States, the Lithuanian intelligentsia was executed or deported in 1940, and the 250,000 deported shortly after the WWII. This museum also displayed exhibits relating to the Forest Brothers, guerillas who resisted Soviet rule until 1953. Photos of glorious young who died for the defense of their fatherland. 20,000 died in this post-war struggle, mostly below 20 years old. Their remains were displayed in towns and villages, as a warning to all. I walked in the cold, lonely corridors of what used to be the KGB HQ, from where the arrested were tortured and interrogated before being dispatched to their ends. How eerie it must have been walking through here at night.
My feet hurt as I walked down Gediminas Prospektas. I have committed the cardinal sin of wearing a new pair of shoes for a holiday, and my feet had swollen into a lump of reddish medium rare – of course an exaggeration. Anyway, I couldn't take it any longer and bought a new pair of shoes in one of the flashy new shops – the shop assistants watched with amusement as I simply dumped my "old new" shoes into a box and walked out with the new one.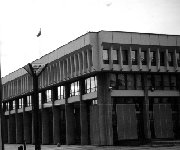 At the western end of the Gediminas Prospektas, next to the Neris River, is the Parliament, or Seima. This was where on 11 March 1990, the Lithuanian Parliament declared independence from the USSR, sparking off a chain of events that led to the collapse of the Soviet Union. A month after that, USSR imposed economic blockade on Lithuania and cut off fuel supplies. In January 1991, Soviet troops and paramilitaries seized important buildings around the city, and Vilnius's brave citizens barricaded themselves round the parliament to defend the building. I remembered those traumatic scenes shown on TV news. Here I am in front of this ugly Soviet-era box-like building, looking at these friendly, good-looking and seemingly mild people around me, as well as the bright new shops and McDonald outlets, I could hardly have imagined that war nearly broke out here 9 years ago.
It was getting dark and I decided to visit a cybecafe. Lonely Planet is really screwed up in terms of cybercafe locations - or maybe such places tend to open and shut down quickly. One of the two listed in Riga wasn't there and I spent much time searching for one above a Vilnius dogdy nightclub, only to be told that none had ever existed there. Eventually, thanks to the Vilnius In Your Pocket Guide, I found one at an electronic store along Pylimo gatve. I spent the next hour or so sending emails and surfing news sites.
I would do neo-Stalinist Belarus the following day and decided to spurge for dinner - at a Chinese restaurant. There are numerous Chinese restaurants in Vilnius and based on the usual theories of competitive economics, they should be of reasonable standards – or so I thought. I walked into this medium sized establishment tucked in a corner in the old town, and found a less-than-friendly Chinese chef. From Jilin in the Northeast of China, he said. He seemed reluctant to carry out a decent conversation and I proceeded with ordering from a trilingual menu. It was an expensive meal by Lithuanian standards and the dishes were of questionable merit. The hot and sour soup was a mixture of hot spices in boiling water and nothing more, while the fried rice was merely a pot-pourri of rice dumped into oil with a lot of cucumber. Perhaps I can't blame him. Jilin and the natives of Dongbei (Northeast China) are not exactly known as the Lyons of China. Now I learn that they are more like the English gastronomically than anything else.