LITHUANIA
LIETUVA
29 August
Hill of Crosses – Burn it, bomb it, flood it, and it will remain


LITHUANIA: SIAULIAI Early in the morning, I boarded the 7am bus for Siauliai in northern Lithuania. The bus sped across the flat southern plains of Zemgale, one of Latvia's historic regions. It stopped briefly in the city of Jelgava. Once the capital of the Dukes of Courland, Jelgava is today a sleepy town by the banks of the Lielupe, which snakes northwards to empty itself into the Baltic Sea near Jurmala and Riga. A few customs officials boarded, on their way to the border for shift duties. Before I knew it, the bus reached the border. Here, a quick on-bus, no-trouble examination of passports took place, stamping, and off we went. Highly efficient Balts, I noted in my journal. So, here I am, Lithuania !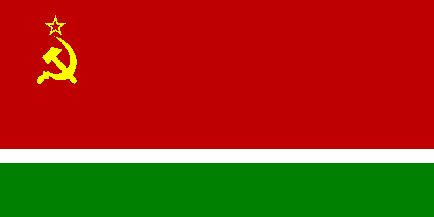 Flag of the Lithuanian Soviet Socialist Republic. The Lithuanians, like the Latvians, are also an ancient Baltic tribe, but unlike the Latvians who were always ruled by other countries, the Lithuanians once ruled a powerful empire in the mediaeval days. From the 1300s to 1500s, Lithuania, in its union with Poland, once formed the 2nd largest state in Europe, stretching from western Poland to the gates of Moscow. Today, Lithuania is only a smallish country with 4 million people. It was conquered by Russia in the 1700s, regained independence in 1919, and then occupied by the USSR as a result of the secret Nazi-Soviet treaty that also destroyed the independence of Latvia and Estonia. In 1990, Lithuania became the first of the former Soviet republics to declare independence, and this was recognised by the world in 1991, when the USSR finally fell.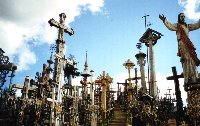 I found a Lithuania sunny and fresh, away from the smog and cloudiness of Latvia. The bus passed through small towns and villages, most of which have beautiful whitewashed churches and Germanic farmhouses. Unlike the Hanseatic-Lutheran austerity of Latvia's churches and rural architecture, the exuberance of Roman Catholic Lithuania reminded me that this was once part of Mitteleuropa – whose heartbeat was heard from Bratislava to Zagreb, and from Berne to Warsaw.
The crossing of this border also necessitated the changing of my watch time. In March 1998, Lithuania switched to Central European time (GMT plus one), i.e., running as the same time as Western Europe, but behind its Baltic neighbours. This, naturally, led to confusion and much inconvenience, especially when most of Lithuania's neighbours lie in the Eastern European zone. Here, one has to contend with noon sunsets in winter and 2am sunrises in summer. The government saw it as a symbolic vote for European integration. Hmm… will this resolve the country's unemployment and banking problems ? Perhaps, Russia, Ukraine and even Mongolia should all consider changing their time zones.
[Afternote: In late October 1999, seeing that time switching can't switch fortunes, Lithuania finally reverted to the Baltic time zone.]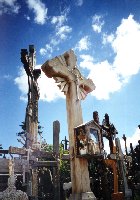 Before long, the bus reached Siauliai, Lithuania's fourth largest city, where I intended to take another bus to Kryziu kalnas, or Hill of Crosses. Peaceful (read "boring and almost dead") Siauliai was the site of the ancient battle of Saulè. It was here in 1236 that Lithuanian Grand Duke Mindaugas defeated the German Livonian Knights, and saved the Lithuanians from the fate suffered by their ethnic cousins, the Prussians and Latvians, the former who disappeared from the face of the Earth, and the latter, who had to live the next few hundred years under German yoke. Mindaugas united the Lithuanian tribes for the first time and became king in 1253. He also accepted Christianity, but this brought him disaster – In 1263, he was killed by disgruntled nobles who restored paganism.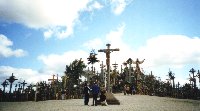 Siauliai may be only 100 km from cosmopolitan Riga, but I found few English-speakers here. It was a Sunday and I couldn't find any money-changer. The town's almost dead and I was harassed by a beggar who followed me for a hundred meters muttering Russian. No luck for him. I wanted to get to the Kryziu kalnas, but waited for an hour for a bus that never arrived. I asked around trying hard to made myself understood, but everybody seemed to think that I wanted to go to Kaunas. A few kind-hearted souls even had an argument with each other over how to assist me. A deranged old lady with totally messed up hair walked around shouting at everybody else. I was tired, hungry, almost lita-less and confused, and it seemed that the whole place was descending into madness. Thank goodness when a warm stirring voice said "Do you need help ?" I turned and this kind lady, who spoke pretty fluent English, directed me to a mini-bus that made the trip every few minutes, from another bus stand merely round the other corner of the bus station. Saved !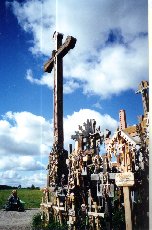 The 2 Lt mini bus journey took less than ½ hour, passing through the beautiful agricultural country that is known as Zemaitija, whose inhabitants are traditionally seen as very reserved and stubborn, but goal-focused. It was this quality that enabled the region to successfully resisted the advances of the Teutonic Knights.
I have heard about the Hill of Crosses a few years back. Seen postage stamps with it and pictures of the Pope visiting the site. And yet, nothing quite prepared me for the overwhelming symbolism of this holy site. Here, on the flat wheat fields of Zemaitija, were two hillocks with perhaps 50,000 large crosses of all shapes and sizes, and millions of mini ones (not to mention carvings, statues and other religious works of art), placed by individual pilgrims. The ancients have built fortresses that were burnt by the Teutonic Knights. Later, crosses were erected to commemorate heroes of anti-Russian rebellions. By the 20th Century, the site has become a place of pilgrimage with numerous crosses. During the Soviet days, it became a symbol of Roman Catholicism, and Lithuanians' desire for freedom. The Soviets bulldozed the place thrice but on every occasion, the crosses sprung up again. They even planned to flood the place simply to prevent people from reaching it. Today, it is a national symbol and the Pope visited the spot in 1993. I was overwhelmed the moment I arrived here – so many crosses on two small hills - and the devoted knelled to pray for family and hopes. I bought a small cross and contributed to this growing hill of crosses... If you see one inscribed "Gift from Tan Wee Cheng, Singapore" – that's mine !

Dodgy Conversations

JOURNEY TO KAUNAS I returned to Siauliai and caught a bus to Kaunas, Lithuania's 2nd largest city. The bus passed through the traditional heartland of Lithuania - Suvalkija, the rich central agricultural zone of Lithuania. The people of Suvalkija, according to a book about Lithuanian culture, are known for their thrifty nature, such that other Lithuanians joke that the Suvalkijans would bring live turkeys to feasts, only to peck at the crumbs.
The journey took three hours – not because it needed to, but because this was a slow country bus that stopped at every damn hamlet and village it passed through. Yes, the churches were nice and the country houses cute, but I soon got really bored with this flat and monotonous land. Fortunately, I met three interesting English speakers on this bus.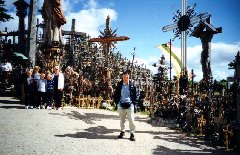 The first was a young U.S. Peace Corp chap who spoke excellent Lithuanian, or so he said. I almost mistook him for a local if not for his flight luggage tag which indicated LHR – London Heathrow. Can't remember his name, but sounded vaguely Hispanic. Chemistry graduate previously, but got bored with his job (like most of us do) and volunteered for the Peace Corp. Expected to be posted to Kenya where he could go on safaris, but suddenly posted to an Eastern European state he had never heard before. So, instead of learning Swahili, he learnt Lithuanian, and instead of "safari-ing", he now goes for occasional fishing trips in nearby lakes ("no game fish, pity"). All the same, he found life here "cool" (the somewhat meaningless catch-all word used by all Americans – no offence – I use it frequently anyway – as it means everything and nothing), the work (teaching English) fulfilling. The only complaint for this muscular-probably-beach-type Floridan was the minus thirty (celsius - I insist on using the standard - only Americans use 'F) winter in Lithuania. But a bit of vodka may yet save the day. The bus wondered through Suvalkija's little villages and before I expected it, the yank got off the bus.

Lithuanian Song Festivals.
A friendly Lithuanian law school student was next, on his way home from Riga, where he had a great time partying with friends. Riga's great, he said, and was surprised that I spent only two days there. More exciting than Vilnius, he tried to convince me. More discos and pretty girls too, he got a little excited, and asked in his halting English, whether I had carnally sampled the female Latvian specimen. Ahem, well, I was too sick in Riga to be keen on any exchange of body fluids… Not that I would otherwise, but that's beside the point. I was relieved when he too got off the bus soon after.
My last chat-companion was Daiva, a dignified bespectacled Kaunas language teacher who once taught Russian in schools. Now she's trying hard to learn English – studying her English notes before we began chatting - as nobody wants to learn Russian anymore. She may lose her job if she doesn't switch. The next generation probably won't be able to speak Russian at all.
"Where are you staying," Daiva asked.
"Maybe somewhere cheap, " I said.
"Then you should go to Neris. All the foreigner stay there." It must be some expensive place I should definitely avoid, I thought.

The Most Lithuanian of Cities…
KAUNAS The bus soon entered the suburbs of Kaunas, passing the Ninth Fort – this was where during WWII, 80,000 Jews were murdered by the Nazis. A huge monument greeted the by-passer at the gates of the camp. Most of the Jews of Kaunas perished here in those terrible years.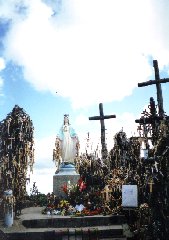 I was reminded of the story of Chiune and Yukiko Sugihara, a courageous Japanese consul and his wife, who in 1939 – 1940, saved the lives of more than 6,000 Polish Jews by issuing them Japanese visas, with which the Soviet consul agreed to allow them to pass through the Soviet Union. In August 1940, even after the Soviet government ordered foreign diplomats to leave the Baltic States, they wrote more than 300 visas a day, in contravention to the instructions issued by the Japanese government. As their train was leaving for Berlin from Kaunas on 1 September 1940, he continued to issue visas from his train window, and passed the visa issue stamp to another refugee to save even more Jews. For all his good work, he was dismissed by the Japanese Diplomatic Service in 1945. His deeds were finally recognised in 1985, when he was honoured as a "Righteous Among Nations" by the Israeli Holocaust memorial agency.

Kaunas – the most Lithuanian of all cities. Located at the confluence of the Nemunas and Neris Rivers, Kaunas has always been an important river port and strategic battlefield. Destroyed 13 times in history, Napoleon passed by here on the way to conquer Moscow. Of course, he was allowed to take over Moscow and lost it, sealing the fate of his soldiers, most of whom never returned to France. Although Vilnius has always been the political goal of the Lithuanian patriot, it is Kaunas that has always remained Lithuanian in fact. As a result of the Polish-Lithuanian Union, Vilnius, capital of Lithuania, became increasingly polonised. After independence was achieved in 1918, Vilnius was occupied by the Poles, and Kaunas became the capital during the inter-war period, until Vilnius was taken by Soviet troops in 1939 (and reinstated to the Lithuanians). Even today, Vilnius is about 60% Lithuanian, while Kaunas is probably 90% Lithuanian.
I arrived in Kaunas at almost 4+ pm. Went to the LP-recommended Baltija Hotel (which was cheap) but it was full. In any case, the receptionist was an ugly bitchy lady, very unfriendly and emotionless – she reminded me of the typical Intourist ruddy I thought had become extinct in the Baltic Republics. Some things don't change, or at least they don't change as fast. Where should I go next ?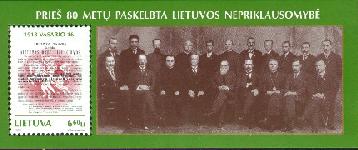 Signers of the Declaration of Independence.
It was getting dark, and I remembered Daiva's Neris Hotel. No harm checking out. Neris was a few blocks down from here, but for someone who woke up at 6am, crossed a border, did some sightseeing and then got snubbed by a ridiculous skunky bitch suffering from a severe case of Post-Soviet Screw-Your-Customer Syndrome, walking ½ km down an unfamiliar street with a heavy backpack was neither the most enjoyable nor advisable thing to do as the skies were about to get dark. Anyway, I got there in due course, and despite it breaking my normal shoestring budget, I decided to charge the US$40 a night to my credit card. Not for the first nor last time, I overspent again. Not a very good ex-accountant.
Spent some time figuring out my room's unusually sophisticated locking mechanism which was most arbitrary in either leaving the room unlocked or rendering the guest a prisoner by making it impossible to unlock the room. Call it Soviet technology. Eventually, I had to request for help from the reception who agreed to switch the room. At least, they are friendly here. No complaints. I had a quick bath and then decided to take a stroll downtown before it became totally dark.
Kaunas is a graceful city with lots of old turn of the century buildings (19th/20th – have to be specific these days since we are now at yet another turn of the century) and statues of Lithuanian national heroes at every street corner. The main street, Laives Allejas, is a non-smoking (smoking banned !!!) and pedestrian street. Amazing, isn't it ? This street has been smoke-free for a decade in a country where perhaps most of the adults smoke. I am quite fascist towards smokers and so no complaints from me.

First Stamp Upon the Restoration of Independence in 1990.
Kaunas is a long city – the centre is a slander peninsula and more than 2km long. I was tired before long, partially tied down by my new walking shoes, which obviously wasn't of the right size. I was to dispose of it in a few days' time in Vilnius… Reached Rotuses aikste, the city's old town square with many old German merchant houses, in time for sunset. Orange rays projected silhouette of the ornate Hanseatic rooftops onto the cobbled square. A wedding was being conducted at the Palace of Wedding with its old white tower, previously the old city hall. Five racing cars parked at the square honked when the bride and bridegroom arrived. The bells tolled. The band stirred. The wedding began.
Across the square stood the statue of Maironis (pseudonym of Jonas Maciulis), priest, national poet and pioneer of Lithuania's national revival movement. Famous for his works on Lithuanian epics, history, people and traditions, Maironis' works were banned during Stalinist days. The statue was put up during the Soviet days in front of the Lithuanian Literature Museum by city authorities who played down his religious and nationalist credentials. His tomb stood nearby in the Cathedral, and in front of it were some summer blossoms – tribute from the nation he loved so much.
I strolled across the city centre back towards Hotel Neris. The city by now was bathing in gentle moonlight, with lovers strolling along that tree-lined smoke-free street. I found a fine Lithuanian restaurant and indulged in an excellent hearty meal so typical of the cuisine of Mittleuropa. The day was over for me… not before watching a Bruce Wilis movie dubbed in Russian. All characters dubbed by the same male voice.


KAUNAS & VILNIUS: Double Whammy – Lost my Bankcard and Stung By a Bee