LATVIA
LATVIJA
28 August
An Extinct Tribe & A Pseudo-Chinese Meal
SIGULDA Woke up at 6:10am to take the early train to Sigulda (Ls. 0.58), an old town and national park to the north, in the historic region of Livonia - land of the "Liv" tribes. This ancient tribe which was closely related to the Finns and Estonians once lived across many parts of Latvia. Today only 250 – 300 people call themselves Livonians and accordingly to the Norwegian newspaper, Aftenposten, only 11 worldwide speak the language as their mother tongue.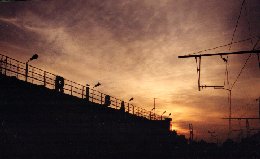 This is a land of legends. The Latvian national epic, Lacplesis, or Bearslayer, is about a hero whose father was a bear who kidnapped a maiden, made her pregnant (and thus bear the hero), and kept her in a cave for many years. The hero grew up, killed his bear-father (!) and brought his mother out of the cave. And from then on, like all great heroes, he married a beautiful princess, killed some monsters, but finally succumbed in a battle when his mortal weakness was discovered.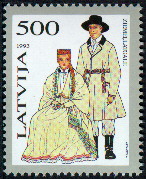 The 1 hour 20 minutes journey to Sigulda passed through the pine-forested countryside, with an occasional pond and river. The train was packed with families on their way to do mushroom-picking. There were hardly any large towns or settlements on this journey. Instead, locals seemed to get off at stations in the middle of nowhere (or rather, middle of the forest), and then marched off with mushroom baskets and mineral water.
By the time I reached Sigulda, the skies had become very cloudy. I had to quicken my steps in case it rained. The National Park is at the northern end of this quiet, almost dead town. I was the first customer of the cable car (Ls. 0.50) leading to the other side of the Gauja Valley. Obviously the half-awoke staff didn't seemed quite happy when I arrived. They have probably expected a quiet, late summer day. It began drizzling when the cable car crossed the valley.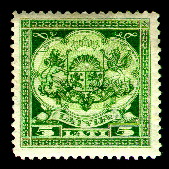 This was supposedly a beautiful valley, as the Latvians call it "Latvian Switzerland". However, the wet weather turned the whole place so misty. That also affected my desire and ability to take pictures. I read that one can do bungee jumping here. I see no sign of it – but who wants to jump in such weather. A river ran below and I could see the Turaida Castle on another hill some distance away. After I reached the other side, I tried looking for Krimulda Castle. There wasn't much – most of it in ruins. An architecturally impressive but sadly overcrowded and dirty looking mansion stood nearby. Probably once the holiday home of a pre-war Baltic German tycoon, later acquired by the dictatorship of the proletariat. Very run-down but it shouldn't be difficult for someone to refurbish it into a five star resort hotel.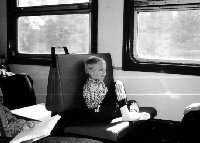 I tried to follow the trail noted in the Lonely Planet, trying to reach Turaida Castle. Walked down the wooden steps – some 358 steps in total. It wasn't pleasant at all… the ground's wet and I hadn't quite fully recovered from my feverish temperature. The whole place was also very quiet and I was beginning to get a little paranoid. I had just watched the BBC documentary on the serial killers of Rostov the week before, and was taken aback when a man in raincoat suddenly walked past me. Thank goodness I didn't give a damn about my presence and proceeded to a pond a few dozen meters away. There he lifted a fishing rod, fix the bait and started his day. What a boring place ! I finally found the Gutmana ala, a cave, which like many sights in Sigulda, was associated with an ancient legend. No big deal. Can't find the ancient graffiti mentioned in Lonely Planet – instead there were many contemporary ones. Well, there's hardly anybody around and certainly Lacplesis the Bearslayer won't appear either. Seeing the uncertain weather and feeling uneasy walking alone in this quiet valley, I decided to return to Riga. Tried to hitchhike back to Sigulda Station but didn't succeed. None of the cars cared to stop for this strange creature from outer space. So my exotic appearance didn't quite work.
Arrived at the train station but it would be an hour before the next train arrives. Had wonderful lunch at Juma Café. I had rice and two other dishes for Lv. 2,96 – a princely sum compared to other parts of the FSU, but value for money in Latvia. The pork ribs looked suspiciously like Chinese sweet and sour pork ribs. Perhaps they have a Chinese chef or maybe it was just a local dish that resembled Chinese. It doesn't matter – for me it's a great departure from the traditional Latvian fare of cold fish and sour cream.

Old Heroes No Longer
"In the event of a territorial and political rearrangement in the areas belonging to the Baltic States (Finland, Estonia, Latvia,
Lithuania), the northern boundary of Lithuania shall represent the boundary of the spheres of influence of Germany and
U.S.S.R. In this connection the interest of Lithuania in the Vilna area is recognized by each party."
Article 1 of the Secret Additional Protocol of the Nazi-Soviet Non Aggression Treaty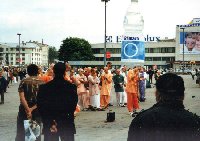 RIGA By the time the train arrived, the skies were clearing up. This fantastic meal, together with my much recovered physical state, really made my day. I returned to Riga, which, by now, was no longer gloomy city I experienced yesterday. The streets were full of beautiful people and attractive new lively shops, not to mention the brightly coloured flowers in parks and balconies. Plus a lively Hare Krishna group singing outside the train station – adding to the exotic mixture that formed post-Soviet Riga. Riga's definitely different on this day and I felt GREAT ! But all was not necessarily what it seemed - I saw a drunk lying on the ground, and a by-passer searched his belongings coolly in broad day light in central Riga, probably looking for some loose change and valuables. I went to a discreet corner and took a pix of the crime... is there any Latvian equivalent of CrimeWatch ?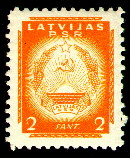 Standing outside the Occupation Museum in Riga today is the monument to the Latvian Red Riflemen, built in the Soviet era to commemorate the this Red Army unit which defended the Bolsheviks with great loyalty, eventually following Lenin to Russia. Many eventually held important positions in the Red Army and Cheka, forerunner of the KGB. The loyal traditions of these Latvian communists – of course traitors to their fellow countrymen – were furthered by Boris Pugo, a Latvian and last Interior Minister of the USSR, who was involved in the coup d'etat against Gorbachev and forced to commit suicide with his wife when the putsch failed.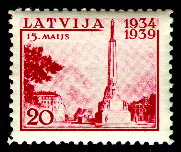 I still remember praises for this group in a propaganda book I obtained from the Soviet Embassy in Singapore in the 1980's, entitled "Latvian Soviet Socialist Republic". This was my first introduction to Latvia in an era when most people outside of the USSR were hardly aware of the existence of any "prisoner nations" within this enormous empire. As expected, the book was full of pictures of smiling faces and industrial monuments, as well as descriptions of the "victory of the working class against bourgeoisie and German landlords". Obviously, the Latvian Riflemen were heroes of that controversial age. They stood in what was previously an impressive square. I could imagine Young Pioneers, the Soviet equivalent of boy scouts, laying flowers at its feet, and soldiers standing guard by it. Today, it is but an ugly brownish lump of bronze, in the middle by a tram stop, more often than not, obscured by the equally ugly trolley trams that stopped there. In fact, the statue would soon be gone, for there are plans to replace it with a monument to commemorate those who gave their lives to Latvia during the Soviet occupation.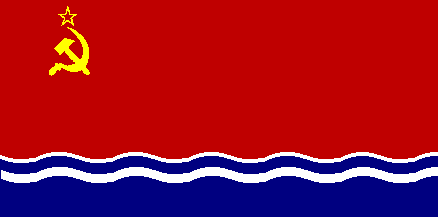 The Occupation Museum was, no prizes for a correct guess, previously one in honour of the Red Riflemen. Now, it is devoted to the tragic history of Soviet occupation of this small but courageous nation. In it were touching displays of the horrors and atrocities of the Soviet Occupation as well as the heroic resistance of the Latvian people. After the signing of the secret Molotov-Ribbentrop Agreement, the Soviets forced the Latvians to sign the Pact of Defense and Mutual Assistance in October 1939, under which 30,000 Soviet troops entered Latvia. In June 1940, an ultimatum was delivered to the Latvian as well as Lithuanian and Estonian governments demanding the replacement of existing governments with those capable of fulfilling the treaties of mutual assistance. Like the other Baltic states, the Latvian government capitulated, and on 16 June, Soviet troops occupied the whole country. Merely 2 days before, German troops marched into Paris. An election was quickly held to elect a "people's government" during which only communist party members were allowed to run. Despite the mass boycott, the Soviets claimed a 90% turnout. On 21 July 1940, this newly elected parliament voted to "petition" for the unification of Latvia with the USSR. Of course, the request was granted.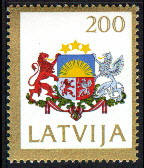 On the night of June 13 – 14, the Soviets rounded up 15,000 members of the Latvian elite and their families, and deported them to Siberia in sealed cattle cars. There was no warning and the deported were not given time to pack. They simply disappeared. Some left scribbled messages in the house for friends and relations, while others dropped notes along the way. One note-writer asked his children "to water the plants in the living room and bedroom," while another urged his son to "pray and work hard and, and [he] will lead a good life". Very sad and touching messages. I almost cried as I read these messages.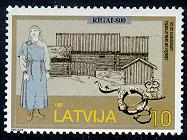 Many of the deportees died along the way. Less than one in ten returned to their homeland eventually. Of the last Latvian cabinet, the vast majority were shot, or died in the Siberian gulags (Soviet concentration camps). A large part of the Latvian and Baltic intellgensia was eliminated. In the first year of occupation alone, 35,000 people were deported or executed in Latvia. Further tragedies came during the German invasion when the Latvian Jewish community was destroyed. When the Germans were been driven out of Latvia by the Red Army, 200,000 Latvian refugees fled westwards, many of whom were killed by Soviet bombings. Eventually, 150,000 settled in the West, and continued an anti-Soviet struggle for the next few decades, constantly reminding the world of their lost homeland. Soviet brutality continued, with another 42,000 deportations on 25 March 1949. The anti-Soviet guerillas continued the struggle until 1956, thereafter the struggle was continued by the refugees abroad.
Half a century of bitter struggle and the Latvian people finally achieved independence in 1991. This museum is a tribute to the dead and brave. Walking through a reconstructed gulag cabin, one could feel that agony and frustrations felt by the deportees during those decades when liberation seemed so remote and their lives so fragile. This was certainly one of my favourite museums on this trip, and highly recommended to everybody.

A New Hero… From Canada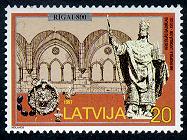 Further down along the Daugava was the Riga Castle, now residence to the Latvian president, Vaira Vike-Freiberga, who was elected in July 1999. Vike-Freiberga was born in Riga in 1937, but spent her childhood years in refugee camps in Germany (one of those who fled as the Red Army advanced), went to school in French Morrocco, University studies in Canada (B.A. and M.A., Univ. of Toronto, Ph.D., McGill Univ.). Retired as Professor Emerita from the Universite de Montreal in 1998, after being a professor of psychology there since 1965. Away from her country of birth for many years, she remained Latvian at heart. Academic papers on psychology were not the only thing she published, as she wrote many books and papers on Latvian folk songs, language and culture. She's not the only émigré who returned to the Baltics to assume the highest position of the land. Valdas Adamkus of Lithuania, who lived in the United States for the same period, is the other one. Hmm… why are they all North Americans ?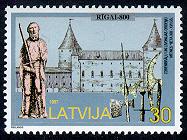 All around me were signs of growing prosperity and westernisation. The election of a Latvian-Canadian as president may well accelerate this process. Mobile phones seemed to be in use by many, and numerous shops accept credit cards. Well dressed people everywhere and fashionable cafes have sprung out in many parts of the beautiful old town. It seems that the process of economic transformation is going on well. Although latest statistics have shown that the country now exports more to the West, Russia next door will continue to be important, whether for better or for worse. A unfriendly Russia can affect internal stability within Latvia, while economic or business anomalies in Russia could bring some good fortune – like copper smuggling of copper via Riga has turned copperless Latvia into one of the world's largest exporters of copper a few years ago.

The Economics of De-Sovietisation
The bustling city streets may mask some of the misery that has occurred since independence. While service industry and commercial activity is booming, the old heavy industries are facing sharp declines. What makes matters critical is that this trend affects different ethnic groups differently. Ethnic Latvians dominate the culture and arts, agriculture and service industries, as well as the civil service, which are booming now, while Russians tend to concentrate in the heavy industries as well as transportation sectors, which face the greatest threat of corporate insolvency and unemployment. This is something the Latvian government has to be concerned with if it desires social stability.

Like many parts of the former Soviet Union, Latvia issued to its citizens vouchers which could be used to purchase stocks in privatised enterprises, or sold. In Latvia, the policy included provisions that take into consideration the welfare of those citizens who suffered as a result of the Soviet Occupation. According to the US Congress Library Latvia Handbook, "The law provides for the distribution of vouchers according to one's length of residence in Latvia, with one year worth one voucher, or about US$42. Other factors are also taken into account. For example, those who can lay claim to Latvian citizenship prior to the Soviet occupation in June 1940 and their progeny are entitled to additional fifteen vouchers as compensation for so-called "ancestral investments." Refugees who left Latvia because of World War II may also obtain one voucher for each year lived in Latvia before December 31, 1944. Those forcibly deported from Latvia in the past receive a differentiated number for each year of confinement in prison camps or in exile. Finally, people are allotted vouchers on those occasions where private claims on property cannot be realized because of conflicts with squatters or because compensation is chosen in lieu of property. An estimated 87 percent of vouchers are to be granted to Latvian citizens. Of the total of 113 million vouchers in circulation, an estimated 2 million are expected to be used for purchasing farmland, 40 million for city land, 43 million for apartments, and 28 million for state enterprises." Complicated, isn't it ?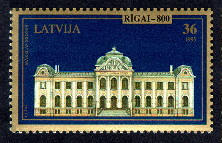 Making the economic reform process more difficult is that 657,000 (1993) of the total population of 2.5 million are pensioners. Given economic uncertainty, people are simply having fewer children and this reduced population would have to feed a large number of elderly people. Tough life, isn't it ? That's why one sees old people begging at street corners. To be fair, this occurs all over the former Soviet Union. In fact, the situation is a lot worse in countries like Russia and Ukraine.

Coffee, Liquor and Me
After the museum, I strolled around the old city and shopping for souvenirs at the street market. Bought some souvenirs made from amber – a yellow translucent fossil, sometimes with an insect or two within. I wonder if they are real. I could imagine sweatshop workers injecting insects into some artificial rocks in China.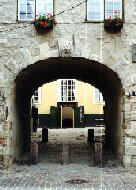 I had coffee at a café near Brivibas Monument, watching beautiful blond Latvians walk past. And then had a great dinner at a traditional Latvian restaurant called Starburgs - great Latvian pork ribs, topped up with the famous local liquor, Riga Balsam, with over 40% alcoholic content – the Latvians are the heaviest drinkers in Europe, with per capita pure alcohol annual consumption at 22 liters. With the advice of Lonely Planet as well as that of old LBS Uzbek pal, Aziz, I had it together with coffee. I wasn't sure if I did it correctly, pouring half the glass of Balsam into the coffee. In any case, at least I know now that Balsam wasn't exactly my cup of tea… I mean coffee.
After dinner, I tried looking for cybercafes. The Internet Klubs in Lonely Planet was nowhere to be found, and I found myself in a terribly run down building under refurbishing instead. Thank goodness I had a copy of Riga In Your Pocket and decided to look for Elektroniska kafejnica at Elizabetes 83/85 instead. For Lv.1,80, I spent the next hour there.
Returned to the apartment and found the landlady's English-speaking granddaughters were around. A quick bath and I had an interesting conversation with them. Tanya was 17 and Sandra 16. They speak Russian at home, and have some working knowledge of English and Latvian. Both, and their mother, were born in Latvia, although grandma moved here in the 1950's from Russia. In fact, by 1989, more than half of the Russians in Latvia were born there. They grow up speaking Russian, although they picked up some Latvian along the way. They have lived here all their lives, and when they visited Russia last year, they were surprised that to find that country very "foreign" to them. Primitive and backward, they complained, and they wanted to return to Riga right away. But independence has deprived them of their Latvian citizenship. Nationalistic laws conferred citizenships to those who were born in Latvia or descend from Latvians who lived in Latvia before the Soviet Occupation in 1940. This law, while conferring citizenship on ethnic Latvians and the émigré, effectively deny the rights of people who moved to Latvia during the Soviet days, even though many of these have lived here for decades, and their children know no other homes. "I'm born here, and yet I am regarded as a foreigner," grumbled Tanya.
For these people to be naturalised as Latvian citizens, they have to take a history test (which basically says "you guys killed my family in 1940") and a language test, which is apparently deliberately difficult. While most Latvians know Russian, the reverse is not true. These regulations have been highly controversial, arousing angry responses from Moscow. The European Union and USA have also repeatedly warned Latvia about the human rights implications of such regulations. Despite such laws, most Russians do want to stay in Latvia – after all, employment prospects are brighter here, and it's easier to secure foreign visas with a Latvian passport. But, as the ever-energetic Tanya said, "I will pass the test this year." This is poor comfort to her grandma. While the young can easily learn another language, many old people have become functionally illiterate due to the change in language policy. Tanya's grandma doesn't leave the house, because there are no more Russian signboards left.
"Do you have any Latvian friends," I asked. "Of course", she said. Like everywhere else, the young have few baggage from the past. It's the politicians who are creating trouble for everybody. The unfortunate thing about this is that sometimes, such conflict can lead to bloodshed, and the young become cannon fodder for the old's wars.
As we chatted about life, weather and interests, the TV with Russian satellite channel was on. Despite all, programmes from Moscow were certainly more entertaining than Latvian ones. After all, Russian channels have a market of over 200 million people, while Latvian ones only one and a half million. The Chinese Diaspora managed to turn themselves into Singaporeans, Malaysians, Thais, Americans, Canadians, Australians and so on, because they were cut off culturally for a few decades from the isolationist China of Mao, but Latvia's Russians will continue to watch Russian news, Russian soap operas and Russian sports. What will be the state of Latvian nation building post-independence in the future ? Only time can tell.

LITHUANIA: SIAULIAI & KAUNAS: Hill of Crosses – Burn it, bomb it, flood it, and it will remain