| | |
| --- | --- |
| | BELARUS |
2 SEPTEMBER: MINSK
Spy Chief, the President and a President's Assassin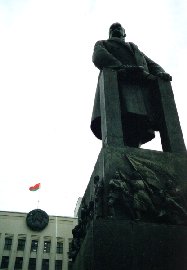 MINSK I decided to explore the city before it woke up. It was still misty when I began from the Independence Square near the hotel. Ploshcha Nezalezhnastsi, as it is known as in Belarusian, for all intents and purposes, is a huge traffic square surrounded by huge monstrous buildings. The communist era red-green-white flag with traditional embroidery patterns at its edge but minus the hammer and stickle was restored by Lukashenko and now flies above the Supreme Soviet. Lenin still stands in front of the parliament, guiding the nation towards its economically, morally and politically bankrupt past. Later at the Museum of the Great Patriot War (WWII), I was to see a picture of Nazi soldiers in front of a toppled Lenin at this same building. The statue has fallen before. I wonder when will it be next. Or will it at all.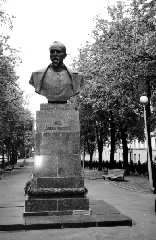 Statue of Felix E. Dzerzhinsky
At the northern end of the square is the praspekt Francyska Skaryny, Minsk's main thoroughfare. The street is named after Frantsysk Skaryna of Polotsk, who in 1517 translated the Bible into Belorussian. His Prague and Vilnius editions were the first printed books not only in Belarus but in the whole of eastern Europe. Further down the street is the statue of a more sinister character, Felix Edmundovich Dzerzhinsky, founder of Cheka, the first Soviet secret police organization and predecessor of the notorious KGB. Born in Minsk area of Polish noble origins, Dzerzhinsky betrayed his own class and nation by being a Bolshevik conspirator and revolutionary. After the October Revolution in 1917, he became the head of the new All-Russian Extraordinary Commission for Combating Counterrevolution and Sabotage (Cheka), Soviet Russia's secret police agency. He helped to eliminate opponents to the young Soviet State through execution and detention, and set up the first concentration camps in Russia. Ruthless and fanatical, he remained a powerful member of the leadership until 1926, when he collapsed and died during a Central Committee session. Was he poisoned or did he die of natural causese ? It remains a mystery. More probably, Stalin saw him as a threat and saw fit that he went the same fate as the many he had himself decided years ago. I suppose he's an idol of sorts for Lukashenko, especially with reports of disappearances of political opposition figures in Belarus. Not far from here was where Lee Harvey Oswald, assassin of JF Kennedy used to stay before his return to the USA. Any suggestions – X-File fans ?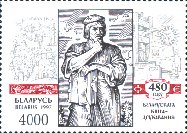 Stamp showing Frantsysk Skaryna

I walked into the Post Office and tried to get some stamps for collection. Nyet, nyet was what I got. Significantly fewer shops and restaurants around here in Minsk compared to the Baltics. Department stores stock things that nobody wants. Capitalism hasn't reached here... Things may be cheap here but one wouldn't know how to spend money, not even in restaurants, as I had experienced the night before. The food's lousy and waiters are rude. Not surprising, as most establishments are still state-run. And I aggravated the situation by changing another US$10 worth of Belarusian Rubles, at an official exchange bureau, at the official rate of BR 340,000 to the dollar, so that I have official receipts on hand to leave the country.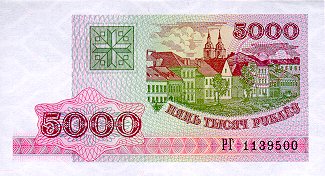 It can be imagined how difficult it is to run any private business here. A presidential decree requires all businesses to tie wages to a "national wage scale". This certainly makes Belarus an even less desirable business location. Of course, ministers and senior civil servants wouldn't tie their real wages, i.e., bribes and perks, to this so-called national scale. RFE/RL reported that recently, marketplace traders "refused to work in order to protest the presidential decree envisaging the confiscation of goods if a vendor fails to produce quality certificates and documents confirming that his/her goods were purchased legally (including the purchase of foreign currency if that currency was used in the transaction)… Try to purchase any foreign currency in Belarusian banks and you will realize that [the authorities] demand an impossible thing from private vendors, Belorusskaya Delovaya Gazeta commented on 3 September. Some vendors point out that the authorities sell confiscated goods in state-run shops without quality certificates."
The state is also suspicious of any bankers, native or foreign. I certainly feel "relieved" when I read this most enlightening description of Belarus's attitude towards bankers: "A banker in Belarus is not a profession but an article in the Criminal Code," so said Novye Izvestiya on 16 September 1999.
The power of the State even extends its reach to mushroom gathering, as noted in this RFE/RL report: "Mushrooms and berries have become significant sources of income for many poverty-stricken families in Belarus. But those trying to improve their family budgets in this way will find their task much harder following the introduction by the Ministry for Natural Resources and Environmental Protection of quotas and licenses for gathering the fruits of the forest…individuals wanting to legally gather mushrooms and berries on a larger scale must apply for state licenses once they have received permission from appropriate local administration bodies… Those applying for such a license must have either a specialized secondary education or higher education."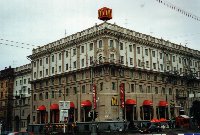 I walked through the Old Town, restored after the destruction of WWII, and visited the Orthodox Cathedral of the Holy Spirit. It was crowded with worshippers. Life's tough and that it is obvious to all that the communists can't save the country. Religion fills a vacuum the Big Lie can't. Hence the general religious revival all over the former USSR. Even Lukashenko, once committed commie, has jumped on the religious bandwagon, casting himself as a patron of the Russian Orthodox Church. I was told that during his recent birthday celebrations, he marched across the square with the Orthodox patriarchs and metropolitans, with his crony supporters shouting Viva for Lukashenko. It is equally bizarre to hear from RFE/RL, that eight workers have requested to Metropolitan Filaret, the head of the Belarusian branch of the Russian Orthodox Church to prepare for the beautification of Lukashenko, for it can be concluded from President Aleksandr Lukashenko's recent public statements, all Belarusians, including ordinary citizens and pensioners, have become "bad people", and that the only decent and honest man in Belarus is "the ex-president of the Republic of Belarus, citizen Lukashenko." They call him ex-president as Lukashenko had run out his term and yet refused to hold elections.
It is plain that Lukashenko is not exactly popular person these days. An opposition figure said this about his rule: "Russian politicians, too, have begun to realize who Lukashenko is, but they cannot abandon him because he is a kind of gift for them; the man who rules Belarus does not want Belarus to exist, he wants to unite [Belarus] with Russia. It is hard to find such a marvel anywhere else… Russians are used to moving [in Belarus] almost as freely as in their gardens while looking for a carrot. For instance, [Belarusian] Foreign Minister [Ural Latypau] is a colonel of [Russia's] Federal Security Service, Interior Minister [Yury Sivakou] is a Russian general (he says he is Belarusian, but he was born and brought up in Russia, maybe his father was a Belarusian some time ago), the [Belarusian] KGB first deputy chairman is also a Russian general. And the main thing is that the deputy prime minister in charge of Belarusian culture and science [Uladzimir Zamyatalin] is a colonel of the Russian army… Everything that is Belarusian is being destroyed, but from day to day the Belarusians are becoming more and more aware of their nationhood… I am often asked why there are no 100,000-strong demonstrations in Belarus. The answer is simple: the most active Belarusians--scientists, writers, undertakers--either lie at Kurapaty [ed.: mass burial ground near Minsk of
victims of the Stalinist terror] or have left Belarus. Twelve thousand left [Belarus] last year alone… The main point is that Russia upholds Lukashenko not only politically but also economically. That's why he is able to stay in power, that's why he can maintain 135,000 police troops in the 10-million-strong nation, that's why he is able to pay regular pensions, even if small. But these pensions are really negligible. My 90-year-old mother, who worked all her life, gets [each month] 5.4 million rubles [$19.3 according to the official exchange rate and $11 according to the street one]. And 1 kilogram of sausage costs 2.5 million rubles... Our family cannot afford to eat sausages."
Just in front of the Orthodox Cathedral is the Nyamiha metro station where less than five months ago, fifty-four teenagers died in a stampede after a rock concert. Haunting photos of the deceased are still all over the wall, together with candles, flowers and messages. The station has become a touching memorial of the young dead. My heart stirred as I walked around this busy station where office workers rushed to work. In a country with little to dream about, the young has become a source of hope, and for the parents of the Njamiha dead, hope has all but disappeared. For the busy bypassers, however, life goes on, for there is little one can do in a state where one doesn't know whether monthly pay check will arrive, or even when it does arrives, whether the rapidly diminishing value makes it worth waiting for.

Union is Only Natural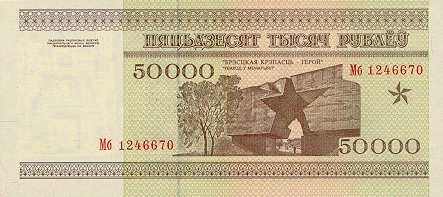 Again, the phasebook came useful again in the fast food shop. Here, as in McDonald's, they serve chicken and soup in a really fast way. The only difference is that they simply dumped the stuff you ordered into a microwave oven and there you go. And they charge BR 1,500,000 (about US$3) for a chicken leg and a borsch soup. Rather expensive by FSU standards. I wonder who can afford it. The staff were chatting away at one corner, apart from the stern but pretty lady taking my order. The only customers were three kids and a thirty-odd chap in formal officewear. One of the kids was crowned with a New York Globetrotters cap, while the other two carried with them roller-skates. Sons of the nomenklatura, I suppose. The office chap smiled, and asked in English, "May I know where you are from ?"
"Singapore."
"Oh, from afar ! Welcome, welcome." He passed me a name card. It's in Russian, but I spotted the double-headed eagle of the Romanov and Byzantium, with the arms of St George and the Dragon. "I'm Nikolai, from the Russian Embassy."
Nikolai, thirty-five, formerly a naval officer, now cultural official in the Russian Embassy, was born in Odessa. He's delighted that I plan to go there. "Odessa – that's my motherland ! My parents are still there. But it's now part of Ukraina." He shrugged. Many Russians can't get over the collapse of the old Union. To them, the breakup, especially the separation between Russia and the Slavic republics of Ukraine and Belarus was a terrible crime.
"You know, we are one people. Many families are torn apart by this terrible divorce."
"Yes, I know. I have met many people in my travels who felt the same as you. Even in Central Asia." I remembered the young people I met in Karakalpakstan, Uzbekistan's long forgotten corner, who were nostalgic about a long dead superpower they were too young to remember, but whose memory is kept alive by parents bitter about the harsh present and the negligence of a newly independent Uzbekistan.
Nikolai smiled. At least one foreigner seemed to support him. He has enough of westerners who accused Russia of trying to recreate the evil empire. "How do you find this country ?"
"Beautiful. Historic. Unfortunately I can't speak Russian. Otherwise I will find the people friendly as well." I tried to be diplomatic but dropped some hints as well.
"Yes, I have fallen in love with this land. Very historic. Many famous Russians were born here, you know. And we speak the same language, and share the same food, culture… and yes, all of us love Pushkin. You know Alexander Pushkin ?" He eyes glowed with the mention of Pushkin. The Russians are now celebrating two hundred anniversary of their national poet's birth, and everybody has gone Pushkin-maniac.
"Isn't Belarusian the national language ?"
"Yes, and no. You see, nobody speaks it. It is a Russian dialect that has disappeared. The Belarusian language is today the language of artists, philosophers and linguistic professors, who try hard and superficially to promote it. And after a few speeches or performances in Belarusian, they go home and speak to their families in Russian."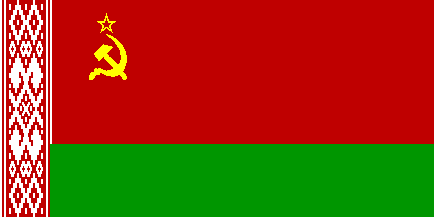 This is the sentiment of a large percentage of the population, whether or not they like Lukashenko or Russia. Belarusian nationalists do face an uphill battle. After all, it was an overwhelming 75% of the population who voted for the restoration of the old symbols of the Belarussian Soviet Socialist Republic, and the proclamation of Russian as an official language alongside Belarusian. No prizes for guessing how "frequent" Belarusian language is used.
"It is only natural that the peoples of Russian and Belarus want an union. We are one family split apart. Union is only natural." Nikolai added. Of course, Kurapaty, where 250,000 people were shot by Stalin in 1937, was not mentioned.
Union may seem natural, but does Russia really wants it ? Most Russian politicians pay lip service to the notion of the union, but few want additional competition for an already crowded candidate list to the Russian presidential elections (- Lukashenko's Russian presidential ambitions are well known), or to support an economy that is collapsing faster than Russia's. Whether or not the union will materialise is anyone's guess.

Museum Blues
I tried looking for the cybercafe listed in In Your Pocket Guide at Kulamn area, but failed to locate it. Few speak English here. Not even the young. In the Baltics, most young people speak some English. Belarus has a lot to catch up.
I walked around town. Visited the Victory Monument and the Museum of the Great Patriotic War. Like all FSU cities, the grandest museum in Minsk is the one devoted to the WWII. Of course, many have sacrificed their live to the nation in this titanic of warfare, but also, there is so little communism can be proud of apart from the defeat of Nazi Germany. Just next to this grand display of Soviet triumphantism and artistic glory is the Cultural Palace of the Trade Union, a magnificent neo-classical building. Obviously, the working class's pleasure is no longer a chief concern for a bankrupt economy. Part of it has been turned into a flashy casino. Even Lukashenko's pseudo-Stalinist state has to find means to survive.
Following the experience of the previous night, I decided not to get shouted again by having lunch in a restaurant. Instead I bought some bananas from a kind-looking babushka along the streets. People are nice so long as they are not working for the state.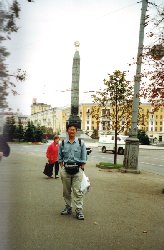 The National Museum of History & Culture is an old building with peeling paint along the shaded ulitsa Karla Marxa. Again, I encountered the Screw-Your-Customer Syndrome again. The kassa (ticket stand) has a board with a list of entrance prices, not just for the permanent exhibition, but for the temporary ones as well. Of course, everything was in Russian. Not knowing how much to pay, I asked the cashier. Once more, I got a You-Stupid-Why-Bother-Me look, followed by a continuous lecture for the next 2 minutes on god-knows-what, probably on the importance of speaking Russian. Fortunately everything she said was in Russian, and years of travel have made me immune to profanities and insults in languages I hardly understand. She got even more agitated and stepped up the missile barrage a la Chechenya, until a security guard came over to investigate what was wrong. Mr Pragmatic Plump was more realistic. He calmed Ms Grouchy while suggesting that I pay the sum total of all the prices there, which wasn't much anyway. That was exactly what I did, and then finished the museum in ½ hour. By then, I was a little tired of all that nonsense, and the rudeness. First time I was ever shouted at in a museum, and the 2nd time within 24 hours. Amazing… What terrible crimes I have committed – for being a functionally illiterate customer who's ignorant of so important a language and thus wasting the time and emotions of hardworking museum staff…

I have only changed US$20 worth of BR but still have half left. I wonder what to do next. Buy souvenirs ? Forget them, when you have to face all these state employees probably all suffering from SYC Syndrome. The only cheerful thing in town was a typical Stalinist building bizarrely decorated with the Big M ! Stepping into it, I found friendly teenage workers and the cleanest toilets in town. Maybe all the managers in this country should learn from these enthusiastic people.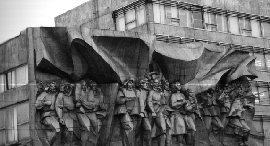 I ran out of things to do by 2 pm. Maybe I wasn't fair to Minsk. Perhaps, I over-generalise about the country or rush too much. However, for the first time in my travels, I seriously considered taking an afternoon nap. I returned to the hotel, had a bath, watched a bit of Russian and Polish MTV, and then rang my friend Anatoly. He's the owner of various specialist, non-political newspapers and journals. We had a great time talking about safe topics like stamps and music. I spent two hours checking emails and CNN website from his office PC. At the end of the day, he dropped me at Uzbekistan, Minsk's foremost Central Asian restaurant. Here, I experienced superb Central Asian hospitality and great pilov and manty. I was reminded of my great trip to Central Asia last year… How time flies… I tried to spend as much as possible, and yet still has stacks of Belarusian Rubles left. I decided to keep them as souvenirs, and retired for the day.

3 SEPTEMBER: UKRAINE: SIMFEROPOL (CRIMEA)