You are the
th visitor here since 7 April 1996 ! Welcome !


BULGARIA
Bulgarians were originally a Turkic people from the Volga region of Russia. After a series of migrations, they acquired Slavic characteristics and in 681 A.D., founded the First Bulgarian Empire. In 865 A.D., the Bulgarians converted to Eastern Orthodox Christianity and thus the religion became an important aspect of Bulgarian cultural life (icon art also started to flourish in Bulgaria during this period) as well as their symbol of national survival.

Over the next 700 years, the Bulgarian state rose and fell several times in its struggle with the Byzantine Empire. One defeat - the Battle of Belasitsa (1014) - was particularly disastrous, as 15,000 Bulgarian soldiers captured by Byzantine Emperor Basil II (who earned the title "Bulgar-slayer") were blinded and Tsar Samuel of Bulgaria soon died of sadness. In the 14th Century, after a series of invasions, the Ottoman Turks overran Bulgaria and the country began five centuries of Ottoman rule.
19th Century Bulgarian history was characterised by numerous disastrous rebellions against the Turks, which were crushed with much cruelty and ruthlessness. In 1877, with the aid of Russia (at the source of 200,000 Russian lives), the Bulgarians finally achieved independence, and this was the source of much gratitude and warmth towards Russia even today. As I would come to discover in Sofia, some of the most important monuments were devoted to the Russians, and there was no desire to tear them down after the fall of communism.
Sofia
On 5 June, I crossed the Danube for a third time, and entered Bulgaria in the southeastern corner of the Balkans. Sofia, Bulgaria's capital, is a pleasant little city of 1 million inhabitants. Nestled in the Balkan Mountains, the climate was cool and unpolluted. I stayed there for 3 days, visiting its churches (the grand Alexander Nevsky Memorial Cathedral built in 1912 to commemorate Russian deaths in the War of Independence ; the unusual Rotunda of St George within Sheraton Balkan Hotel ; Sv. Petra Semerdjuska with the cute little souvenir stalls around it ; & the Holy Sunday Cathedral, where an attempt to kill Tsar Boris III in 1924 wiped out 124 people, including most of the cabinet) and did a little bit of souvenir shopping. The National Museum of History was an amazing place with lots of golden relics of the Tracian Civilisation, as well as fascinating Orthodox icons.
Alexander Nevsky Memorial Cathedral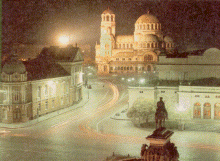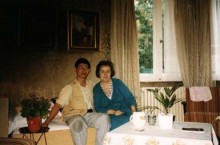 Mdm Lubka and me
I stayed at the home of Mdm Lubka Zonewa, a kind old lady who really took care of me. I got her address from Balkantourist, a Bulgaria state-owned travel agency and I thought it would just another typical pension. It wasn't the case. Despite the lack of a common language, I obtained lots of assistance from Mdm Lubka, who made coffee for me, washed my clothes and so on - all not required of the contract with Balkantourist.
Sofia is a fantastic city. I have just one complaint - I can't read Cyrillic and therefore did not understand the road signs. I felt like an illiterate in Sofia. In addition was the confusing Bulgarian way of signalling - they nod to say no, and turn their heads to say yes. Some of them will react in the "international" way with foreigners, to add to the confusion. Therefore, the safest was to learn the Bulgarian for yes - "da", and no - "ne"
And yes, one of my favourite Balkan cuisines is the Bulgarian - the rich fertile land, as well as 500 years of Turkish rule, has produced a cuisine that is a mix between European and Middle Eastern cuisines. This is a cuisine that, like other European cuisines, uses bread as a staple, and at the same time, uses sauces and cheese with great imagination. I particularly enjoy a category of Bulgarian dishes, known as siren. This cheese based category uses cheese in different cooking methods, in combination with eggs, vegetables, meat and so on. Other dishes with a Turkish flavour include different versions of the Bulgarian kebab, which in my (personal) opinion, tastes nicer than the authentic Turkish version !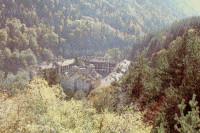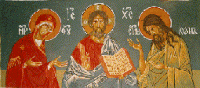 Rila Monastery ; Frescoes
I visited the Rila Monastery south of Sofia the second day I was there. Located in the remote but beautiful Rila Mountains, this was Bulgaria's most sacred site and pilgrims came here seeking refuge from the chaos of new capitalism. I had to take a 0530 hours bus to reach Rila and it took more than 3 hours to reach the monastery. My effort was not wasted. Here were some of the best Eastern Orthodox art forms of the world. Well preserved frescoes adorned the walls of the central cathedral. They not only depict scenes from the Bible but also the history of Bulgaria and the monastery. First built by the hermit St John of Rila (Ivan Rilski), it soon turned into a national shrine. Burned down by a fire in 1833, it was rebuilt in an even grandeur scale, in rich National Revival style, after a donation campaign that aroused Bulgarian sense of national identity. Here I met the spiritual leader of Bulgaria, His Holiness Patriarch Maxim who's on an official visit. Like most tourists I snapped a few pictures of this venerable religious leader. Hope he wasn't offended.
In front of the frescoe of "Archangel Michael taking the rich man's soul" ; His Holiness Patriarch Maxim & Bulgarian pilgrims ; The Patriarch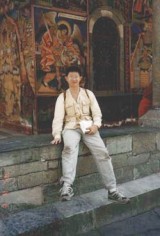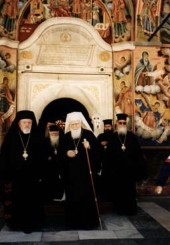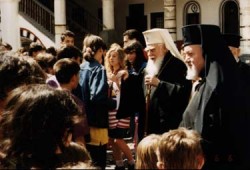 I enjoyed Bulgaria a lot but my impression was affected by an incident at the border while crossing into Turkey. A fat border official refused to allow me (and a few other people) to cross the border claiming that something was wrong with my documents. He apparently understood English but simply refuse to explain the reasons. He demanded US$100 and I had to pay US$50 in the end. (I later found out others only paid US$20 ! He probably figured out that he could get more from me.) What disgusting corruption ! Perhaps it will be a long time before such practise cease. I hope it wouldn't happen again the next time I visit this beautiful country...
Links to Bulgaria :
This site contains all you ever want to know about Bulgaria and more : The Bulgarian Universe - 500+ Web pages related to Bulgaria !
Georgi Petrov's Bulgarian Photo Album - many of my photos are from this great site.
The Reader's Guide to Bulgaria with detailed info about Bulgaria : history, people, economy,society, culture, etc...