Day 7: Whither The Axis of Evil?
We drove west to Nampo City, a port of over 750,000 inhabitants at the mouth of Taedong River. Although Nampo is an important city, the bare austerity of communism has turned this into what looked like a bare, ugly city of unpainted run-down buildings and smoky chimneys.

We headed for the West Sea Barrage in the city's suburbs, passing fish farms and salt fields. Completed in 1986, this is an 8km wide dam built over 5 years across the estuary of the Taedong River. It not only controls the tide of the Western Sea and hence enhances flood-control, but also regulates the passage of huge vessels through three locks and enabled the reclamation of many hectares of land for agriculture.

Once again, this engineering wonder, which they claimed to be the world's greatest dam project (though I could not find on any world ranking) was credited to the "heroic army-constructors under the revolutionary leadership of Great Leader General Kim Il Sung and Dear Leader General Kim Jong Il, who visited many times and gave numerous on-the-spot guidance."

Someone among us asked whether the Great Leader had engineering know-how and how many workers died in the construction. The local guide looked a little puzzled and said, "We had ensured the highest engineering and safety standards. The Great Leader himself, who is a genius, conceived the idea and designed the whole project. How could anyone have died in the construction?"


Summarised extracts from a DPRK book, "Kim Jong Il – A Great Man":

Phone Call at Dawn

An official received a phone call from Kim Jong Il's secretary at dawn one day. "Dear Comrade Kim Jong Il wants you on the phone. I will put you through."

Sprang to his feet, the official said when the phone is connected, "Dear Comrade Leader! I am on the phone."

There was a strange silence. The official's heart throbbed with fear. Had he done something wrong? 15 minutes past before Kim Jong Il's tender voice was heard, "I'm sorry. I called you up but dozed off." Fatigue was felt in his voice.

The official said in a trembling voice, "Dear Comrade Leader! What time is it now? I'm worried that you do not go to bed every night like this."

"Well, the same story over again. Excuse me." Said the Dear Leader Kim Jong Il.

The official listened to him silently, his eyes glistening with tears.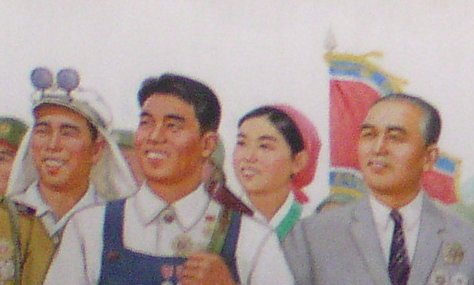 Back to Pyongyang, we visited the National Art Gallery and its exquisite display of the ancient murals of Koguryo Kingdom (57 – 668 A.D.), which straddled the Chinese-North Korean border. The kingdom is famous for its tomb murals, found in both North Korea and China, which depicted life in this martial kingdom with strong cultural influence from China.

Both China and North/South Korea are now submitting these ancient tombs for listing as World Heritage Sites, whilst a dispute has broken out over the Chinese claim that the Koguryo was a Chinese regional state rather than Korean kingdom. It is astonishing seeing how Asian countries argue over the reality that historical borders had changed and that nothing is wrong with current borders not coinciding over historical ones.

We strolled around the serene greens of Moran Hill, where families had a relaxing day dancing and picnicking. Here, we saw the Koreans as a people no different from you and me. They too, like us, laugh, cry, joke, dance, run, walk and sleep. That evening, on the bus back to the hotel from dinner, Ms Park sang a song of farewell dedicated to us. As night descended over the city, I felt a sudden sense of sympathy for these people.

Over the past week, we have gained great respect for the North Korean people. They are friendly, helpful and polite. They often bow when saying thank you and they take interest in people as individuals. They have hopes and aspirations for their lives, and they had suffered terribly in recent times. Whatever misgiving I may have for the way the country is being run, I cannot condemn the ordinary people as terrorists or evildoers. If George W. Bush and his neo-con imperialists decide to launch a military adventure in North Korea, my support – not that it means anything substantial - goes immediately to these people.


Day 8: The Yalu Bridge Leads To The Future
---
Buy these books!
Copyright - Tan Wee Cheng, Singapore, 2004