Pyongyang - 8th International Kimilsunglia Flower Show
Every April, Pyongyang plays host to the International Kimilsungia Festival, which must be one of the largest flower shows in the world by visitor number. Held at the modern, grandiose Kimilsungia-Kimjonglia Exhibition Hall, this must be the only flower show in the world devoted to only two flowers – none other than the Kimilsungia and Kimjonglia, flowers named after the Great Leader and Dear Leader.

We arrived at the venue to find the whole area crowded with disciplined Korean families and groups of workers – men in formal suits and ladies in flowing traditional gowns, walking in file to the exhibition hall. As tourists, we were given priority entry and were greeted by an enormous full-wall painting of Kim Il Sung and Kim Jong Il with the crater lake of Mt Paektu in the background. Hundreds of pots of blooming Kimilsungia and Kimjongilia in front of the painting, turning the whole area into a symphony of pink and red.

Hundreds of people – families, co-workers and friends queued patiently for their chance to have their photos taken in front of the painting, and more people streaming into the building, once the ushers cleared the earlier group. It was an incredible sight, with loud piped military marching and patriotic music. Definitely a pseudo-religious ritual of pompous proportions. Although we were now used to unreserved display of piety for the Kim's on this 6th day of our tour, what appeared in front of us was nonetheless spectacular.

I asked the exhibition guide how many visitors there were. "800,000 people attended the last exhibition held here 2 months ago, during the birthday of the Dear Leader Comrade Kim Jong Il – the 8th Kimjonglia Festival. We expect the number to exceed a million this time, during this 8th Kimilsungia Festival."


Wow! This must be the weirdest and most attended flower show in the world!

We were quickly brought into a few rooms where there was a display on the history and background of the two flowers. The pink Kimilsungia is a species of orchid, first bred by an Indonesian botanist, and presented by Sukarno to Kim Il Sung in 1965 when the latter visited Indonesia. It was named after Kim Il Sung, a gesture which North Korea's KCNA called "a symbol of the great love and genuine admiration the people of Indonesia have for the Great Leader".

Before long, this tropical orchid became the symbol of the regime and over 250 greenhouses have since been built for the growing of this tropical hybrid all over this country of harsh winter. Despite the shortage of electricity, the greenhouses of Kimilsungia are always well taken of. During the famine and energy crisis of the late 1990's, KCNA carried reports about how patriotic citizens asked the state energy bureaus to shut down their home heating systems during winter so that there is enough electric power for the glories of Kimilsungia.

How can there be a flower for the father without one for the son? The Dear Leader's cause was answered by a Japanese botanist in 1988. The Kimjonglia is a variety of the South American begonia. Huge and red, some critics say the Dear Leader need flowers larger than his father's to make up for his father greater stature in history. Whatever it was, Kimjonglia took off in a big way too, with huge Kimjonglia festivals every year as well.

Into the exhibition proper. Numerous provincial and municipal authorities, military units, factories and even foreign embassies have sponsored displays of the two flowers. A typical display comprised a wall-sized panel with either one or both of the Kim's, either in formal suit, in military uniform, on a running horse, with children, with workers/farmers/soldiers, with people of all colours from around the world, or Mt Paektu/Kim Il Sung's birthplace/Chollima horse in the background. And in front of the panels, countless pots of Kimilsungia and Kimjonglia. They even have prizes for the best exhibits!

The whole exhibition centre, probably the size of a few football fields, was jammed with massive crowds. What a nice family or office outing opportunity! Great music such as the Song of General Kim Il Sung and the Song of General Kim Jong Il. Lots of (or rather many of two kinds) beautiful flowers, not to mention an excellent venue for people-watching. All the hunks and babes of Pyongyang are here for the flowers…ops… I mean for the admiration of the exquisite Kimilsungia and Kimjonglia.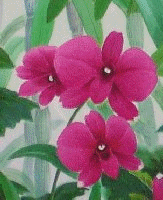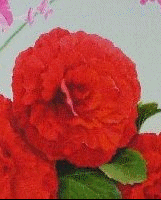 Pyongyang celebrates Kim Il Sung's Birthday at Night
---
Buy these books!
Copyright - Tan Wee Cheng, Singapore, 2004