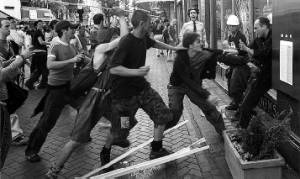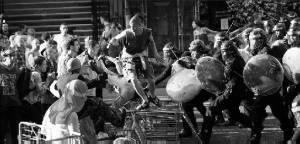 Source of Photos: The Times
9 June 19999
Despatche from London:
Anti-Capitalist Riots in the City of London:
An Eye-Witness Account
---
Hi,
JUST AFTER LUNCH:
================
Today is the protest day against capitalism and big business. More than 5000 young people have brought the City (the smallish one square mile area in London which is the metropolis's financial district) to a standstill by singing and dancing on the streets and blocking traffic. Banners held are diverse, ranging from "Cancel Third World Debts" and "Save the Environment", to "Have Sex in the City". According to the press, participants include groups as diverse as environmental groups, communists, human rights/labour activists and hippies.
Employees of the big corporations and banks have been warned by police not to wear formal office clothes to work on this day, and indeed the City is full of casully-dressed bankers, lawyers and accountants. The day started off quite disappointingly, without anything major occuring. But, come lunch time and one saw these crowd of people throwing traffic into chaos. It's actually quite fun - with dancing and loud music. Protestors wearing strange costumes and in fact, many wore very little at all. Girls in bikinis and barechested men. In fact, a few were walking around totally naked ! Some were dancing on lorries and one of them dropped his pants (totally nude !) occasionally. Many City-workers dropped by to take a look at the grand party - my colleagues and I did as well - and there I saw rather senior people in the bank (in casual clothes) watching the fun as well. A colleague said that he heard traders at Nomura or maybe another bank - symbols of capitalism - poured champagne from floors above onto the protestors... Carnival time ?
LATE AFTERNOON:
===============
The protests have gone nasty - colleagues said that some Cannon Street shops have been smashed up, including the McDonald's, and the fire hydrants have been damaged - so water was just shooting into the sky at Upper Thames Street, just 100 meters away from my office. They also said many protestors are drunk and dancing around naked. Reuters news reports that one protestor
was injured when a police van was overturned - an earlier rumour said that someone was killed within the City. A friend rang to say that many vehicles were smashed as well. Together with colleagues, I went downstairs and saw lines of riot police separating my office area with the protestors 200 meters away. Stand at the right place, I told myself. Yes, I saw the water hydrants and the newly created "fountains". A man was sitting on the floor, dazed, with blood over his face and cursing the money brokers who
were watching him nearby. Sensing that a riot was about to break out, we rushed back to office. A colleague received news that Cannon Street (whose tube station I frequented everyday) is full of riot police and their horses. Maybe I should finish my work and get home.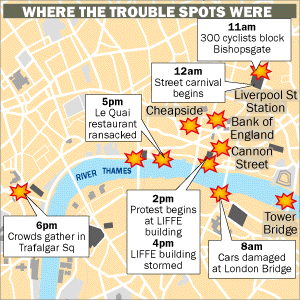 Source: The Times
6:45pm :
=======
Finally left office. Walked out of the office to discover that the protestors have actually gone further west, towards West End (the
entertainment/tourist part of London). Upper Thames Street, where I watched the demonstrators during lunch time, was now like a huge rubbish dump, with lots of broken glass, bottles, leaflets, etc. The place smelled too, with police horse excreta and the urinal aroma of the protestors, who were probably dead drunk and pissed all over the place. The walls of grand institutions and banks were full of grafitti like "F--- The Banks", "Down with Money World", "Save the World", "F--- Tony Blair", etc. The showroom of Mercedes Benz was totally smashed up, and windows of some other buildings too.
Should I go home now ? The underground stations around here were all closed. I decided to walk further west towards St Paul's, the tube station of which was open, at least that's what a police told me. As I walked towards there, I heard the beating of drums, and saw more police. A number of City workers (i.e., people who work in London's financial district) were also walking towards where the action was taking place. There was a sense of surreal peace as well as excitement. I decided to play the journalist
in me - I always know that I was a war journalist in my past life.
I ventured into warzone, i.e., Blackfriars Tube/Bridge area. There the riot police faced the protestors. On my side, there were lots of spectators, including some City professionals in their suits. The pubs nearby were full too, with City workers holding their beer looking towards the "frontline", as though watching a live performance. I was actually quite excited as well. A pity that I was dressed semi-formal - an obvious target of anti-banker protestors.
I walked closer to the "line of control". There, the protestors - clearly drunk and high - dancing to the tune of New Age and sometimes Indian or Caribbean music. Occasionally, bottles were thrown at police. Tension was high. This state of affairs did not last long. Suddenly, the police charged forward to the road junction, driving the protestors into the side lanes. This was no different from the documentaries I have watched on the African plains - of how a tribe of lions drove into huge groups of
antelopes, scattering them apart, and then devoured them one by one. The scattered protestors were like the isolated herbivores, mopped up individually by the lions - the police. I saw some of them falling down and then arrested by the police. This group of protestors appeared to be gone. It's time to get home, and get ready for the 8pm news summary.
9pm:
====
I missed the 8pm news, but proceeded to cook dinner and took a quick bath. Managed to watch the 9pm news, and the chaos that overwhelmed the City. Protestors are gathering at Trafalgar Square - site of the highly publicised poll tax riots years ago. Will anything happen there ? We will see. For me, the day is over. I will stay put at home... Definitely.

regards,
Wee-Cheng