TWC'S Odyssey
HEART OF THE SILK ROAD
Tan Wee Cheng's Travels in the Central Asian Republics of Kazakstan, Kyrgyzstan, Uzbekistan and Tajikistan
---
KYRGYZSTAN
11 Jul Bishkek
Robert had given up trying to trace his luggage and proceeded to buy some necessities. I spent the morning on my own walking around the city. An observation common to Karakol: Bishkek retained its communist street names and monuments (- only the city's name was changed from Frunze, a Red Army general born in old Tsarist town of Pishpek, to the Kyrgyz version of its older name). Frunze and Soviet Avenues remained, together with the towering statue of Lenin in the monumental Ala-Too Square, as well as the statue of Felix Dzerzhinsky, founder of Cheka, the predecessor of KGB.

| | | |
| --- | --- | --- |
| | | |
| Statue of Felix Dzerzhinsky, founder of Cheka - the pragmatic Kyrgyzs have better things to do than to rename streets and tear down communist statues like many of their Central Asian neighbours. | Flag of the former Kirghiz Soviet Socialist Republic: The Communist Party still attracts support from many old people and people of Slavic origin, given widespread disillusionment over independence. | The towering statue of Lenin in front of the Kyrgyz State Historical Museum in Ala-Too Square. |
| | | |
| Panfilov Park: Russian dancers of the Russky Dunsan cultural group - a Kyrgyz lady also joined the fun - racial harmony... | An early stamp issue of the independent Kyrgyz Republic - overprints of USSR stamps were used. | Friendly dames of the Russky Dunsan |
The Kyrgyz State Historical Museum not only provided an interesting insight into Kyrgyz nomadic life and traditional culture, but also included an impressive floor which was well-described by LP as a shrine to Lenin. Lively carved statues and busts of Lenin, as well as scenes of the Bolshevik Revolution. Great for the artistic value even though nobody cares about their political message these days. The Frunze Museum still existed but the entrance fees had been raised to equal the State Historical Museum. Its main visitors were teenagers and kids playing computer games in what was formerly a sacred shrine in the USSR, and I supposed the entrance fees were probably meant for the games rather than a visit to the traditional Russian farmhouse where Frunze was born.
Sent an email at the British Council office on the 2nd floor of the International School of Business & Management before setting off for the Bishkek Bus Station (to take an overnight bus to Samarkand, Uzbekistan). Bishkek Bus Station - This is one of the most notorious stations in Central Asia. Guidebooks have warned about the troubles many travellers have got into with corrupt police officers here. Well, we were not the exceptions…

| | | |
| --- | --- | --- |
| | | |
| Miniature Sheet commemorating the 1000th anniversary of Manas, the Kyrgyz national epic. | Manas 1000 - an occasion to celebrate the Kyrgyz nationhood and re-establish national identity. | More Manas 1000 |
| | | |
| The monumental Frunze Museum - this has been partially turned into a computer arcade game centre. | Stamp showing the Manas Monument in Bishkek | Old man with ak-alpak at Bishkek Bus Station - only minutes before we were detained by police. |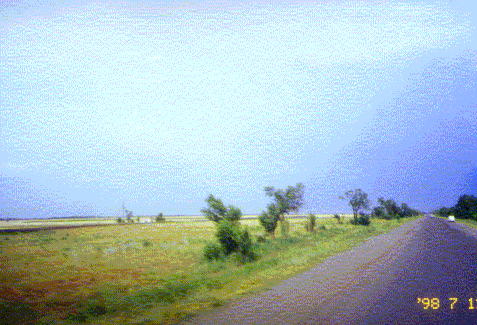 View of the Kazak steppes on the way to Samarkand
It was 3:20pm, slightly more than half-an-hour away from the daily bus to Samarkand. I had just taken a good shot of an elderly war veteran with his medals of the Great Patriotic War (World War II in USSR terminology), when four uniformed ethnic Kyrgyz police officers and a Slavic-looking non-uniformed one asked for our passports. Then they wanted us to follow them into the basement of the main bus station building for "checks".
Robert followed them into a room while I stood at the doorway, fearing that they would lock the door. In any case, they seemed puzzled by my Singapore passport, probably wondering where this country was, and whether I could afford the "fines" they planned to demand. But Robert's Canadian nationality certainly made him fair game in the eyes of these mobsters. The Slavic officer assured that this was a "routine check" for drugs and assorted law-breakers. Robert's bags were searched and he was asked to write down how much money he had with him. As Robert told me later, he stretched his brains and wondered how much he should disclose. One is tempted to write less so as to discourage those idiots from taking the money, but they might also order a body search and confiscate the excess cash. But then the officer's pen ran out of ink, and no one had another one (or rather, neither Robert nor I told them we had some spares). The money declaration trick failed and the Slavic officer tried the notorious OVIR trick. He asked for our OVIR registrations. We showed him the OVIR stamps on our passports and these idiots appeared to be confused. Apparently, people who registered in Bishkek would receive a blue slip while those who registered in Karakol got a stamp in their passports instead. They insisted on having the blue slips and so I produced two unrelated receipts. By then, it was 10 minutes before the bus to Samarkand, and I reminded the confused officers about it. In addition, I told those idiots that "I'm sure you know the provincial OVIRs don't provide additional slips." Faced with potential embarrassment, the Slavic chap declared that everything was in order and we were free to go. He even said, "I hope you people enjoy Kyrgyzstan." Yes, sure we did, until idiots like him damaged the reputation of this beautiful country and her hospitable people. And on this note we boarded the overnight bus for Samarkand.
---
Click to here to go to next page: Samarkand