TWC'S Odyssey
HEART OF THE SILK ROAD
Tan Wee Cheng's Travels in the Central Asian Republics of Kazakstan, Kyrgyzstan, Uzbekistan and Tajikistan
---
KAZAKSTAN & KYRGYZSTAN
7 Jul Charyn Canyon, Karkara Valley & Karakol (Kyrgyzstan)
Vladimir from PSI Travel of Karakol, Kyrgyzstan picked us up in a van at 7am. Today, we would travel eastwards to Karakol via Charyn Canyon and Karkara Valley. As we moved out of Almaty, we passed villages that were largely Kazak-inhabited. Some men here wore the distinctive yurt-like Kazak and Kyrgyz headdress known as ak-kalpak. Lunch was at a roadside yurt. A yurt is a traditional nomadic tent so typical in the plains of Eurasia, from Kalmykia (west of the Russian Volga region) to Mongolia in the east. We had lagman, the Central Asian noodles, similar to Chinese la-mian, as well as manti, no different from Chinese dumplings (jiaozhi).

Live the traditions of the ancients: 20 Tenge Banknote showing a horseman.
Across the Steppes: Mine
Across the Steppes:
Artist's perspective
Food sellers under statue of a hawk along a Kazak highway.
Yurt-restaurants along the highway to Charyn Canyon.
Kazak ladies: How oriental they look !
Charyn Canyon - this is a barren desert-like area on the steppes, with a deep canyon and unusual rock formations. The nature park guards (who laid lazily in their yurt at the park entrance) demanded a ridiculous sum of 3000 tenge (about US$40) but we managed to reduce that to 600 tenge. We stayed for a very short while before heading towards the valley of Karkara River, which forms the eastern border between Kazakstan and Kyrgyzstan, two countries whose presidents' children married in a well publicized "royal wedding" recently.


| | | |
| --- | --- | --- |
| | | |
| Charyn River: Strip of greenery in the desertscape. | Kazak stamp showing the lord of the steppes. | Yurt belonging to the corrupt park wardens of Charyn Canyon. |
| | | |
| The magnificent Charyn Canyon | The Kazak Government hopes that mineral riches, together with oil and gas industry, will help the country to develop into an economically independent country. | Arizona's Grand Canyon ? |
Imagine a flat, green plain blossomed with wild summer flowers, and flanked by snow-capped mountains - that's the Karkara Valley. Each June, the Kazak and Kyrgyz nomads gather here for the annual Chabana, or cowboy festival. We have read about this in the Lonely Planet guide and imagined that the Valley would be full of yurts and nomads. Hence we decided to travel to Karakol this way, rather than the more popular route via Bishkek. Well, we were a few weeks late, and it seemed that the nomads have all gone afar. A few scattered yurts were about all we saw, and some were probably temporary storerooms for typical "modern" farmhouses. But the beautiful setting compensated for that. Standing on some of the ancient Scythian burial mounds, I could imagine the migration of ancient tribes across the Eurasian continent, as well as their loaded horses and chariots returning with the raided riches of caravans and trading cities. Not to mention the cries and moans of captured city-dwellers from Samarkand, Baghdad and Kiev, most of them no doubt would be slaves and quite a few would contribute to the complex ethnic mix which forms today's Central Asian peoples.
This must be one of the most remote border crossings in the world. On the Kazak side, the customs post was manned by a few sleepy, shirtless, young Kazaks. After a chat with Vladimir and a few bottles of mineral water bought in Almaty, they lifted the barrier for our van to cross into the border zone. Crossing the Kyrgyz post was no different - we merely had to show our passports and our driver again had a little chat in the border post. A few herdsmen we saw had it even easier. They, together with their numerous sheep, simply ignored the existence of the border and rode across the customs barrier.

| | | |
| --- | --- | --- |
| | | |
| Karkara Valley: Tian Shan behind the Karkara River | Karkara again | Zodiac: Kazak heritage |
| | | |
| Horses in Karkara | Kerosene-seller | News article on the Central Asian "Wedding of the Year" |
After a ride across a mountain pass, we soon found ourselves in the fertile plains of the Tup River and Karakol. In the 19th century, the Russian Cossack-peasants discovered this fertile plain with a pleasant climate, and settled here in large numbers. Hence the many Russian villages we passed on the way to Karakol.


| | | |
| --- | --- | --- |
| | | |
| Live the traditions of the pastures: Herdsmen in the Karkara Valley | Herdsmen at the border: They didn't give a damn about the artificial barrier. | On the Pastures... |
| | | |
| View on top of the San Tash mound: Green meadows, mountains & plains... | San Tash | Prayer flags on a smaller mound beside San Tash |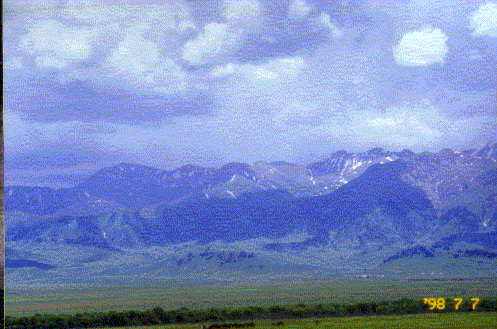 Mountains...mountains...Heavenly...
Upon reaching Karakol, we met S. Pyshnenko of PSI Travel, a travel agent recommended by Lonely Planet. We decided to stay at his US$8 a night apartment and a 2-day hike to Altyn Arashan with his guide ($20 a day for the guide, daylight-robbery-price for transport to starting point $20x2, rental for camping equipment $5 per day & sleeping bags $5). That evening we strolled around in Karakol, a small dusty city with lots of old (and decaying) one storey Russian colonial houses. It was interesting that this city still retained a prominent statue of Lenin and the main streets were named after Lenin and Komsomol. Tried to find a place to eat but only found one rather lousy canteen with cabbage soup and sour cream.
---
Click to here to go to next page: Altyn Arashan (KYRGYZSTAN)