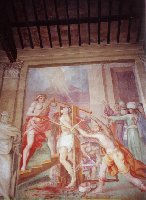 ROME
TWC's Short Weekend Revisit to Rome's Lesser Known Sites
Click here for the Amazing Frescoes of Santi Nereo e Achilleo

8 Jul 2000
Roman Nights, Dead Monks & Gay Pride Parade
ROMA, ITALIA. Popular travel mythology says, "Throw a coin into the Trevi Fountain and you'll find yourself returning to Rome." Here I am, back in Rome after 7 years. Time flies... Seven years ago, penniless and fresh from university, I came here with a backpack and a few ideas. Little did I knew then that I would return home with a disease popularly known as the
TravelBug. It is incurable, probably less vicious than that "rare bone disease from Western China" caught by my favourite travel writer, Bruce Chatwin (whose hometown Sheffield I passed by a few days ago on business). Since then, the frightened, judgemental, conservative or even puritanical Singaporean has given way to a sometimes recklessly risktaking, forgiving, liberal, and increasingly hedonistic nomad striving to be a more classy Bohemian. Indeed, like (the Talented) Tom Ripply on his Roman journey, my first Roman interlude has sowed the seeds of self-discovery, and with the floodgates open, every stockcade collapses like a pack of cards. Like Tom, I have no idea where this will lead me, whether plain old disappointment, or that elusive,
proverbial thing popularly known as happiness.
I arrived in Rome late Friday night, after 2 days of business trip to the North of England and a mad dash south to Heathrow. Although I have brought a train ticket from Rome's airport to the central station, the last train had already departed. I had to share a cab with other stranded souls. By the time I had bath in the hotel, it was already near midnight. I scanned the mostly deserted streets of Rome, like a hawk on a night hunt. South American working gals were diligent nearby. At the ancient Roman Baths of Diocletan, I sensed that scandalous pursuits - not significantly different from those in the old days - were being carried out in more modern premises not more than a few blocks away.
I woke up early to explore the squares and fountains of Rome. Deja Vu... Beautiful and serene...all of them... Bustling and polluted, and yet dignified and delightful in many ways. Roma Roma... I remember my old love.
I walked into the crypt of the Capuchin Church Santa Maria della Concezione. There lies skeletons and bones of 4000 monks, arranged in the most bizarre fashion - floral patterns as well as Christian symbols - e.g. crown of thorns, sacred hearts and cruxifixes. At the exit, an inscription in Latin reads: "What you are, we used to be. What we are, you will be."
Around ancient Rome - a revisit of the Colosseum, the Imperial Forum, and the Capitoline... I popped by the Pyramid of Caius Cestius in the south of Rome. This Roman nobleman had a 36m white marble pyramid built for himself 2000 years ago. An amazing sight anywhere outside Egypt. Here I also found a few thousand people gathering for the World Pride 2000 Gay &
Lesbian Parade. I thought I might stay for a while taking some photos of the flamboyant crowd but ended up watching the parade for the next 4 plus hours.
An amazing sight... The participants and audience - it's difficult to tell between the two -soon ballooned to quite possibly a few hundred thousand, even half a million or more. TV crew, journalists and police everywhere, plus helicoptors from the authorities,
media and parade groups too! This event has certainly attracted a fair amount of controversy. The Roman mayor had initially backed the parade - just imagine the tourism revenue - but dropped the idea when the Vatican intervened. The parade went ahead anyway and it was jolly good fun - the music, the dances, costume and colours, with the Romans and tourists - homosexual
as well as heterosexual - joining the dancing, fun and cheering. Really a carnival atmosphere.
It was a time to reflect when the rainbow flags passed the Colosseum - Homosexuality and bisexuality were perfectly normal in ancient Rome, Greece, Egypt, China and India, but later Middle Eastern religions turned natural phenomena into manifestation of sin, and bizarrely, late 19th Century Asian reformists and politicans adopted these "Western" notions of sin as "Asian"... Bizarre that many governments today still draw up rules to deny love and marriage to those in love, as well as to stipulate how people should/should not have sex.
It,s getting dark now and I'm having a nice plate of pasta together with the fine white wines of Lazio. Should I go to the Appian Way tomorrow ? My feet is hurting from walking miles with my stiff working shoes. Perhaps I should settle for the Vatican City
and Rome's fine open cafes and beautiful piazzas.
regards,
WeeCheng


| | |
| --- | --- |
| | |
| Some Brazilian Transexuals at the Parade | Controversial Slogan |
10 July 2000
Should I be a Journalist, Among Ancient Tombs, Papal Audience & Other Stories
Dear All,
I have just returned to London, after a tired weekend in Rome. Someone on the list commented that I should contemplate switching careers... to be a journalist now that I have covered riots (London June 99), warzones (Trandniestria Sept 99) and now, even a gay parade (Rome July 99)! Bizarre, but apart from that pseudo- "warzone" trip, none of the rest are planned events... just a matter of beng at the right place at the right time... but it's an interesting suggestion anyway although I doubt I come near to being qualified. Heard that this weekend also happens to be the Berlin Love Parade (the world seems to like parades of all kinds these days?) and the Run of the Bull (San Fermin festival) in Pamplona, Spain. The latter seems interesting... maybe I should organise a trip to Spain next year for this - anyone interested in joining me ? Will this be the start of a series of "events-oriented" travels ?
I returned to London with my worn-out feet... the result of walking long distance with my office shoes (which also mean a higher rate of depreciation, i.e., stimulating the shoe industry of Italy's Po Valley). I woke up very early today (trying to beat the summer sun) and took a taxi to the far end of the Appian Way - this was Rome's ancient road leading to the Adriatic ports. I fopund myself in the beautiful countryside of Lazio, as the surrounding region is known. Cut wheat, ancient Roman tombs and assorted ruins lined this anicent pathway. I walked for miles before reaching the first catacombs... there were times when I thought I might have started too far off in the countryside. Actually, it was my hurting feet rather than the actual distance that matters... Anyway, it was a great morning, and one can hardly expect to see such serenity so near to Rome's centre.
I walked back to the centre of Rome, and popped by the Santi Nereo e Achilleo, a small beautiful 9th Century church famous for its frescoes - of the detailed scenes of martyrdom of saints and apostles - decapacitated heads, chopped off limbs, blood and more. One may call that bizarre and gruesome, but a happy couple was getting married there during my visit. And the weirdo in me was snapping pictures away for my website...
I took the subway to the Vatican City, where pilgrims in their thousands were arriving for the celebration of the Jubilee Year. A few dozen tourists in shorts were denied entrance... served them right - how could anyone expect to visit a religious place with such disrespect ? I walked around the magnificent St Peter's with a sense of deja vu... 7 years...
I have almost completed my main objective of this visit, i.e., to see the lesser known sights of Rome. I have seen a fair bit, although not all the places I had intend to, as I was unexpectedly caught up with the parade yesterday, and I was by today, worn out by my shoes and the unbearable summer heat (unbelievable that I used to live in tropical Singapore - the mild English spring/autumn have softened me). OK, the rest of the day was spent having coffee and ice cream in a cafe near the Spanish Steps... the pleasures of life... it's not everytime that I go for the wild and the exotic...
OK, that's all for the time being. You will hear from me again, from Hannover Expo 2000, in 2 weeks' time.

regards,
WeeCheng