GREENLAND IS ICE
AND ICELAND IS GREEN
a short trip to Greenland and Iceland
Tan Wee Cheng, Singapore/London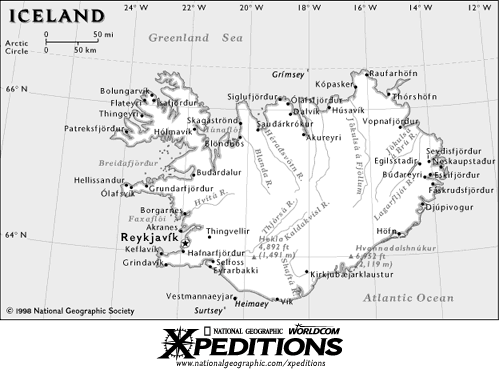 Map of Iceland
Click to expand images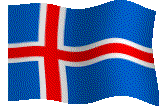 Iceland: Hunting for Huge Penises and Having a Puffin Party
Sent: 09 August 2001
Hunting for HUGE Penises and Having a Puffin Party
Size matters. It's a magnificent thing, uncut, a little wrinkled from age and frequency of use, but still impressive and fully erect at almost all times. It must have been most fertile and powerful in its hey days, and a conqueror of many birds, so to speak. Well, at 6 foot, the cock of a sperm whale is taller than me and greets visitors to the Icelandic Phallological Museum in Reykjavik, also premises of the Icelandic Phallological Institute, i.e., Penis Museum - perhaps the only of its kind in the world. Here one sees the penises of the whale, dolphin, giraffe, bull, etc - guess what, all much larger and longer than that of the human. Only one creature is missing here - that of the homo sapien, but the museum is proud to announce that a kind Icelander, currently in its 70's, has kindly pledged to donate his to the museum upon his decease. So much for completeness.
I reached Reykjavik 3pm local time on Tuesday. Almost couldn't get onto the flight as something had screwed up my booking and I had to be placed on the waiting list instead. Even then I should consider myself lucky that the plane did fly after all. The sole air controller of East Greenland had recovered from his flu, and restored the region's links with the outside world. I was the last to board the plane, and got up after everyone had already boarded. I had barely boarded the plane when it took off. And I saw the last of Greenland, those magnificent snow-covered mountains, endless glaciers and countless floating icebergs, the latter like stars in the sky, only that they were in the sea.
| | | |
| --- | --- | --- |
| | | |
| The Hallgrimskirkja Church in Reykjavik - you either hate or love this phallic structure | A stamp celebrating the 1000 years of Christianity in Iceland | Guess what's that ? Penis of a sperm whale. And look out also for that fully erect specimen on the wall! |
Upon arrival, I rushed to see the giant penises, passing by the phallus-shaped dome of the Hallgrimskirkja Church (OK, now everything in Reykjavik looks like penises...), and walked around the nice old town. So pleasant and easy. The weather was gorgeous, after the stirring cold of Greenland. Founded in 874 AD by Ingolfur Arnarson, yet another Norwegian Viking outlawed in his homeland and forced to flee westwards (hey, the Americans were just continuing the traditions of the first Europeans who reach the Americas - OK, apologies to the Spanish and Italians, but the Scandinavians reached the Americas first). Arnarson saw land and threw his pillars (no idea what's meant by that. They might be phallus-shaped too) overboard and they floated onshore where Arnarson decided this was his destiny. Here he founded Reykjavik, or Smoky Bay.
This is a nice city where everybody speaks better world English than the blokes in East London, York (OK, they are Scandinavians of some sort who don´t speak good English) or Glasgow (just watch Trainspotting). They are also liberal and freedom-loving - they were the first to recognise Lithuanian independence, well before the anti-Gorbachev coup occurred; and posters, brochures (yes, distributed by the tourist office) and rainbow flags proclaim the gay pride parade the coming weekend - this would have shocked more conservative tourists from Taleban Afghanistan, Saudi Arabia and the Christian right in Bible Belt USA and yes, my dear old Singapore.
| | | |
| --- | --- | --- |
| | | |
| Icelandic Liberalism: Reykjavik has Gay Pride advertisement posters all over town. At almost every bus-stop when I was there. | Stamps celebrating Iceland's Viking heritage | Statue of Ingolfur Arnarson, the Viking founder of Reykjavik |
Here I continued my gastronomical adventure by looking for puffin meat, supposedly an Icelandic delicacy - apologies to my animal/bird lover friends. I love cute creatures like the puffin, and that´s why I make them part of me. Had some initial difficulty finding one that serve puffin, but eventually found them at an upmarket restaurant, with French-style service and Icelandic cuisine (no contradictions here). I chose the most exotic item in the menu, something quaintly named Puffin Party. Here´s the three course meal at about US$40 before wine:
- Fresh salad with marinated puffin carpaccio and smoked & cured Puffin with orange vinaigrette
- Puffin with honey-glaced vegetables with creamed roqfortcheese sauce
- Granny´s home baked skyr cake with blue berries sorbet
Puffins taste great. A kind of red meat with little fat. Tougher than chicken but tender than beef. Wonderful!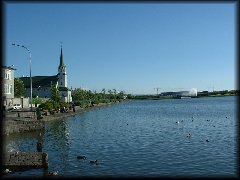 Tjorn - the pond in the middle of Reykjavik, a spot of serenity in a quiet capital

This morning, I flew northeast to Akureyri, Iceland´s 2nd largest city with only 14,000 people. Even then, this tiny city has an university and a symphony orchestra - yet another indication of the Icelandic level of human development, one of the highest in the world. I have an interesting day today, visiting various volcanic and natural formations in this land of fire and ice that lies on the fault line of two major land plates. I will write more. In the mean time, have a wonderful mid-week!

WeeCheng

,

by the banks of beautiful Lake Myvatn, Northeast Iceland

Northeast Iceland & Reykjavik: Having a rotten shark for dinner after a whale watching fiasco

Back to Greenland is Ice and Iceland is Green Homepage
---
Caveat :
The tales and opinions expressed on this site are the author's and by their very nature, personal and opinionated. You may not agree with them and you are welcomed to voice them by emailing to the author. However, if the intention is to pick a fight, such efforts should be directed to soc.culture newsgroups. The author will not entertain anyone who furl insults and vulgarities. The names of individuals mentioned in this site have been changed to maintain their privacy.
---
Click here to send your comments to Tan Wee Cheng, Singapore
Click here to visit the author's homepage, Nomadic Tales
---