You are the
th visitor here since 7 April 1996 ! Welcome !


CAPPADOCIA - Land of Fairy Chimneys


The rolling hills of Cappadocia ; A cave city created more than 1000 years ago
This must be one of the most unusual regions of the world. As the Turkish tourism brochure describes :
"Violent eruptions of the volcanoes Mt. Erciyes (3916 meters) and Mt. Hasan (3268 meters) three million years ago, covered the plateau surrounding Nevsehir with tufa, a soft stone comprised of lava, ash and mud. The wind and rain have eroded this brittle rock and created a spectacular surrealist landscape of rock cones, capped pinnacles and fretted ravines, in colors that range from warm reds and golds to cool greens and greys. Goreme, known in Roman times as Cappadocia, is one of those rare regions in the world where the works of man blend unobtrusively into the natural surroundings. Dwellings have been hewn from the rock as far back as 4,000 B.C. During Byzantine times, chapels and monasteries were hollowed out of the rock, their ochre-toned frescoes reflecting the hues of the surrounding landscape. Even today troglodyte dwellings in rock cones and village houses of volcanic tufa merge harmoniously into the landscape."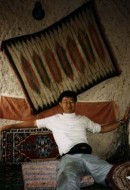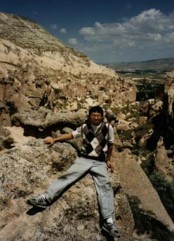 Feeling comfortable in a cave-house ; On a cliff overlooking Zelve : Dare you to look down !
For two thousand years, Greeks settling here building `underground or cave cities' in these rocks. Beautiful fresco art developed during this period, as evidenced from remains of their churches. Tragically, these Greeks were forced to leave during the Great Population Exchange of 1923 in which Turks from Greece were settled here while the local Greeks left for Greece proper (kind of ethnic cleansing). Even today, this historical event, together with current disputes over the Aegean Sea, Cyprus and Western Thrace, has continued to plagued Greek-Turco relations, and such antagonisms have from time to time, almost led the two countries to war, despite the fact that both nations are members of NATO.
For more information on Greek-Turco relations, visit the following sites :
Hellenic Nationalist Page - this beautifully done up site is extremely anti-Turkish : describing Turks as barbarians, and condemning virtually any Turkish policy - from Cyprus to Kurdestan, plus pages on Greeks in Turkey ;
Magical Journey to Greece - another Greek nationalistic site with lots of links to political and non-political aspects of Greece. Llearn about Greek views regarding, inter alia, FYROM and the Cyprus problem.
Mikra Asia The Greeks in Asia Minor website - an attempt at providing objective information about Greek-Turkish relations, set up by a Greek and a Turk ; with information about the Karamanlides (Cappadocian Greeks), Greek Speaking Muslims and the Greek Patriarchate in Istanbul.
The above links are placed for info only ; the author does not express support for any side w.r.t. the conflict.
I arrived in the town of Urgup after a tired overnight coach journey from Istanbul and given the time limitations, decided to tour this region via two day trips - the first time I joined guided tours on this vacation. One covers the Ihlara Valley and the underground cities of Kaymakli and Derinkuyu, and the other covers the Goreme National Park with its "fairy chimneys", the cave/cliff towns of Ortahisar & Zelve and the pottery town of Avanos.
It's fun visiting Kaymakli and Derinkuyu, where Anatolian Christians built cities deep underground - to take refuge from the invading nomads. The underground passages, some as long as 30km, are virtually self-contained cities, with churches, schools, courts, and so on. The Ihlara Valley lies in a picturesque deep canyon (the guide jokingly calls it the "Grand Canyon" of Turkey). It's amazing seeing this vegetation-rich valley (16km long) below after one has travelled through the treeless expense of the central Anatolian steepe. The narrow twining Melendiz River in this canyon, together with the more-than-hundred little rock-hewn churches (4th to 9th century), projects a sense of mystery and isolation from the outside world - not unlike the legendary Shangri-La, or the Chinese "Shi Dai Tao Yuan".


An ancient Orthodox church with beautiful frescoes ; Deep underground at Derinkuyu
The open air museum at Goreme is the highlight of the visit to Cappaodocia. First established by St Basil in the 7th century, this became an important religious centre for Eastern orthodoxy, and remained so until the Great Population Exchange. Today, the churches (with their beautiful but sadly severely defaced or damaged frescoes - caused by Muslims who were against the portrayal of saints) and cave houses are preserved as a world heritage site (and of course, prime tourist attractions as well). After Goreme, we visited Zelve and Pasabag. (Don't miss the phallus-like fairy chimneys of Pasabag and the vineyard around these rock formations.)

TO THE EAST...Land of Hope & Agony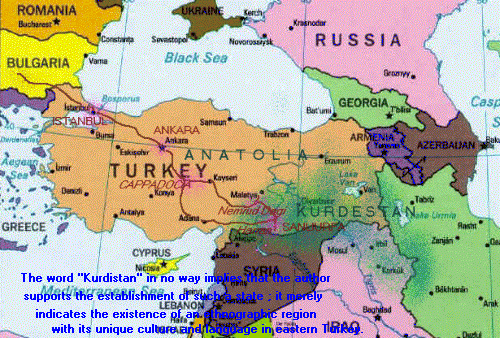 Back to TWC's Mad Rush Homepage

TWC's Homepage

Please email your comments to weecheng@post1.com