You are the
th visitor here since 25th February 1996 ! Welcome !


"East of Vienna, the orient begins."
("Ostlich von Wien, fangt der Orient an.")
Prince Metternich
It was no coincidence that I began my trip in Vienna, heart of the old Austro-Hungarian Empire. From here, the Habsburgs, who originally came from an obscure castle (Eagle's Castle, & hence this family name) in Switzerland, reigned across half of Europe. The Habsburg banner once flew across Austria, Hungary, the ex-Yugoslav republics, Transylvania in northwestern Romania, Czech Republic, Slovakia, southern Poland, northern Italy, Spain and the Lower Countries. In power between 1278 and 1918, the dynasty began a process of slow decline when Napoleon's army marched across Europe. However, even in its last days, the empire included all the lands it once ruled at its height, with the exception of Spain and the Low Countries. Just look at the imperial grand arms of Austria and you see the emblems of all the lands Austria once ruled.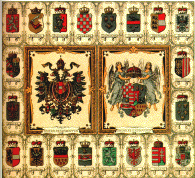 Click here to learn more about the arms and titles of the Habsburgs.
Despite all its glories, the Habsburgs preferred to expand their territories through marriages rather than war, and hence Maximilian I's famous maxim :
"Let other wage war, you, happy Austria, marry !"
("Bella gerant alii, tu felix Austria nube")
And so the Habsburgs devoted their time building magnificent palaces, grand board boulevards for their processions and celebrating life with a vengeance. Art, music and culture flourished. This was where Mozart, Haydn, Beethoven and Schubert performed and today, Vienna is still very much the mecca of music.


Mozart's statue ; Spanish Riding School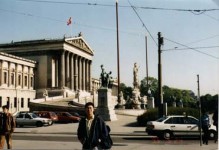 Me standing in front of the Austrian Parliament, where representatives of the Austrian Empire once gathered at the Imperial Diet.
Vienna is no longer an important political centre. Indeed, the Vienna of today only has a population of 1+ million people compared to 2 million in 1910 (Census figure published in the Encyclopaedia Britainnica 11th Edition, 1914). The defeat of Austria during the First World War meant the destruction of the Empire and the transformation of Vienna into a minor European capital. Today's Vienna is a major tourist and convention city, with tourists from all over the world. With the fall of the Iron Curtain, Vienna has once again regained become a metropolis of Mitteleuropa, the concept of Central Europe that disappeared when Stalin's Red Army marched across half of Europe.
I arrived in Vienna in the early afternoon of 23 May on Aeroflot, tired after an extremely long and uncomfortable flight. It was a bad start for my first solo trip : I had difficulty getting coins (needed for making phone calls) from money changers ; most of them were only interested in changing money with you quickly and that's it - you sort out the change yourselves. Then I tried calling the downtown hostels only to find out that almost all were full. Only one was available - Wien-Brigittenau Youth Hostel at Friedrich-Engels-Platz ( - such a communistic place name in post-communist Europe, and in a city never ruled by communists !), northern edge of Vienna. I asked for directions as to how to get there, and although I had a city map with me, had enormous difficulty understanding the German pronounciations for the various metro station names. Nevertheless, I got there after consulting various people at the city centre - thank God most Austrians aren't as unfriendly as those money changers at the Airport. In fact, I was to find Austrians a very friendly and helpful people, and many of them English-speaking.
In any case, one unpleasant incident followed another - after a discouraging exerience trying to navigate the seemingly complicated inner city transportation system and laughed at by a hostel personnel for not realising that the bathroom was next to my dorm, I felt rather depressed : what on earth am I doing here, half way round the globe, and alone, tired and helpless. But that hopeless feeling was soon dispelled as I ventured downtown. Within the next few hours (armed with an inner city travel pass that allows unlimited travel on the city's metro, trams, buses, etc), I travelled round the city and familiarised myself with the its metro stations and landmarks...and my confidence returned...
The sun rises early in Springtime and sets late. Thus an average day is long and I could afford to get up early - at 5:30, and start snapping photos on the empty streets of Vienna by 6+ am - one can hardly take photos around Vienna's monuments in a few hours' time - they are swarmed by tourists by 10 am. And I returned to the hostel only at 8 pm, just before nightfall. It was really tiring, but that's how I covered this great city in only 2 days.
I visited most of the usual tourist traps - including many of the grand Baroque palaces and public buildings (although I gave Schonbrunn Palace a miss - you see such grandees all over Europe). The State Opera House , Rathaus, Parliament, the Natural History Museum, and in particular, the Imperial Palace (Hofsburg), all evoked glories of the Habsburgs. And a visit to the Schatzkammer (Imperial Treasury) is a treat for those fascinated with crowns and coronation robes - you see lots of them here !

A little known attraction I visited was the Monument against War & Fascism (Denkmal gegen Krieg und Fascism), a memorial devoted to Austria's struggle against Nazism - a controversial episode in the country's history. For years, Austria has been trying hard to persuade the world that it too, was a victim of Nazism. There are many who are not convinced, especially when Hitler himself was born an Austrian and that many Austrians were active participants of Hitler's Third Reich. And more recently, the election of a president with an ambiguous past did not help either.
Something one shouldn't miss in any trip to Vienna is its amazing range of pastries and ice cream ( - forget all your diet plans here !). Experience haut coulture in a Viennese cafe - savouring the cakes, pastries and the many varieties of (real creamy) coffee - that's sufficient excuse to visit Vienna when you're in Europe.
The European Cup was being played in Vienna my 2nd day there, and the city was invaded by fans of the two competing teams - AC Milan from Italy and Ajac from the Netherlands. The city's thoroughfare, Kartner Strasse, was full of semi-rioting soccer fans, broken bottles and rubbish of every kind. The rival fans hurled vulgarities and insults, and sometimes bottles and stones at each other. Separated by Austian police, these barbarians were ready to start fighting any time. I wondered why the Austrian police had not arrested any of these trouble-makers before they gathered in the city central in full force. I also wondered how the Austrians could have tolerated such acts in their beautiful capital. Is this a symbol of democracy ? If it is, I'd rather not have it... Shocked by the chaos and disgusted by the intrusion of the barbaric soccer hordes that had overwhelmed this gracious city, I decided to set off for Slovenia the next day.
A tip for Asian travellers :
For those Asians staying at Wien-Brigittenau Youth Hostel, the Chinese restaurant Kin Lun (Friedrich Engelsplatz 1) just behind offers great Chinese food at affordable prices.
Links to Austria :
The Austrian National Tourist Office, with useful information about the country
ATS Austrian Tourist Service - ATS (Austrian Tourist Service) is a directory of interesting sites, hotels and other tourism-relevant information all over Austria.
Austrian Press and Information Service, Washington DCwith interesting information about Austria in general ; not just tourist info.
Austria Culture Net from the Austrian Cultural Institute in New York - Learn more about Austrian culture and events !

Go on to the scenic ex-Yugoslav Republic of Slovenia : Ljubljana & Bled

Back to TWC's Mad Rush Homepage

Please email your comments to weecheng@post1.com.