The Philippines 2004
Rice Terraces & Traffic Woes

Gallery 1: Manila & Surrounding Areas (Taal & Batangas)
| | | | |
| --- | --- | --- | --- |
| Batad Rice Terraces | The Children of Batad | Jeepney land! | Taal Volcano |
The Philippines. A country whose talented, fun-loving people can be found working worldwide, and yet hardly known to the rest of the world except for revolutions, coups, bombings, kidnappings and typhoons. I spent 6 days in this beautiful country recently, where I discovered a land of understated beauty and exaggerated dangers.

We arrived early afternoon at Manila's Ninoy Aquino International Airport, so-named after the Filipino politician assassinated at this airport in 1983, which sparked off a political campaign cumulating in the People's Power Revolution three years later. Security was certainly tight, with policemen and metal barriers everywhere. The Philippines is a prime target for terrorists supporting the long running Muslim rebellion in the south of the country. The credibility of the country's security forces has been challenged since the easy escape of Abu Sayyaf terrorists from a supposedly high security prison last year.

While it was pleasant initially to find that we have arrived in a country where most people spoke English, we soon realized that this did not necessarily mean things were a lot easier. First, we had a hard time locating the airport tourist information office and every official we approached directed us to the wrong places. When we finally did find it, the lady at the well-hidden and under-utilized tourist office, who was reading a magazine when I popped by her office, provided what was obviously wrong, dated information.

We then got onto a taxi after confirming with the driver that he would use the meter. After two minutes, the meter was yet to be on and the driver told us that the journey was going to cost four times the expected amount. We protested and managed to get off the taxi on a highway, ignoring the driver's demand for compensation for the two minute ride. We managed to flag a metered taxi and found ourselves stuck in massive traffic jam for the next 1 ½ hour, though the final fare turned out to be a quarter of what was quoted by the earlier rouge driver. Manila has the worst traffic I have ever encountered – even Bangkok seemed like paradise in this respect. What a "fine" start to the journey!

----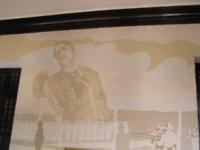 We began our exploration of Manila from Rizal Park, the green lung of this metropolis of more than 10 million people. Here, one leaves the chaotic mess of downtown Manila, with the endless honking of vehicles, mad rush and pushy street vendors. Families and lovers were having picnics in this park dedicated to Dr Jose Rizal, the foremost Filipino nationalist and martyr of the nation, who was executed by the Spanish colonialists in 1896 on false charges of rebellion.

We dropped by the Department of Tourism, located in its own massive neo-classical complex with a grandiose driveway and a serene inner courtyard garden complete with palm trees. In short, a building with more potential as a luxury grand old hotel than an underutilized premise of a government department. After picking up some maps from the friendly staff, I had the best cheese bun of my life at the canteen. So, if you drop by Manila, look out for the cheese bun at the Department of Tourism canteen, Rizal Park.

As the skies turned dark, we walked through Intramuros, the old Spanish walled city of Manila. Here, away from the huddled masses, slums and open sewerage, we found ourselves in an Iberian town lost in Asia. Narrow lanes, horse-drawn carriages, Gothic churches and colonial houses with quaint courtyards. A most romantic place so different from the rest of Metro Manila, the difference of which became so obvious as we walked out of the city gates and found ourselves next to a rubbish tip inhabited by miserably poor families scavenging through the waste looking for recyclable refuse. The smell of rot and decay filled the air at this spot, just beneath the august towers of Fort Santiago, a historical section of Intramuros.

We made our way across Pasig River, wanting to get to Chinatown, but found a smelly run-down slum in between. A horse carriage went past us and the horseman shouted, "Get onto my carriage. This isn't a good area for you." Nevertheless, we soldiered on, walking at a brisk pace towards the bright lights of Chinatown's high rises.

We were relieved when we reached the traditional Chinese gateway of Chinatown, the old focal point of the Philippines' 700,000 strong Chinese community, whose ancestors began to settle in this land seven hundred years ago. Some of the local Chinese became wealthy and built palatial tombs which are huge monumental mansions in their own right, and inhabited by poorer Filipinos who look after these tombs for their owners.

----

In the era of the War Against Terrorism, the Philippines has instituted security checks in major buildings and facilities in Manila. Police and private security men were everywhere, examining people entering shopping malls and the LRT train network. We also saw posters on wanted terrorists and kidnappers at LRT stations and government buildings.
An overnight bus brought us to Banaue, in the northern mountainous province of Ifugao. Here, over the past 2000 years, the proud Ifugao tribe, once feared as ritual headhunters, has built a network of rice-growing terraces on steep sub-tropical mountain slopes. Through a sophisticated system of mud channels and bamboo pipes, water is channeled from mountain streams to the rice terraces.

Whereas grand irrigation projects elsewhere in the world tend to be built by rich, powerful and densely populated valley-based empires able to mobilize the enormous resources required for such projects, the rice terraces of the Philippines were built by mountain tribes with rather small populations scattered across isolated mountains. This amazing engineering feat is today a World Heritage Site that also graces the 1000 peso banknote.

Upon arrival, we found a nice hotel with rooms overlooking the green valley of Banaue town, today a place hugely dependent on tourism and the associated artisan industry. But Banaue is neither Goa nor Ko Samui. The Philippines, for all its beauty and tourism resources, does not seem to attract many international tourists. Official statistics say 2 million tourists visit the country but one hardly sees any. I suspect most of those in the statistics were overseas Filipinos. Most people have become intimidated, perhaps unfairly, by reports of bombings and revolutions.

Banaue, for all its fame, gets only one direct bus a day from Manila. The people here, like everywhere else in the Philippines, have to seek work outside the country. The lady who ran the hotel, together with many members of her family, had spent over ten years as maid and factory worker in Singapore, Hong Kong and Taiwan, which explained her ability to speak fluent Cantonese and Mandarin.

During this journey, we met so many others, even in remote areas, who have either worked abroad or have close family members who do so. 8 million Filipinos work outside the country, representing 10% of the population and 24% of the work force. I have encountered Filipino maids in Singapore, Hong Kong and Cyprus, dancers in Mexico, a teacher in China, seamen in Ukraine, an accountant in Azerbaijan, bankers in New York, a management consultant in London, an oil engineer in Indonesia… the list goes on.

The Philippines, despite having a relatively high standard of education and an English-speaking population, has been unable to provide enough jobs for its citizens. Political instability, corruption and poor governance have retarded economic development. This used to be the richest country in Asia in 1950, with income levels even higher than Japan. The country has since plunged to among the bottom of the list, which is why so many Filipinos have to work overseas.

After a hearty plate of chicken adobo and rice, and we hopped onto a tricycle on the bumpy dirt track to Batad, a small village with rice terraces even more magnificent than Banaue. Be warned, for this is rough country. Batad may be a World Heritage Site, but nothing changes the fact that it is a remote, isolated village not connected by roads to the outside world.

After an hour's backbreaking journey from Banaue, Alfredo, the tricycle man, dropped us at the foot of a mountain. Then we walked more than an hour and half up the muddy mountain track. Upon reaching the top, a glimpse of Batad village and some rice terraces at the foot of the lush green valley below. Then another hour of walking through some rather slippery and partially eroded steps, which was certainly damaging to my kneecaps. Very hard work – Lonely Planet hadn't warned me about this!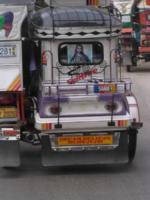 An amazing sight with rice terraces carved out in the amphitheatre-like slopes surrounding Batad. Batad has neither electricity nor roads, but many of its residents have work abroad or in Manila. Same old story. Tourism provides an importance source of income here, with possibly some 40% of the families involved in tourism in some way or other. This raises the issue as to whether rice-planting remains a profitable pursuit.

Unesco had warned that the rice terraces of Banaue and the surrounding areas are rapidly falling into disrepair as the local people are abandoning agriculture for tourism-related work which brings higher income. Ironically, this more lucrative income source is dependent on rice farming whose infrastructure has attracted tourists here in the first place.

One third of the rice terraces are now damaged and the site has now been listed as an "Endangered Site". Not an enviable scenario, but perhaps the local administration should employ farmers from other regions to work on the fields here, while local farmers can into hoteliers, restaurant owners and handicraft craftsmen. There should be no inherent conflict between development, environment and tourism.

----

We departed for Sagada in the Mountain Province at 5:30am on Salvador's jeepney. Three hours of painfully winding cliffside roads and dirt track sometimes half covered by landslides. It is amazing how poor the infrastructure is in this country, even for roads between provincial capitals. I wonder where all the development aid had gone. On virtually all public buildings and installations – even the most ill-maintained and half standing ones - are names of the political leaders credited for the construction – senators, congressmen, governors, mayors, barangay captains, etc. And yet, in most parts of the world where public infrastructure is far superior, public office holders hardly advertise their achievements.

We sped past Bontoc, the smallish provincial capital of the Mountain Province, set in a pretty valley surrounded by lush green fields, as well as many beautiful rice terraces and picturesque little villages. Then we proceeded uphill again and reached Sagada, famous for its pine trees, cool climate and hanging coffins.

Breakfast was in Masfere Inn & Restaurant, a nice place with tasty red rice and sweet Filipino sausages. What also made Masfere Restaurant a real gem are the historic photographs of the Cordillera tribes taken in the 1930s by Eduardo Masfere, renowned photographer born here of Spanish and Igorot parents. Masfere traveled through these mountainous regions and documented through photography the disappearing customs and traditional lifestyle of the many tribes. Looking at the local ethnic Kankanay waitresses in the restaurant as well as Salvador who was a Bontoc, it was hard to believe that half a century ago, their ancestors were loin-cloth wearing warriors only recently converted from headhunting rituals

At the tourist office, we hired Jose as our guide to the caves. Off we went to Sumaging Cave, and we spent the next hour and half in the dark, except for the oil lamp Jose brought along. A lot of climbing, crawling and walking in sandals as well as barefoot, further aggravating my kneecap injury. Sam certainly enjoyed the whole experience, notwithstanding the piles of wet bat guano and slippery, sharp rocks. There were certainly areas of great charm, the strange rock formations, stalactite and stalagmite, shaped by thousands of years of cold streaming water flow. The region had certainly gone through drastic geological changes – seashell fossils can be seen on the edges of the rock

The burial caves were next. Jose, citing local taboos, declined to go on but pointed the directions to us. "No problems for you – just remember not to try open the coffins," he said. As though we dared… As we walked downhill along the grassy steps, a sense of apprehension gradually overcame us. Before long, we saw the entrance of the Lumiang Cave twenty meters ahead of us. A huge pile of wooden coffins lie there – some said to be 400 years old, while others relatively recent. A strange eerie silence prevailed. Sam decided that the dead should be allowed to rest in peace. If Jose had decided not to come with us, maybe we should respect the local taboo. I took a few steps forward but soon came to the same conclusion.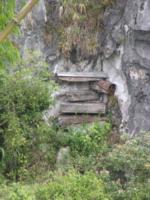 We returned to the vehicle which drove us past a nice, tidy neighbourhood, towered by cliffsides with a few hanging coffins. Over the last few hundred years, the local tribes practiced the custom of placing coffins in crevices on the many limestone cliffs in this region. The coffins are usually lifted up first by skillful climbers, followed by the remains, which were placed in a fetal position. Perhaps this is the Sagada concept of fengshui – the ancestors looking out and blessing the descendants from a higher, nearby position.

It's time to return to Banaue, backtracking all the way through Bontoc, passing once again that strange spot called the Highest Point, which at 2255m, is the highest point on the Philippine road system. A few shops, toilet and a tall statue of the Virgin Mary. Back to Banaue and off we went on a late night bus back to Manila. It was on this bus that we had such a great time laughing with Jojo, principal of a school south of Manila. We got on so well that she invited us to have lunch with her mother-in-law on Sunday!

----

The Filipinos love balut, a half boiled egg with a partially formed embryo, sometimes intact with feathers. It's a popular snack and we saw many people indulging in it during highway stops. It's supposed to be highly nutritious and cholesterol-free. Some say it is an aphrodisiac, but that does not quite explain why so many have it on long distance bus journeys! Foreigners, however, tend to be repulsed by it. I met a Mormon missionary who told me that he was made to have a balut as an initiation rite when he first arrived in Manila. And guess what, he has come to love it as the Filipinos do as well. Sounds like the durian in Singapore and Malaysia – an acquired taste for the foreigner. I contemplated trying balut but never did. I should make a note for it on my next trip to the land of seven thousand islands.

----

We reached Manila at 3am, and hopped to a taxi for our hotel in Malate area, the hippiest leisure and entertainment district of Manila. Even at that time, loud music was blaring out of the many clubs and bars in that area, the revelers were strolling around. The Filipinos are a cheerful people always looking forward to the next fiesta and party.

Having ruled by the Spanish for 400 years and the Americans for 50, the Filipinos enjoy partying and laughing at themselves and everything. A recent survey even proclaimed them the second happiest people in the world. They may be poor but they are happy. That sure beats the eternally worrying and stressed peoples of Japan, Hong Kong and Singapore, who are the richest peoples of all Asia.

We got up early morning and got onto a bus to Tagatay in Cavite Province, where we hope to have a good view of the Taal Volcano. When we told the ticket seller we wanted to get to "Ta-gay-tay", he told us, "Where's that? This bus doesn't go there." And we were thrown off the bus along a highway in the outskirts of Manila. But wasn't there a sign for Tagatay in the front? Too late, the bus was already speeding away. We asked a chap by the roadside and realized that we should have said "Ta-gai-tai". Ha – that's when a Tagalog lesson is critical!

Thank goodness we got onto another bus soon enough but soon found ourselves trapped in the legendary traffic of Manila. And seemingly endless string of vehicles progressing at snail-pace. It took us 2 ½ hours to reach Tagatay when the guidebook suggested 1 ½ . Always add an extra hour to any timing estimate in the Philippines and you will do fine!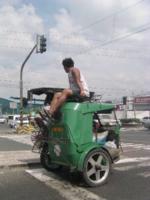 Taal – a small but deadly volcano located on an island in the middle of a crater lake. From the Tagatay Ridge overlooking the lake and the plains beyond, Taal was stunningly spectacular. From here, we got onto two changes of jeepney for Nasugbu in Batangas Province on the coast, at one point sharing our seats with fighting roosters and their owners on the way to an arena. Cockfighting is a Philippine national pastime and cockfighting arenas are found in every city, town and village.

----

In God We Trust. Not A Penny More-Not A Penny Less. Fear Not. Land of Dreams. King of Kings. These are slogans painted on Filipino jeepneys. Jeepneys were originally American jeeps which became available in abundance after WWII. With typical Filipino ingenuity, they were converted into public transportation vehicles, with extended back and benches enough to squeeze a few families in. What is most impressive about the jeepneys is that they have become the foci of self expression for their owners, who compete to paint their vehicles in the most extravagant, colourful way, complete with eye-catching slogans and bright glaring colours.

----

At sleepy Nasugbu, we sipped cans of cold San Miguel beer in a local bar, chatting to the owner about Philippine politics. "All the last five presidents are corrupt – Marcos, Corazan, Ramos, Estrada and today's Arroyo – they are all the same! What have they done for the people? Perhaps, Marcos is greedier than the rest, but what have the rest achieved?" the frowning lady argued.

The Philippines is in a deep financial crisis now, as national debt has risen to unprecedented levels. Earlier this year, President Arroyo had warned about a Argentine style financial melt-down.

"No, Marcos was good. Everything was cheaper then. We counted everything in centavos at that time. Now everything is in hundreds of pesos!" a man at the bar retorted.

"But didn't he steal a lot from the nation?" we asked.

"No, he stole from the rich to give the poor," replied the man.

"No, no, no. He's a thief. See, I had to work overseas because of such thieves," rebutted the bar owner. Her story is that of many Filipinos. She had worked abroad for over twenty years – she began as a maid in Hong Kong, where her singing talents was discovered. Then she became a nightclub singer, first in Hong Kong, and then on to China for many years, followed by the Middle East. Now that she has some savings, she's back here running this bar.

And so the debate continues. Dear old Philippines, politics goes on.

----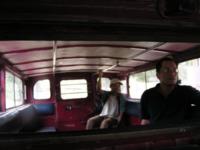 A fresh new day in Manila. Today, Jojo invites us for lunch. Jojo and her husband, Romy drove us to the nice three storey bungalow where Romy's mother lives. It was a wonderful home-cooked meal and we chatted about Filipino culture and politics. "Marcos? The billions he had stolen. All of us attended the demonstrations, and gave food to the rebel soldiers during the People's Power Revolution." A nation of diverse views indeed.

After lunch, Jojo and Romy drove us to the Ayala Museum in Makati, the financial hub of Manila. From afar, the glass skyscrapers rose from the multitude of corrugated rooftops of nearby slums. Thus is the contrast of the Philippines today. Apart from this and the horrendous traffic jams, the Philippines is a fun and great place to live. We have encountered so many friendly and hospitable people – Jojo and Romy are the best examples of that. They gave us a guided tour of the wonderful museum (a little known fact of Manila - it has great museums!) and then send us to the Manila Bay for a great view of the legendary sunset of Manila. How often do you meet such nice people as them on a holiday?

Another night in Manila and a solemn, enriching visit to the Jose Rizal Shrine in Fort Santiago before we set off for the airport.

A wonderful trip indeed – I like this country a lot more than I had expected, and hopefully I would return again before long, perhaps to the central and southern parts of the country.




If You Like This Website,
Click the button above to support TWC's website!