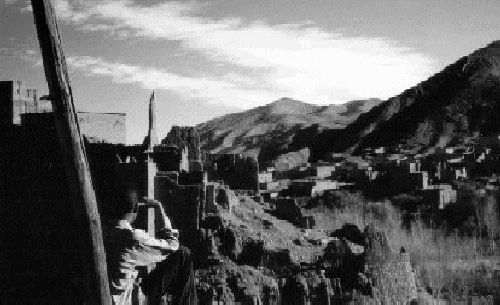 23 December 2002 Singapore At Last - WeeCheng Completes His Odyssey

After a 5-hour bus journey from KL, I have finally arrived in Singapore. So, my one-year odyssey has finally come to an end. 71,000 flight
kilometers, and 61,000 kilometers of land travel. I have crossed borders 55 times, entered the territories of 44 countries, including 26 for the first
time. I have visited 50 World Heritage sites, spent my nights in 80 different places, plus 14 overnight bus journeys and 8 nights on a boat in
the Galapagos Islands. Yes, 98 email updates on my travel progress!

I began my odyssey in Rio de Janeiro in Brazil. Sped across southern Brazil so as to collect an elusive Bolivian visa in Santiago, spent 6 days in
Paraguay, then cut across northern Argentina to reach Santiago de Chile, followed by Easter Island, northern Chile, Peru, Ecuador & Galapagos Islands, Colombia, Costa Rica, Nicaragua, Honduras, El Salvador, Belize, Mexico, Miami Florida and then Bahamas. Then I flew to London where I did short trips to Liechtenstein, Switzerland and the Faeroe Islands. I spent one month in the southwestern Balkans, in Greece, Macedonia, Serbia, Bosnia, Croatia, Montenegro, Kosovo and Albania. I was briefly deported from Montenegro, but re-entered the country via Serbia. That made me technically illegal according to the laws of the unrecognized Montenegrin Republic but perfectly legal according to the Federal regulations of Yugoslavia.

I returned to London and then took a bus to Moscow. I dropped by the Russian Baltic enclave of Kaliningrad, and explored some cities near
Moscow, before I rushed back to Singapore for my uncle's funeral. After the funeral, I flew to Azerbaijan and went on to Turkmenistan and then back
to Russia. I briefly visited the Russian Arctic and then got onto the world's longest railway, the 9000km long Trans-Siberian Railway, all the
way across Siberia to the Pacific Ocean. Then I backtracked to Irkutsk on Lake Baikal, the world's deepest lake. From there I went on to Mongolia,
and then cut across the remote central-western hinterlands of China, to Yunnan in the south. I entered Laos, Vietnam and Cambodia, and then into
familiar Thailand and Malaysia. And yes, I finally arrived in Singapore yesterday!

I celebrated New Year's Day on the beaches of Rio de Janeiro, Brazil, and Easter in Cartagena, Colombia. I joined locals dancing during the Andean
Carnival in Puno, Peru, and watched Cham Muslims, descendants of an ancient Hindu empire, celebrated the end of Ramadan in a Vietnamese village on the Mekong. And I had the worst Chinese dinner of my life on Chinese New Year's Day in Cusco, Peru, in a so-called Chinese restaurant with Andean
Indian chefs, and the Texan diner on my next table proclaimed that it was the best Chinese meal he had ever had in his life. I stumbled onto a
wedding party on the wide-open plains of Mongolia, and was invited to dedicate a song to the wedding couple. I sang a nursery rhyme about Mary
and her little lambs, which delighted the local nomads enormously with a topic close to their hearts.

I have been to the largest cities of the world - Sao Paulo, Mexico City and Chongqing, China. I have also been to the sleepiest capital of the world -
Vientiane and Vaduz. In the former, motor bikes and the cow's moo break the occasional silence, and in the later, it was more my grumbling of the
local prices.

I have been to mountains in Chile, Peru, Ecuador, Costa Rica, Nicaragua, Mexico, China and Russia. I have gotten my feet wet in the Atlantic,
Pacific, South China Sea, the Adriatic, Amazon and Baikal, and my nose bled in the Atacama, the driest desert in the world. In the Galapagos, I swam with sea lions, sharks, iguanas and turtles. I went on boat rides in the Amazon, Lake Titicaca, Galapagos, Lake Nicaragua, Belize Cayes, Chiapas,
the Croatian Adriatic, Lake Baikal, the Yangtze, Erhai in Yunnan, and Halong Bay and Perfume River in Vietnam. And in Murmansk, Russia, on the
Arctic Ocean, I watched the glory of summer blossom.

As a closet war tourism guy, I walked on the old battlefields of Nicaragua, El Salvador, Macedonia, Serbia, Bosnia-Herzegovina, Croatia, Kosovo,
Vietnam, Cambodia and Laos. I visited war-ruined cities and mass killing fields. In the successor states of Yugoslavia, I spoke to war veterans of all political stripes and colours - including an ethnic Serbian with a UK passport who fought on the side of the Bosnian Serb Republic. In the Balkans, nobody really believed that I was a tourist. In Banja Luka, Bosnian Serb Republic, the top local businessman invited me to a serious business meeting simply because I checked into a hotel owned by him. Why should a Singapore ex-banker come to the capital of the Bosnian Serb Republic, he asked. Everywhere in the region, they asked whom I worked for. Only UN, NATO, diplomats, NGO's and spies came here. And after a while, I decided to say I work for the World Bank, since nobody believed that I was a serious tourist. Even then, they suspected I was probably a spy.

I have come across demonstrations and strikes in Bangkok, Quito, and at least four Peruvian cities, including one occasion during which the women
of the Amazonian city of Iquitos were denouncing the Peruvian press for portraying them as whores. From there, I got on a Peruvian Air Force
seaplane to a border village where I jumped onto a canoe across the Amazon to Leticia, Colombia, shortly after the Colombian government broke the
ceasefire agreement with the guerillas. In a local coffee shop with locals, I watched news bulletins showing government military advances in nearby areas, before suddenly interrupted by a blackout resulting from guerilla attacks on local power stations. Government tanks and jeeps steamed onto the streets as I wondered if the town would soon be under attack. Within weeks, I was exploring the hysterical nightlife of glittering Bogota with its shiny
glass towers and roads-side cafes with the most beautiful people on Earth, and wondered where the war was.

It's a miracle at times, that I have emerged safe and sound. I was involved in two road accidents, both in Albania. First, a motorcycle ran into me in the day-lights of Tirana, with no harm more than a slight cut on my toe and a big shock. Little did I knew that the coach I was to travel on 3 days later was to crash with a car, and then fell into a trench, with the car totally flattened underneath, its occupants almost certainly dead. The female passengers on my coach screamed hysterically while I knelt down and thanked Buddha for my survival.

I caught cold numerous times, had more than one hundred mosquito bites in the Amazon, and two bouts of bad diarrhea, in Paraguay and in Mongolia. On those two occasions, I had dinner in fancy nice restaurants, whereas I have eaten in all kinds of street stalls in dirty-looking places without problems at all.

I have had unpleasant encounters with corrupt police and bureaucrats in Peru and Russia. In Peru, the border official was merely asking for a
minor tip, whereas I get stopped by nasty, racist and corrupt police every other day in my one-and-half-month stay in Russia. On one occasion, I was
detained for half an hour for a crime I didn't commit and threatened with 3 years in prison unless I pay a bribe. Thank goodness I got out without
paying a single cent at all. I have preached the gospel to him and he has suddenly found god and decided to release me. And funny that it was a pseudo-New Age Buddhist like me who had to do the job.

There have been numerous attempts by petty thieves to pickpocket me. Only one succeeded. In the metro of St Petersburg, a thief got my mobile, which
I have only owned for 2 weeks. For more than 8 months I traveled without a mobile, and bought one when I was back in Singapore for my uncle's funeral. And I lost it within weeks. Amazing considering that it was the first time I have ever lost a mobile in the more than 5 years I have owned one
prior to my journey.

The worst thing on this journey - I wasn't around with my family when my uncle was diagnosed with cancer and struggled for half a year before
succumbing. I rushed back to Singapore from the upcountry town of Yaroslavl, Russia, to attend the funeral. I have considered abandoning my
journey several times over that half-year but that would have done everyone little additional good. I spent a bomb to interrupt my journey but I don't
regret been back with the family during that sad occasion. I would have regretted all my life if I weren't back to share the family grief.

In Latin America, I learned 50 words of Spanish, which were enough for directions, food and some small talk. Those were completely forgotten and
over-written by 30 words in Russian when I traveled across Siberia. My Russian was eventually abandoned in favour of a handful of Mongolian
learned in independent Mongolia, which earned me a free lunch in a restaurant run my ethnic Mongols in Inner Mongolia, China. Now I am mostly
trying to re-gain my good old Singlish in an attempt to be Singaporean again. No problem, lah!

I have walked on the freezing slopes of a 5000-meters high mountain in Ecuador in only T-shirt (- well, someone eventually lent me a sweater or
otherwise I would have been dead) and thin sweaters in windy, late autumn Mongolia, only to melt in hot, humid Southeast Asia. On the
Peruvian-Ecuadorian border, I walked across the heavily flooded border villages during the terrible El Nino storm during which a large part of
Ecuador was declared emergency disaster area. I got stranded in a bad storm in the Faeroes, completely ignored by the many passerbys in their cars
(only to be given a ride after an hour by a pastor) and climbed up to the Sun Gate overlooking Macchu Picchu in the rain, completely drenched.

I have traveled on the longest railway in the world, the 9000-kilometers Trans-Siberian, and spent a three days stretch discussing philosophy and life with
North Korean diplomats and Russian soldiers. During my year-long journey, I have met the chairman of a self-proclaimed parliament of Easter Island,
seen the Governor General of Bahamas close-by and joined the Indian Ambassador to Mongolia in an embassy outing to a national park. I met Dr
Ho, a strange egoistic local doctor in the remote Jade Dragon Snow Mountain of Yunnan Province, China, whom was made famous by an article a few decades ago by Bruce Chatwin, the renowned travel writer of whom I am a fan. By a strange twist of fate, it was like meeting Chatwin himself, for this
literary creation of his flourishes like a circus star, in a faraway village, decades after the death of the writer himself.

I have attended numerous masses and religious ceremonies - Catholic, Protestant, Russian Orthodox, Serbian Orthodox, Buddhism, Taoism, and of a
whole host of less well known religions, such as the Dongba, a colourful mix of Buddhism, Confucianism, Taoism and animism of the Naxi people in
Yunnan, China; the religion of San Juan Chamulla, Chiapas, Mexico, which is a Mayan-Catholic mix with San Juan as the main saint; and a Vietnamese
religion called the Cao Dai, whose pantheon of saints included Victor Hugo, Vladimir Lenin and Sun Yat Sen.

I had my haircuts in Brazil, Peru, Nicaragua, Mexico, Macedonia, Albania, Russia, China, Laos and Cambodia. Things wear off quickly on long-term
travel. I have repaired my backpack, and bought new clothing, daypacks and sandals countless times on this journey, in a vain attempt to boost global
economy in bad times. Right now at the end of my journey, I wear a Cambodian shirt, Vietnamese pants, Chilean underwear, Nicaraguan sandals
and a Colombian cap, and my day pack, though bought in Ecuador, was, like most things everywhere these days, made in China.

Now that my journey has come to an end, what have I gained and what does it all mean? I have realized a number of things. Nothing is impossible and
something that appears bad initially may well turned out to be good. The most important thing in life is, follow your heart! Like most good old
Singaporeans, I have done way too detailed computations and cost-benefit analysis into the intricacies of life. Will that necessarily lead to the
best solution? I don't think so. It merely sets you off thinking about what you have missed simply because you missed the qualitative factors
which are not easily converted into dollars and cents. Don't think I would have embarked on this journey if I've been too conventional in my approach
to it all. The next question is, have I done enough traveling? Hmm… NO WAY! If anything, this is only the beginning of WeeCheng's life-long
odyssey.

OK, enough of my monologues. Wish me good luck in my job search and most certainly, more travels (albeit shorter ones) in the years to come!

Merry Christmas and Happy New Year.

Wee-Cheng
Singapore, home at last!


Where is Wee Cheng now ? Read his travel reports on the road