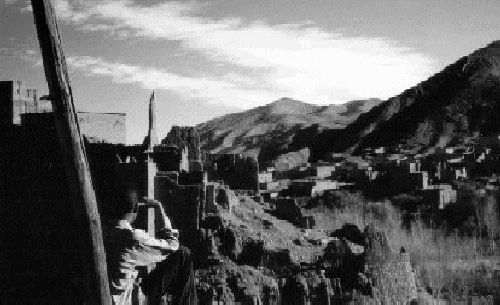 December 2001. Wee-Cheng became a nomad...
As the dark clouds of recession engulfs the world, I decided to embark on an odyssey round the world. I began in Latin America, followed by short trips to Switzerland / Liechtenstein, Faeroes, former Yugoslavia and London to Singapore overland via Russia/Trans-Siberia Railway (with side trips to Azerbaijan and Turkmenistan), China, Laos, Vietnam, Cambodia, Thailand and Malaysia. My route in Latin America was as follows:
- I flew to Rio de Janeiro, Brazil on 29th December 2001. Spent the legendary New Year celebrations there and then make my way to Foz do Iguacu. Also visit the Argentinian & Paraguayan side of the waterfalls.
- Paraguay: Asuncion then across northern Argentina.
- Chile: Santiago (must sort out my Bolivian visa) & Central Valley, plus a trip to Easter Island, and then moving on to Atacama Desert
- Original plan is to visit Bolivia but they denied me the visa! They have onerous visa requirements for Singaporeans when their citizens can enter Singapore without visas! The most troublesome visa I have ever applied – yeah, I am a potential economic refugee in Bolivia??? Singapore's GDP per capita of US$25,000 is too low for the Bolivians.); And after waiting for 3 months, they rejected me. Ridiculous!
- Peru - one of the best places I have ever visited - the Peruvian Amazon on top of the usual Cusco/Highlands/Inca Trail/Nazca/Ica/Arequipa/Titicaca route
- Ecuador (including the Galapagos Islands)
- Colombia – another interesting land in interesting times – I have brought along a copy of Gabriel García Márquez's A Hundred Years of Solitude to contemplate about life.
- Costa Rica, Nicaragua, Honduras, El Salvador, Belize, Mexico
- Miami and Bahamas
- Back to London - on 28th May 2001
Books I brought along:
- Footprints South America Handbook
- Footprints Central America & Mexico Handbook
- Footprints Caribbean Islands Handbook
- Gabriel García Márquez's A Hundred Years of Solitude
- Colloquial Spanish of Latin America by Roberto Rodriguez-Saona
- Berlitz Latin American Spanish Phrase Book & Dictionary
- An Unexpected Light, Travels in Afghanistan by Jason Elliot (in case in need to change my destination next year!)
- Strange Places, Questionable People by John Simpsons, the famous BBC Special Correspondent's book about his adventures. This will either subvert me into a career change (war correspondent?) or merely helps to increase the weight of my backpack (OK, call it weights training).
Please click those links, order a few books and help me to earn some spare change - I need that after 12 months of travelling!
Then back to London and off to the Faeroe Islands, a Danish dependency in the North Atlantic, followed by a weekend in Zurich and Liechtenstein with friends.
- A four week trip in Albania and the former Yugoslav lands of Croatia, Bosnia-Herzegovina, Serbia, Montenegro, Kosovo and Macedonia. Skipped Slovenia as I have been there before. Journey was a full circle starting from Thessaloniki, Greece and all the way to Belgrade and Zagreb and then down south along the Adriatic and surrounding hinterlands. Upon the completion of this trip, I would have been to every European political entity Russia, and unrecognized breakaway states such as Abkhazia and South Ossetia, which in any case might be too dangerous to go.
- The grand finale was London to Singapore overland (I mean REAL overland) – from London to Moscow by bus. From Moscow, I did side trips to Yaroslavl on the Golden Ring of Russian cities and the Baltic enclave of Kaliningrad. News that my uncle passed away sent me rushing back to Singapore for the funeral, and then I was back to continue my journey. I flew into Azerbaijan and Turkmenistan, and then back to Russia. I visited St Petersburg, Novgorod and the Arctic Circle city of Murmansk. Then I hopped onto the Trans-Siberian Railway (in reality a series of different trains) to Vladivostok on the Pacific Coast, with little stops and detours along the way. I then backtracked to Mongolia, and then into China. I spent 6 weeks in China, passing through Inner Mongolia, Ningxia, Xian, Chongqing/Three Gorges, Wuhan, Hunan and Yunnan. Then into Laos from Yunnan followed by Vietnam, Cambodia, Thailand, Malaysia and then Singapore. Homecoming of the Native Son.
What next after all the hard-core travel ? Watch this space. I will probably seek my fortunes in either Singapore, Hong Kong or Boom Town Asia aka Shanghai. Anyone with recommendations in either Private Equity and LBO, drop me a note!
Where is Wee Cheng now ? Read his travel reports on the road